A summary of sports events and sports persons, who made news on Friday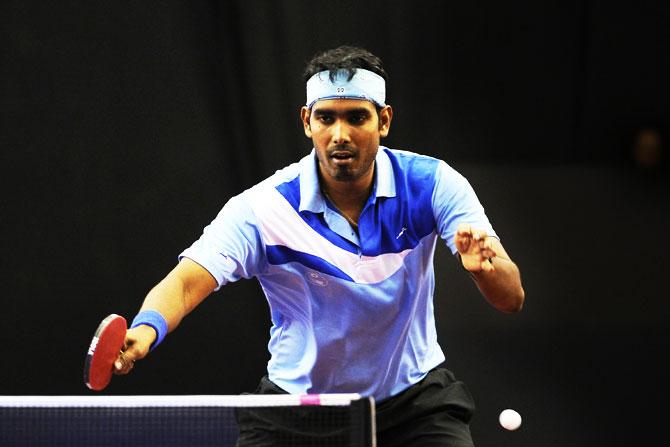 IMAGE: India's Achanta Sharath Kamal. Photograph: Robertus Pudyanto/Getty Images
India's Sharath Kamal and G Sathiyan made heads turn when they defeated World No. 7 Koki Niwa and 27th-ranked Yuya Oshima, respectively, to enter men's singles pre-quarterfinals of the ITTF Wold Tour Platinum Qatar Open in Doha.
If Sharath disposed of Niwa 8-11, 11-9, 11-8, 14-12, 11-9 rather easily, the passage of Sathiyan saw a roller-coaster ride before the Indian prevailed over Oshima 6-11, 11-5, 2-11, 12-10, 10-12, 11-4, 11-8 in a tension-ridden Round of 32.
The match between Sathiyan and Oshima had several Indian expats on the edge of their seats and, in fact, their support endeared him to put up a spirited fight against the 15th seed Japanese.
The turnaround for Sathiyan happened when he held on to the fifth game 12-10 after deuce --he lost the previous game 10-12 -- to level score in the second consecutive thriller. But it gave the necessary confidence to Sathiyan as he won the last two games, striking a nice rhythm.
His next outing in round of 16 will be much tougher he takes on the Japanese child prodigy Tomokazu Harimato, who needs no introduction to his Indian fans.
For Sharath, who did not have a good track record against Koki Nowa, it was a sweet win as he was down in most games. Yet, Sharath was impressive throughout and his experience came to the fore when he caused one of the biggest upsets in the championships with his strong backhand fetching him good results.
"I have never beaten him before, last year at the Asian Championships in the team event I had three match points and lost. In the first game I was ahead 8-5 and lost, in the second I was down 8-5 and won! The only way for me to beat him was to use my power, take some risks. In rallies I had no chance against him. I also tried to slow down and not play fast," said Sharath.
In the next round later on Friday, Sharath will take on Jonathan Groth of Denmark.
The two Indians also combined well to enter men's doubles quarterfinals before bowing out 12-10, 10-12, 1-11, 10-12 to the top-seeded Chinese pair of Fang Bo and Lin Gaoyuan.
South Korea's 2012 bronze medallist Chung dies aged 35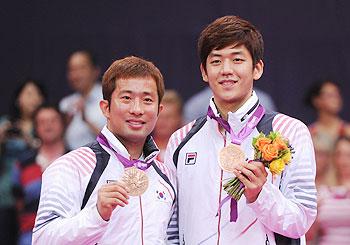 IMAGE: Korea's Jae Sung Chung (left) and Lee Yong-dae (right) during the 2012 London Olympics medal ceremony. Photograph: Michael Regan/Getty Images
South Korean badminton player Chung Jae-sung, who won bronze in the men's doubles at the London Olympics, has died at the age of 35, the Korea Badminton Association said on Friday.
Chung was found dead by his wife at their home early on Friday, a badminton official said by telephone, adding that the cause of death was not yet known and that an autopsy would be performed on Saturday.
Yonhap News quoted local police as saying Chung had been diagnosed with arrhythmia three years ago and that he had complained of chest pains at times.
Chung partnered Lee Yong-dae to third place at London in 2012 with their victory over Malaysian pair Koo Kien Keat and Tan Boon Heong. His death was keenly felt across the global badminton community.
"I'm so sorry to hear this news. He was super fit as a player," Malaysia's The Star quoted Tan as saying.
Former world number one Lee Chong Wei said: "This is sad news. I offer my condolences to his wife and two children and I pray that the family will stay strong".
India's women hockey team beats South Korea 3-1
The Indian women's hockey team produced an all-round performance to notch a 3-1 win over higher-ranked Korea in the fourth match of a five-match series in Seoul.
The victory for world no. 10 India saw them take an unassailable 3-1 lead in the series with a match remaining to be played on Sunday.
Two goals in the first quarter by Gurjit Kaur (2') and Deepika (14') put India in a commanding position while Poonam Rani's field goal in the 47th minute secured the victory for the visitors as Mi Hyun Park (57') scored a consolation goal for South Korea.