A summary of sports events and persons who made news on Monday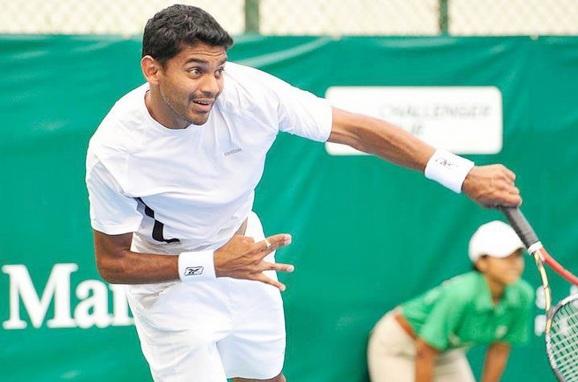 Divij Sharan on Monday became India's new number one doubles tennis player, overtaking veteran Rohan Bopanna by moving to 38 in the latest ATP rankings.
The left-handed Sharan, who has been one of the most consistent players on the doubles circuit with partner Artem Sitak, has held the numero uno position in the country for the first time in his career.
Bopanna dropped nine places to 39 while Leander Paes gained two places to be 60 in the world now.
Another consistent player Jeevan Nedunchezhiyan touched a career-high rank of 72 with a jump of three places.
"It feels pretty amazing to have become the highest ranked player in India today. It's not easy by any means with Mahesh, Leander and Rohan having dominated the doubles circuit for the last couple of decades but they have carved the path and set the trend for the rest of us," the 32-year-old Sharan told PTI.
"We have had as many as seven players from India ranked in the top 100 this year which is impressive. Personally it's been another positive year for me where I was able to achieve my best ranking of 36 and win a gold medal for India at the Asian Games," he said.
"I am really happy that all the work I have put in is paying off and the milestone of being the highest ranked player in the country is something I can cherish with my family and the people who have helped me with my career. I am still looking to work hard on my game and achieve even more next year," he said.
Sharan has won only one Challenger this season but reaching the Wimbledon quarterfinals was the highlight of the 2018 season for him. He also reached semi-final stage of various ATP 250 tournaments this year.
In the singles, Yuki Bhambri dropped a place to 108 and was followed by Ramkumar Ramanathan (121, +3), Prajnesh Gunneswaran (142, +4) and Sumit Nagal (311, +1).
In the WTA charts, Ankita Raina remains India's lone singles player in the top-200 at number 197. Karman Kaur Thandi, who ended runner-up at Nanning on Sunday, was static at 215. Her points from Nanning will be added next week.
Indian paddler Raegan settles for silver at Egypt Open
Fourth seed Raegan Alburquerque failed to clear the final hurdle, going down fighting to China's Ding Shixian 8-11, 12-10, 11-13, 9-11, 11-13 in the Junior Boys final at the Egypt Open in Sharm El Sheikh.
The unseeded Chinese, making his maiden international appearance, conceded the second game before wrapping it up for an excellent career beginning and forcing the Indian to settle with a silver.
Having accounted for host nation's Marwan Abdelwahab 11-7, 14-12, 7-11, 11-3, 14-12 in the semi-finals on Sunday, Raegan was expected to make use of the opportunity later in the evening. Though his start was not as good as he would have wanted, he did manage to take the second game.
The 14-year-old Chinese, playing cautiously and maintaining his form, won several crucial points to upset the Indian's attacking style of game. Ding won two vital games, the third and the fifth, on extended points for the title.
In Mini Cadet Boys singles, Vishal Rajveer Shah defeated Badr Mostafa of Egypt in another straight game final to claim the title. The Indian won 11-6, 11-6, 11-7.