A summary of sports events and persons who made news on Saturday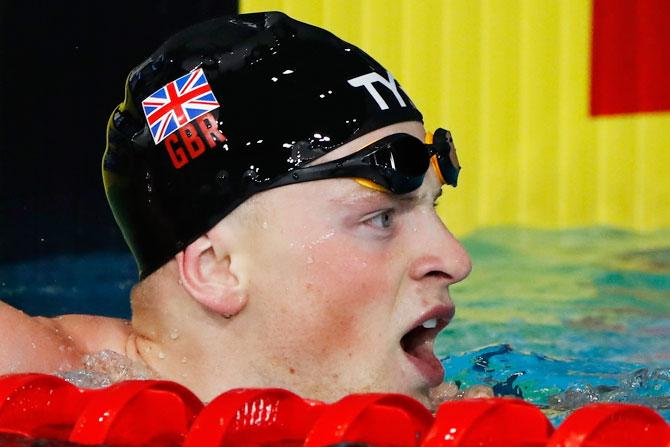 Adam Peaty added more lustre to his reputation as perhaps the world's most dominant swimmer when he smashed his own 100 metres breaststroke world record in 57.00 seconds while winning the European Championships gold medal on Saturday.
The 23-year-old Englishman knocked 0.13 seconds off his own record set at the Rio de Janeiro Olympics in 2016 -- the fourth time he has set a new mark in the discipline in which he has been unbeaten for four years.
"It's incredible. I wasn't targeting the record at all," said Olympic champion Peaty after winning his ninth European long course title.
"When I entered the pool, I felt the passion and the flow. When I touched the wall, I didn't see the time properly and needed some moments to realise but once I got it, it was an amazing feeling."
Peaty had threatened to come close to his mark, though, after two brilliant swims in the heats and semi-final on Friday and though he touched at halfway in the final in a swift 26.65 seconds, it still looked as if the record might be just out of reach.
Even after touching the wall, he could hardly believe what he had achieved, shouting "no way!" The victory was so dominant that the silver medallist, Peaty's British team mate James Wilby, was 1.54 seconds adrift.
It felt particularly sweet for Peaty as the championships venue, the Tollcross International Swimming Centre, was where his remarkable career took off when he won Commonwealth Games gold in 2014.
"It started in this pool. Oh my God, I cannot believe that," he said, having bounced back from his first setback for four years when he lost the 50 metres breaststroke final at this year's Commonwealth Games in Australia.
"Sometimes, you've got to have a bad race to realise how much you love the sport. I was just too tense, I just wasn't me (at the Commonwealths)."
In all, this was Peaty's 17th major championship title and he has the chance to add three more at these Championships.
Semenya speeds to 400 metres win in African Championships
Caster Semenya won the women's 400 metres in a South African record time of 49.96 seconds, while Nijel Amos of Botswana retained his 800m title by beating Kenya's Emmanuel Korir at the African Championships on Friday.
Semenya, the Olympic and world 800m champion, clipped 0.09 seconds off the 18-year-old national record. She now holds the South African 400, 800, 1,000 and 1,500 metres records.
"It is all about having fun, wait for the right moment to execute so you can have a good race," said the 27-year-old, who will run at her more familiar 800m distance later this week.
"I can't say I am still new in this event (the 400m). I have run the 400 previously but not really in a competitive level."
A new International Association of Athletics Federations (IAAF) hyperandrogenism rule that she is challenging at the Court of Arbitration for Sport could prevent Semenya competing in the 800m and 1500m races after November.
But she said her career plans are far from done.
"My goal is to run till 40 years (old), probably three more Olympics to come," she said.
Amos, meanwhile, claimed his third consecutive African title in the 800, clocking 1:45.20 to defeat Korir, the year's fastest, who ran 1:45.65.
"My decision to go to America has paid off, said Amos, who trains in Oregon.
Baboloki Thebe gave Botswana a second gold when he won the 400 in 44.81.
Nigeria claimed the women's 4x100m relay in 43.77 and also won the women's long jump (Brume Ese, 6.83m) and the women's discus (Onyekwere Chioma, 58.09).
South Africa beat the Nigerians in the men's 4x100m, winning in 38.25 to 38.74.
Kenya also had three more golds with Olympic champion Conseslus Kipruto winning the 3,000m steeplechase in 8:26.38, Winnie Chebet claiming the women's 1,500 in 4:14.02 and Matthew Sawe the men's high jump with 2.30m.
Doctors optimistic about Formula One great Lauda's recovery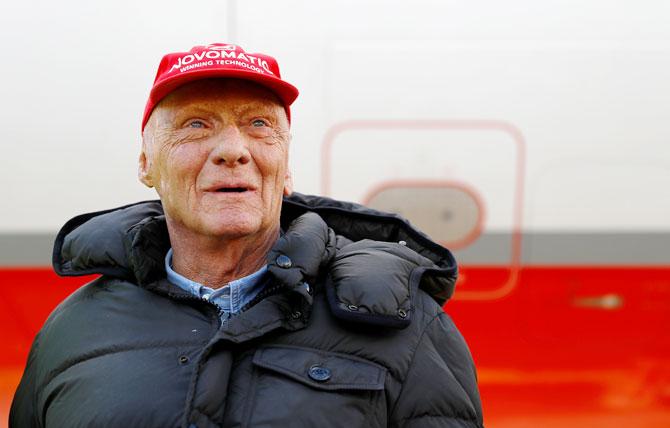 Doctors are optimistic about Formula One triple world champion Niki Lauda's recovery following a six-hour lung transplant.
The Austrian motor racing legend, 69, underwent the surgery in Vienna on Thursday.
His condition at the time had been "extremely critical", the head of the department that performed Lauda's surgery said.
"In the last seven days, Mr. Lauda was kept alive only by a pump, a sort of heart-lung machine," head of the Department of Thoracic Surgery Walter Klepetko said in a television interview released by Austria's Oe24 on Friday.
Without a transplant, life expectancy in such circumstances would be limited to days or weeks, he said.
"Considering the not very easy circumstances we are very, very happy with the developments," Klepetko said, adding the hospital would release a comprehensive update about Lauda's condition at a later time.
Mercedes team boss Toto Wolff on Friday wished chairman Lauda a safe and speedy recovery and hoped the Austrian would be back at the races before long.
"The world knows Niki as an F1 legend with incredible power and resilience," Wolff, also Austrian, said in a message before the August factory shutdown.
"For all of us at Mercedes he is our chairman, our mentor and our friend," he added. "We have missed him by our side in Hockenheim and Hungary and can't wait to have him back with us on the grand prix tracks of this world."
"The recovery he now faces is not a race. But knowing Niki, I'm sure he will soon be telling every nurse and doctor that he has had enough of the hospital," Wolff said.
Four time world champion Lewis Hamilton, who is leading the championship for Mercedes, also sent Lauda -- who was instrumental in signing the Briton from McLaren at the end of 2012 -- a message on Instagram.
Lauda, who was badly burned in a near-fatal Formula One crash in 1976 and later became an airline entrepreneur, was taken ill recently. He won his titles with Ferrari and McLaren in 1975, 1977 and 1984.
He recently agreed to sell control of his Laudamotion airline to Ryanair.
MotoGP: Dovizioso puts Ducati on pole for Czech GP
Italian Andrea Dovizioso will start Sunday's Czech Grand Prix on pole position for Ducati with compatriot and MotoGP great Valentino Rossi qualifying his Yamaha alongside.
Spain's reigning world champion Marc Marquez, making his 100th start in the top flight, completed the front row for the works Honda team.
The pole was Dovizioso's first since Malaysia in 2016 and the veteran beat Rossi by 0.267 seconds with a best lap of one minute 54.689.
Spaniard Jorge Lorenzo, for Ducati, joined Britain's Cal Crutchlow (LCR Honda) and Italian Danilo Petrucci (Pramac Ducati) on the second row.
Four-time MotoGP champion Marquez won at the Czech track last year and leads Rossi in the championship by 46 points after nine races.
Gymnastics: Melnikova inspires Russia's European team triumph
Teenager Angelina Melnikova inspired her youthful Russian compatriots to lift the women's gymnastics team title at the European Championships in Glasgow on Saturday.
The 18-year-old Melnikova, the one remaining member of the team that won the title in Berne 2016, spearheaded a successful defence alongside Irina Alekseeva, Liliia Akhaimova, Uliana Perebinosova and Angelina Simakova.
Melnikova and another 18-year-old, Frenchwoman Melanie de Jesus, were the day's outstanding performers at the SSE Hydro Arena but it was the overall strength of the youthful Russian quintet that proved the key as they won with some comfort.
The Russians' total of 165.195 was more than four marks clear of silver medallist France's 161.131, in which De Jesus contributed the day's best individual total of 56.266. The Netherlands team won bronze with 159.563.
Akhaimova was the eldest in the Russian team at 21 but it was the sterling performances of 15-year-old Simakova, Alekseeva (16), Perebinosova (17) and, above all, Melnikova which continued to suggest the brightest of futures for Russian gymnastics.
Every one of the 12 routines by the Russian quintet scored more than 13 marks with Melnikova, the national all-around champion and member of the silver medal-winning Olympic team from 2016, being awarded two 14-plus marks on the vault and uneven bars.
Melnikova, who has the chance to add three more medals in Sunday's apparatus finals, was particularly delighted after the team had only been able to finish second to the French in qualification.
"It feels great. Qualifications were a bit stressful, but of course we all helped each other, the team was very united and today we managed to overcome all our difficulties," she said. "We're happy and we have no words."