Summary of sports events and persons who made news on Sunday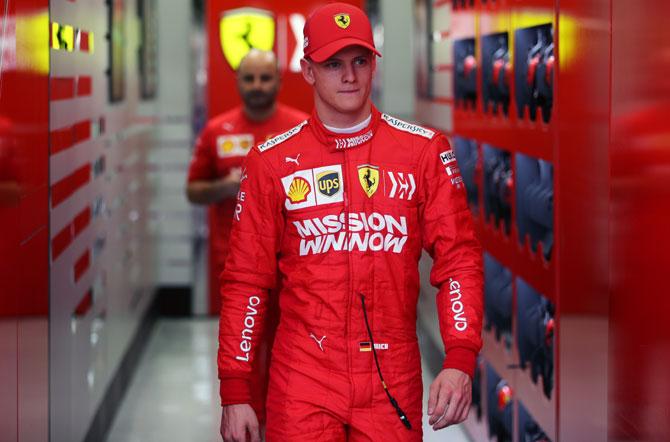 Mick Schumacher will drive his father Michael's 2004 Ferrari Formula One car in a demonstration run at the German Grand Prix in Hockenheim next month.
Mick, who races in Formula 2 for Italian outfit Prema and is a part of Ferrari's young driver development programme, will drive the car before qualifying on Saturday July 27 and again before the pre-race drivers' parade the following day, Formula One's commercial rights holders said in a media release.
The demonstration run, at a track where Schumacher took four of his record 91 Formula One wins, was being held to mark the 15th anniversary of his 2004 title success, the statement said.
"I think it's mega driving this car in Hockenheim," said the 20-year-old Mick, who drove his father's 1994 Benetton car at the Belgian Grand Prix in 2017 and tested this year's Ferrari in Bahrain in April.
"The last time I was on this track was when I celebrated my Formula 3 championship title and now I'll be able to drive one of the strongest cars in Formula One history there -- a big grin creeps into my face," added the 2018 European Formula 3 champion.
The Ferrari F2004 carried Schumacher senior to his seventh and final championship during a dominant year in which the Italian team won 15 of the 18 races.
Schumacher, already the most successful driver in Formula One history, scored 13 of those 15 wins and wrapped up the title with four races to spare with second place at the Belgian Grand Prix that August.
"It will be an emotional moment seeing Mick at the wheel of a car linked to so many great memories," said Formula One managing director Ross Brawn, who was technical director at Ferrari during the Schumacher years and is a close friend of the German.
"The F2004 was a fantastic car which took 15 wins and both championship titles in a season that can be seen as the culmination of a golden period."
Schumacher senior suffered head injuries in a skiing accident in 2013 and has not been seen in public since.
Anand draws with Wesley So
Five-time world champion Viswanathan Anand's hunt for his first victory continued as he played out a draw against American Wesley So in the fourth round of Grand Chess Tour in Zagreb.
After losing the first round match rather unexpectedly against Ian Nepomniachtchi of Russia, this was Anand's third draw on the trot and the Indian ace seems to have recovered.
Especially, the game against Wesley So indicated that Anand was at the top of his game.
Playing the black side of an unorthodox English opening, the players were soon on uncharted territory and Anand livened things up by pushing his king knight pawn in the early middle game stage.
The computer suggested Anand to be slightly better but the position fizzled out pretty quickly. Wesley forced the draw vide repetition after 32 moves.
The fourth round was the first time in the tournament that all the games ended in draws. However, it was not devoid of action as world champion Magnus Carlsen of Norway lit up the proceedings against Shakhriyar Mamedyarov of Azerbaijan.
It was a game that any player would be proud to be a part of as both sides pushed for checkmate with Carlsen playing white. The Grunfeld defense led to a wild position very early in the middle game and Carlsen's king was stuck in the middle of the board for quite some time.
Calling it an 'epic battle' in the end, the Norwegian had to find his way not only towards defense but also to keep creating threats against Mamedyarov's king. The game ended in a draw after 59 moves when the last pawn left the board.
In other games of the day, Maxime Vachier-Lagrave of France signed peace with Anish Giri of Holland, Armenian Levon Aronian split the point with Fabiano Caruana of United States while another American, Hikaru Nakamura drew with Ding Liren of China.
The quickest game to end was between the Russian duo of Nepomniachtchi and Sergey Karjakin.
With seven rounds still remaining in the 12-player round-robin tournament, Nepomniachtchi remains a full point ahead of the field on 3.5 points. Carlsen and Wesley So follow the Russian on 2.5 points each.
Karjakin shares the fourth spot on two points along with Vachier-Lagrave, Aronian and Caruana while Anand is now joint seventh with Nakamura, Ding Liren, Giri and Mamedyarov on 1.5 points.
The Grand Chess tour is a series played over eight events this year with two Classical and six rapid and blitz tourneys. One of the events also comes to India in November. The total prize pool for the classical event here is US$325000 with US$90000 reserved for the winner.
Results Round 4: Wesley So (Usa, 2.5) drew with V Anand (Ind, 1.5); Magnus Carlsen (Nor, 2.5) drew with Shakhriyar Mamedyarov (Aze, 1.5); Maxime Vachier-Lagrave (Fra, 2) drew with Anish Giri (Ned, 1.5); Levon Aronian (Arm, 2) drew with Fabiano Caruana (Usa, 2); Ding Liren (Chn, 1.5) drew with Hikaru Nakamura (Usa, 1.5); Ian Nepomniachtchi (Rus, 3.5) drew with Sergey Karjakin (Rus, 2).
India assured of a medal as cueists Advani, Rawat win
India's leading snooker cueists -- Pankaj Advani and Laxman Rawat -- on Sunday assured India of a medal at the IBSF Snooker World Cup in Doha after blanking Iran 3-0.
After last year's gold medal finish, India are en-route to defending their title.
India defeated Iran in the quarter-final tie 3-0 and will next take on the winner of the match between Hong Kong and Ireland in the semifinal.
Rawat opened the proceedings with a 80-50 win in the first frame.
Next up, Advani, who has had a productive fortnight in Doha winning gold and silver in the two previous Asian Snooker Championships -- individual and team -- won the second frame, scoring a 52 break.
In the doubles, Pankaj and Rawat were close to being stretched to the fourth frame before the former potted a long blue and confirmed the pink to end the tie there.
Vinales wins at Assen, Marquez stretches MotoGP lead
Spaniard Maverick Vinales won the Dutch TT at Assen on Sunday for Yamaha's first win of the year while Honda's world champion Marc Marquez finished second to extend his MotoGP lead to 44 points.
French rookie Fabio Quartararo, who started on pole position for the second race in a row, finished third for the Petronas Yamaha team.
Marquez now has 160 points to 116 for Italian Andrea Dovizioso, who finished fourth for Ducati, after eight of 19 races.
Italian great Valentino Rossi, Vinales's team mate, crashed out after four laps.
India's Veer wins U-19 Asian Squash title
India's Veer Chotrani beat compatriot Yash Fadte to win the U-19 title at the Asian Junior Squash Championship in Macau on Sunday.
With the victory, Veer became the third Indian to win the Asian trophy after Ravi Dixit and Vela Senthilkumar.
It was a contest of fluctuating fortunes until Veer held his nerve to pip Fadte 11-5, 9-11, 11-7, 9-11, 11-7.
Two other finals featuring Indians did not yield gold with Neel Joshi settling for the silver in the boys U-17 category and so did Yuvna Gupta in the girls U-15 section.
With one gold, three silver and as many bronze medals, it was still a productive championship for India.
Commenting on the performance, Secretary General of SRFI Cyrus Poncha said, "It is nice to see Veer coming to terms with his abilities. He has been working hard of late and the results are showing. This is a good sign and augurs well for his future.
"I must also give credit to the training programme SRFI conducted as part of HCL podium scheme and Chris Ryder, the British coach who had come from England to conduct a two-week special camp for these juniors."