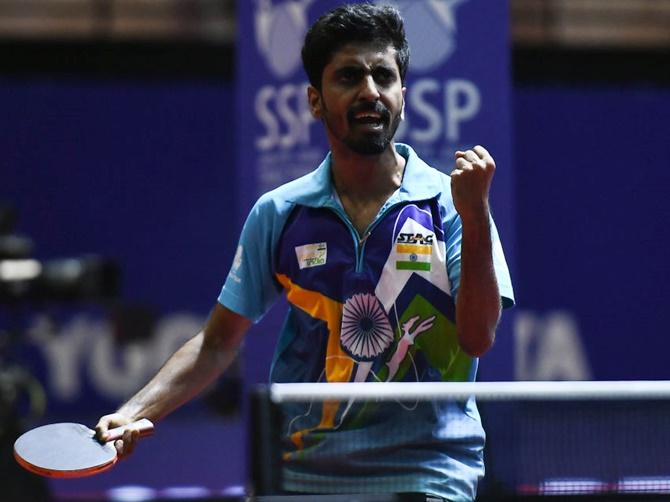 India's Sathiyan Gnanasekaran won both his group matches against higher-ranked opponents to enter the round of 16 in the International Table Tennis Federation (ITTF) Men's World Cup, in Chengdu, on Friday.
The world number 30 Sathiyan, making his World Cup debut, defeated Frenchman Simon Gauzy, ranked eight places above him, 4-3 in a thrilling and energy-sapping first match that lasted one hour and four minutes before a 4-2 win over world number 24 Groth Jonathan of Denmark.
The 26-year-old Indian topped the group D standings with four points to book a pre-quarterfinal berth. He will now face former world number one and current number eight Timo Boll of Germany in the round of 16 on Saturday.
In his first match of the day against Gauzy, Sathiyan was down two games but made an impressive recovery to win the match 11-13, 9-11, 11-8, 14-12, 7-11, 11-5, 11-8.
Gauzy looked like he was in control early on but the consistent backhand block and return shots from Sathiyan turned the match on its head.
"I am just out of words, this is a fantastic win for me. This is the first time I am beating Gauzy after losing two very close matches. I was match point up in the World Team Championships and I lost. This was getting into my head, not again," Sathiyan said after the hard-fought win.
"My coach kept motivating me and I just kept believing. Losing the first game after being 10-6 up, I was a little upset that I could not capitalise on it. You can never take it easy against Gauzy. He is always coming back at you but I was ready for it this time and really happy that I was successful."
Against Jonathan, the top Indian paddler dominated the match and scored an 11-3, 12-10, 7-11, 16-14, 8-11, 11-8 win.
Gauzy advanced to the round of 16 as Group D runner-up with three points from two matches.
He beat Jonathan 4-1 (11-9, 7-11, 11-5, 11-6, 11-2) in his second group match.
Farah back on track for 10,000m target at Tokyo Games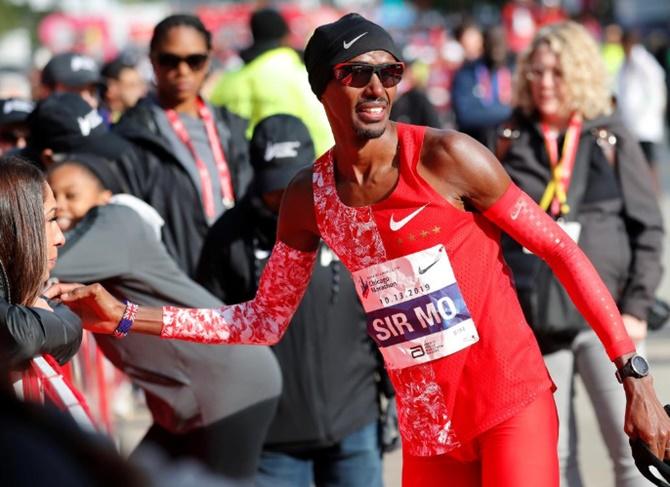 Olympic champion Mo Farah is returning to the track to chase more gold in the 10,000m at next year's Tokyo Games, the Briton announced on his YouTube channel on Friday.
The 36-year-old, a four-times Olympic champion and six times world champion over 5,000 metres and 10,000 metres, retired from track athletics in 2017 to focus on road marathons, going on the break the British record.
"Next year I've decided for Tokyo 2020 I'm going to be back on the track, I'm really excited to compete and...give it a go in the 10,000m," he said.
"Hopefully I haven't lost my speed but I will train hard for it and see what I can do."
The three times 10,000m world champion said in March that watching Briton Laura Muir claim the European Indoor 1,500m and 3,000m double made him realise how much he missed the track.
"Having seen my fellow athletes, who I've competed against in the past, and watching the European Indoor Championships on TV, I was thinking 'Oh man! I want to get back out there'," he said at the time.
"That's just me. If things are going well and I've got a chance to win a medal then I'd love to come back and run for my country."
Farah, who will still have to qualify for Tokyo, said he had enjoyed running marathons. He finished eighth in Chicago in October after winning in 2018 in his best time for the distance, 2:05.11 - a European record.
"To win the Chicago Marathon was nice and to finish third in the London Marathon was OK, and it's been a great learning curve for me," he said.
Farah was bombarded with questions about his former coach Alberto Salazar, who was handed a four-year ban in September by the US Anti-Doping Agency (USADA), at this year's Chicago Marathon.
The Briton, who has not been accused of any wrongdoing, worked from 2011 to 2017 with Salazar.
Minor communication hitch at opening of Tokyo 2020 gymnastics test event
Confusion over the participation of two Portuguese athletes failed to derail an Olympic rehearsal at the newly-built Gymnastics Centre in Tokyo as the Trampoline World Championships got underway on Friday ahead of next year's Games.
The competition, the first to be held at the Olympic Gymnastics Centre which is one of eight venues being purpose built for the 2020 Olympics, is also being used as qualification for the Games.
Organisers only reported one minor hitch, after two Portuguese athletes didn't arrive to compete but that information was not relayed to officials controlling the scoreboard.
It meant an awkward delay to proceedings as officials waited on the two missing athletes.
"The information did not go to the sports presentation team, nor the team that is operating the event," said Tokyo 2020 gymnastics official Koichi Endo.
"The screen for Portugal was there but there was no athlete."
"We have learned from our mistake today on how and what team to tell this information to. We need to learn from this."
Eight men and eight women will qualify automatically for Tokyo 2020 for their performances at the World Championships, which run until Sunday.
The new 12,000 capacity venue will also host boccia during the Paralympics and after the Games will remain in place for 10 years, hosting sports events and concerts.
The Tokyo Olympics run from July 24 to Aug. 9.