A summary of sports events and persons in the news on Friday.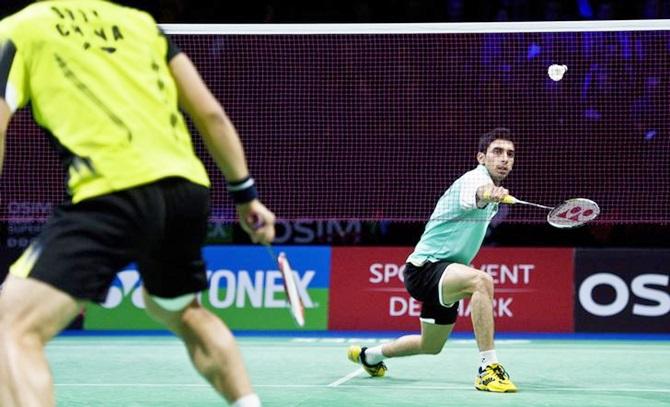 Indian shuttlers Sameer Verma and RMV Gurusaidutt set up a semi-final meeting in the men's singles of the US $75,000 BWF Tour Super 100 tournament, in Hyderabad, on Friday.
Top seed Sameer, who won the Swiss Open earlier this year, had to dig deep into his reservoir to outwit compatriot Pratul Joshi 16-21, 26-24, 21-7 in 55 minutes.
In another quarter-final, Gurusaidutt, a former Commonwealth Games bronze medallist, recovered from a game down to beat Malaysia's Lim Chi Wing 13-21, 22-20, 21-11 in 59 minutes.
Among other Indians in the fray, Commonwealth Games silver medallists Satwiksairaj Rankireddy and Chirag Shetty outclassed India's Tarun Kona and Malaysia's Lim Khim Wah 21-13, 21-10 to sail into the last four.
Fourth seeds Arun George and Sanyam Shukla also entered the final four with a 21-17, 21-15 win over Hong Kong's Chan Tsz Kit and Yeung Shing Choi to set up a semi-final clash with Satwik and Chirag.
The top Indian mixed doubles pair of Pranaav Jerry Chopra and N Sikki Reddy defeated Hong Kong's Yeung Ming Nok and Ng Tsz Yau 22-20, 14-21, 21-17 in 52 minutes to also progress to the semi-finals.
The world No 24 Indian pair will face another Hong Kong combination of Chang Tak Ching and Ng Wing Yung, seeded fifth, on Saturday.
However in the women's singles, Sri Krishna Priya Kudaravalli and Rasika Raje bowed out in the quarter-finals.
While Jia Min of Singapore ended Sri Krishna's run in the tournament with a 21-12, 21-12 victory, Raje was outwitted 19-21, 8-21 by Sim Yu Jin of Korea in another quarter-final.
The mixed doubles pairs of S Sunjith and Sruthi KP and Arjun MR and Maneesha K also crashed out. The Second seeded men's doubles pair of Arjun MR and Ramchandran Shlok and women's doubles pair of Pooja D and Sanjana Santosh also failed to cross the quarter-final hurdle.
Hepthatlete Swapna Bazrman may undergo surgery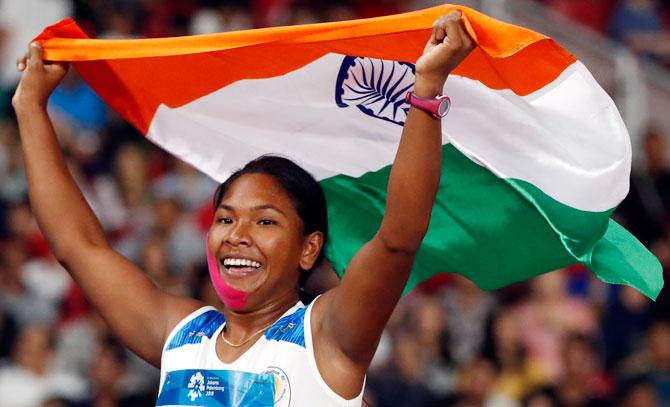 Asian Games gold medallist hepthatlete Swapna Barman will undergo a series of medical tests and may opt for surgery if required on her problematic lower back, her coach Subhas Sarkar said on Friday.
Barman, the first Indian hepthatlete to win a gold in the Asian Games, had said she was carrying injuries while competing in Jakarta.
She has been having problems at her lumbar (lower back) region since the 2017 Asian Championships in Bhubaneswar, where she had won gold and was also carrying minor knee injuries.
"Last time I did not take the risk of surgery because of the Asian Games but now we will see what is her condition. She may have to go for surgery, we will see what the doctors advice after MRI and CT scans," Sarkar said on the sidelines of a SAI felicitation.
Sarkar said Barman's medical treatment is priority now.
"Bhangachora gari niye besi dur egono jabena (Can't run with a broken car). She can collapse if she competes now," he said.
"I have not kept any major competition for her in 2019. I will not make her compete till she fully recovers. The priority is to make her injury-free for which she may even have to go through surgery," he added.
Barman will first seek an appointment from a dentist to treat her tooth infection which also had bothered her in Jakarta and then head home in Jalpaiguri for a break of one to two weeks.
"It will be quite an emotional thing as I will meet my family after more than a year (after winning gold at Asian Championships in July last year). My mother always asks 'tui bhalo achis toh' (hope you are doing well). I am missing them a lot," she said.
After she returns to Kolkata from home, Barman and her coach will travel to Mumbai to meet Dr Anant Joshi to ascertain the exact nature of her injuries.
Sarkar said as of now an Olympic medal is too far-fetched a dream for Barman.
"The realistic aim is to break the National record and score 6300-plus next year. She can achieve if she keeps her focus," he said.
The coach recalled the plight Barman underwent a few months back as she was on the verge of being ruled out days before her Asian Games departure.
"We have been making rounds to Mumbai for her treatment and I was told that she should skip as it would be quite an embarrassment if she pulls out in Jakarta. There would have been questions."
Such was the situation that Barman had to undergo trials on July 16, Sarkar recalled.
"But she passed the trials with flying colours. Then after landing in Jakarta, the toothache surfaced. I told her to give her best and compete without targeting medals," he said.
Many have contributed in Barman's success, including the roadside tea seller who would give me tea on time as the practice would stretch beyond time, Sarkar said.
"I remember Gopal would make sure to bring tea that kept me going. Now everyone is happy for her and this gives me the true satisfaction."
Indian basketball star Bhamara signed to play in NBL Canada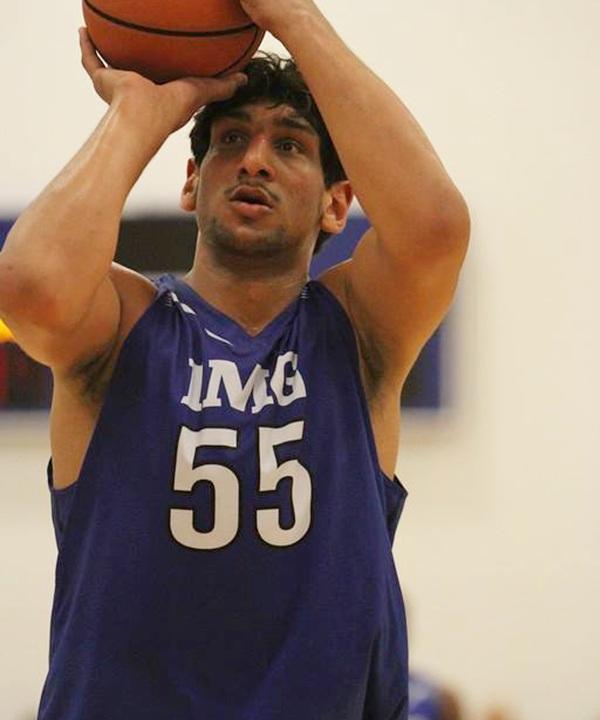 The St John's Edge, a basketball club in Canada, Friday announced signing of Indian national basketball player Satnam Singh Bhamara for the upcoming season of NBL Canada.
Bhamara (22) said it was a proud moment for him to get a chance to play in the National Basketball League (NBL) of Canada.
"I am really excited to be a part of St John's Edge. It's a very proud moment, and I am sure this will encourage many others to pick up basketball as a career.
"I am very thankful to everyone who supported me and helped me become who I am today," said Bhamara.
Dough Plumb, Head Coach, St John's Edge, said, "We're excited to add Satnam to our team, he brings a history of NBA and international playing pedigree to our team.
"It's remarkable to truly understand where he's come from and where he is today. This is a great signing not only for our organisation but for our league."
In 2015, Singh became the first India born player to be drafted by an NBA team, the Dallas Mavericks' affiliate the Texas Legends.
He was also the first player to enter the NBA draft without playing in college or overseas since 2005.
Bhamara also represented India at the FIBA Asia Championship in 2011, 2013 and 2017.
Hima opts out of IAAF Continental Cup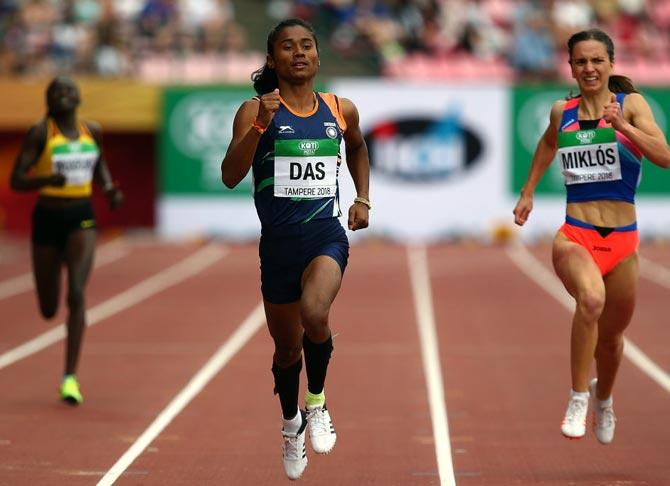 Sprint sensation Hima Das has pulled out of the IAAF Continental Cup as the Athletics Federation of India wants her to give rest after a hectic season which saw her become the junior World 400 metres champion.
The prestigious tournament is to be held in Czech Republic from Saturday.
Hima was initially among seven Indian athletes who were to take part in the season-ending IAAF event in Ostrava on September 8 and 9 but has now been replaced by Australia's Anneliese Rubbie as the second runner from Asia-Pacific.
The Continental Cup is competed among four teams -- Europe, Africa, America and Asia-Pacific -- in 18 events each in both men and women's sections and the mixed 4x400m relay. The top two athletes in the season's rankings from each of the four regions take part in the Continental Cup.
"Yes, Hima is not running in the IAAF Continental Cup. The AFI has decided to give her rest. She has run so many races this year from the Commonwealth Games to the World Juniors and the Asian Games. It is not good to make her run so many races," a top coach said on Friday.
The coach, however, ruled out any injury to Hima, though reports had said she sustained minor side strains during the mixed 4x400m relay race during the Asian Games due to 'obstruction' by a Bahraini runner. She was also seen limping after running the 4x400m relay race in Jakarta.
"There is no injury to Hima. Athletes need good recovery time after a hectic season. She is very young, she has just started her career and we have to preserve and manage her workload lest she is burnt out," the coach said.
The 18-year-old from a village near Dhing in Assam started running only in late 2016 but has quickly risen to be the new Indian sprint sensation in a short span of time.
She created history by becoming the first Indian to win a track gold in World Junior Championships in Finland in July. In the just-concluded Asian Games, she broke two national records in a span of two days in the women's 400m (51.00 and 50.79 seconds) race though she had to be content with a silver behind Salwa Naser (50.09) of Bahrain.
Hima was also part of the gold winning 4x400m relay team and silver-winning mixed 4x400m relay quartet.
Neeraj Chopra (men's javelin), Arpinder Singh (men's triple jump), Mohd. Anas (men's 400m), Jinson Johnson (men's 800m), Sudha Singh (women's 3000m steeplechase) and P U Chitra (women's 1500m) are the Indians taking part in the Continental Cup.
Olympic cycling champion Vogel paralysed after crash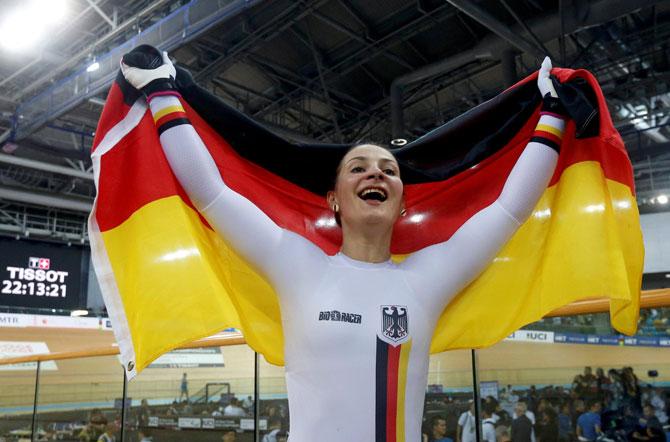 Germany's Olympic and world sprint cycling champion Kristina Vogel has been paralysed following a serious crash in training in June, she told a German magazine in an interview.
"It is shit, there's no other way to put it. No matter how you package it, I can't walk anymore," Der Spiegel quoted her as saying on Friday.
"But I believe that the sooner you accept a new situation, the sooner you learn to deal with it," she added.
Vogel suffered serious spinal injuries after colliding with another cyclist while training at the Cottbus Sport Centre Velodrome in June.
Vogel won Olympic gold in the track cycling team sprint at London in 2012 and individual sprint gold at Rio de Janeiro four years later.