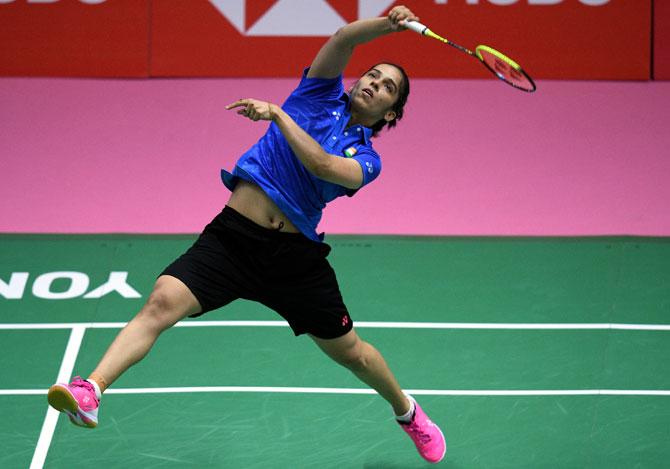 Saina Nehwal hardly broke a sweat on way to her second consecutive semifinal of the season but P V Sindhu and Kidambi Srikanth lost their respective quarterfinals to bow out of the Indonesia Masters badminton tournament, in Jakarta, on Friday

Eight seed Saina, who had reached the semis last week at Malaysia Masters, beat Thailand's Pornpawee Chochuwong 21-7, 21-18 to make it to the last four.
The two-time Commonwealth Games champion will next face the winner of the quarter-final match between two Chinese shuttlers -- He Bingjiao and Chen Xiaoxin.
Sindhu couldn't adjust to the speed and precision of three-time Olympic champion Caroline Marin, going down 11-21, 12-21 in a lopsided contest.
In 13 meetings, Sindhu has lagged 5-7 against Marin in their head-to-head count, which included defeats at the Rio Olympic and 2018 World championship finals.
Marin seemed equally unstoppable Friday as she marched to a 6-1 lead with her better court coverage and angled returns. The screams and fist pumps were out right from the start as Sindhu looked for an opening.
The Indian exchanged rallies and made it to 5-8 before Marin grabbed a six-point lead at the break with a cross court smash and a long return from Sindhu.
Sindhu reduced the margin to 10-14 but Marin was going great guns and eventually pocketed the first game when the Indian went wide and long.
In the second game, Sindhu couldn't keep the shuttle inside the court, allowing Marin to again zoom to a 5-0 lead.
A net error from Marin helped Sindhu break the run of points but the Indian continued to commit too many unforced errors.
Sindhu failed to see the initiatives during the fast paced rallies. A huge body smash took Marin to 11-3 at the interval.
Marin was on fire and gathered points at will, moving to 15-5 with another smash.
Marin eventually sealed the contest when Sindhu hit the net.

Srikanth, however, had to settle for a second quarter-final finish after losing 18-21, 19-21 to local hero and Asian Games champion Jonatan Christie.

Saina enjoyed a good start and soon galloped to a 11-4 lead at the interval. The indian continued to dominate proceeding after the interval, moving in quick bursts of points to close out the opening game comfortably.

In the second game, Chochuwong ran to 8-4 lead but Saina caught up with her at 12-12 before going ahead and shut the door on her opponent.

In the men's singles quarters, Srikanth tried to put pressure on his rival but Jonatan was solid in his defence and with the Indian making errors, the Indonesian led 11-7 at the break.

The Indian caught up with Jonatan at 15-15 after making few good saves before he unleashed a straight smash to lead 17-16 for the first time in the match.

But Srikanth committed two many unforced errors and also made a misjudgement at the backline to hand over game points to the Indonesian who sealed it with a half smash.

Jonatan raced away to a 6-0 lead before a spinning net shot helped Srikanth to log first points in the second game. However, the Indonesian managed to lead 11-4 at the breather after Srikanth failed to reach a shot at the forecourt.

After the break, Jonatan maintained the lead to reach 15-8. The Indian grabbed three quick points but a weak return from the backline found the net. Srikanth reduced the deficit to 14-16 by pushing the shuttle at the back court.

Srikanth brought the equation down to 18-19 before Jonatan made an error of judgment at the back court but the Indonesian made amends immediately as he unleashed a smash to reach match points before grabbing the match with another return.
Vishy Anand aims to get back to winning ways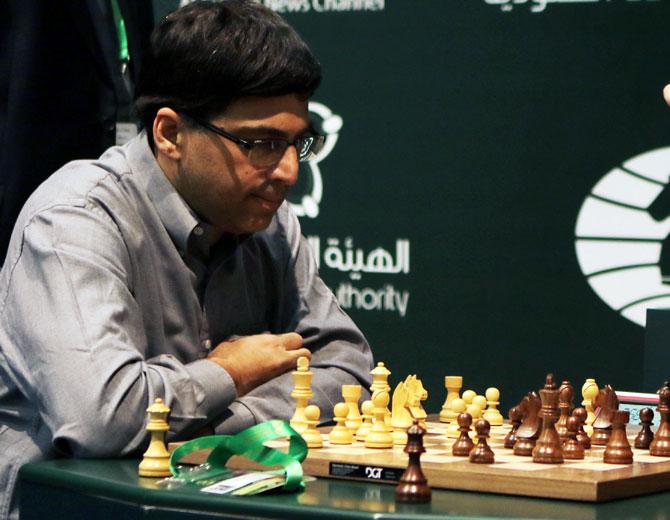 Pegged back by a loss to familiar foe Magnus Carlson, five-time world champion Viswanathan Anand will look to regain the lost ground against Jan-Krzysztof Duda of Poland in the 11th round of Tata Steel Masters, in Wijk Aan Zee, The Netherlands.

It was a heartbreaking loss against reigning World champion Carlsen in the previous round and Anand now needs at least two victories out of the remaining three rounds to keep his hopes alive for a sixth title at his favourite hunting ground.

After the third and final rest day in the tournament, Anand will have white pieces against Duda and is expected to go all out.

The Indian has another white game left in the last round against compatriot Vidit Gujrathi. In the penultimate round another tough contest awaits Anand as he meets Ding Liren of China.

Carlsen enjoys the sole first position on seven points out of a possible 10, a half point clear of local star Anish Giri. Anand, Ian Nepomnichtchi of Russia and Ding Liren share the third spot on six points apiece while Gujrathi is joint sixth on five points with Teimour Radjabov of Azerbaijan.

Things might have been a lot closer but for a temporary slip by Anand from what was a drawn endgame against Carlsen in the previous round.

The Indian ace was in terrific form after winning three and drawing six of the first nine rounds.

The victory against Azerbaijan's Shakhriyar Mamedyarov was praised by chess buffs across the globe and Anand also drubbed long-time rival Vladimir Kramnik of Russia along the way.

His hopes have luckily not ended as Carlsen still has to play solid players like Radjabov and Giri as black and for the Norwegian, the big chance up for grab might be against Duda when he has his last remaining white game.

Playing in his first super tournament, Vidit Gujrathi has been impressive and looks set to get back to the 2700 rating club post this event. The Nasik-based player was at his attacking best against Kramnik in the previous round, winning in a mere 29 moves.

In the challenger's section, young Grandmaster R Praggnanandhaa has four points out of his ten games and the going has been a little tough.

Pragg, as he is fondly called, missed out on a golden opportunity to throw the tournament open in the 10th round when he blundered from a winning position against tournament leader Maxim Chigaev of Russia.

Pairings round 11:

V Anand (Ind, 6) vs Duda Jan-Krzysztof (Pol, 4.5); Teimour Radjabov (Aze, 5) vs Magnus Carlsen (Nor, 7); Anish Giri (Ned, 6.5) vs Samuel Shankland (Usa, 4.5); Ian Nepomniachtchi (Rus, 6) vs Vladimir Fedoseev (Rus, 4.5); Vladimir Kramnik (Rus, 2.5) vs Jorden Van Foreest (Ned, 4); Shakhriyar Mamedyarov (Aze, 4) vs Vidit Gujrathi (Ind, 5); Richard Rapport (Hun, 4.5) vs Ding Liren (Chn, 6).