Clijsters, Roddick to be inducted into Hall of Fame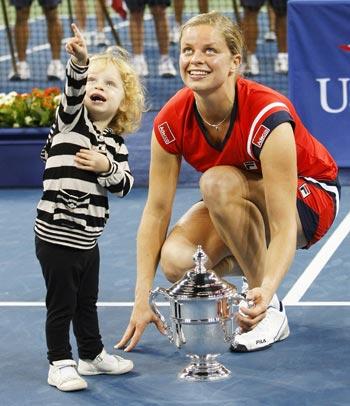 Former world number ones and Grand Slam champions Kim Clijsters and Andy Roddick are among five players set to be inducted into the International Tennis Hall of Fame this Saturday.
Besides Clijsters and Roddick, four-time Paralympic wheelchair tennis medalist Monique Kalkman-van den Bosch of Dutch, tennis historian and journalist Steve Flink and late tennis instructor Vic Braden complete the full list.
34-year-old Clijsters, who clinched US Open title in 2005, 2009 and 2010 before winning Australian Open singles' crown in 2011, spent 19 weeks at the top of the rankings.
Ecstatic with the idea of being inducted into the International Tennis Hall of Fame, Clijsters, who had captured 41 WTA titles before retiring in 2012, insisted that she feels honoured to feature with some great players she had admired growing up.
"I feel very honoured. It's a huge honour to be amongst a list of so many great tennis players who I admired when I was growing up and some great players who I played with in my tennis career as well," Sport24 quoted Belgium's Clijsters as saying.
Roddick, on the other hand, had spent almost 13 weeks atop the rankings, winning his only Grand Slam singles title at the 2003 US Open and losing four other Slam finals to Swiss maestro Roger Federer.
He took retirement from the sport following the 2012 US Open after clinching 32 career ATP titles and holding an ATP career record of 612-213.
"It's really special. I love this sport and I love being part of it. I'm moved to know that my presence in the sport will be forever part of tennis history and I am just incredibly honored to be inducted," he said.
Lasitskene poised to defend world title as a 'neutral'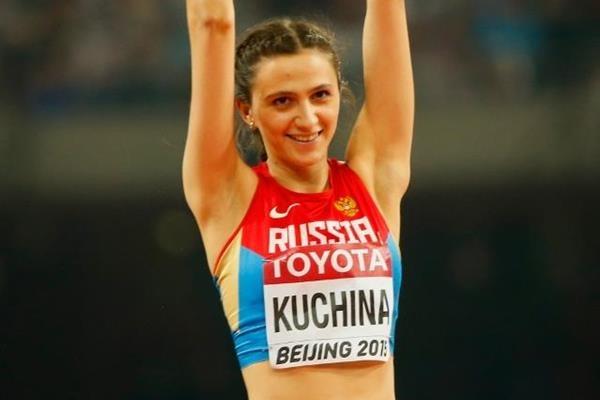 IMAGE: Maria Lasitskene. Photograph: Courtesy IAAF.com
Barred from international competition for nearly 17 months because of the Russian doping scandal, high jumper Maria Lasitskene could threaten the world record at the world championships next month.
Lasitskene won gold at the 2015 world championships under her maiden name Kuchina but the doping scandal that was already enveloping the sport in Beijing means she will not be wearing her country's colours when she defends the title in London.
The 24-year-old is one of 47 Russians cleared this year to compete as neutral athletes despite the ongoing suspension of the country's federation over a 2015 report that alleged state-sponsored doping.
This special status has been viewed as an affront to Russian patriotism, prompting some to question the loyalty of the athletes.
The athletes have had to prove to the International Association of Athletics Federations (IAAF) that their training environment meets its anti-doping standards, and that appears to have also satisfied Lasitskene's rivals.
"I'm pretty sure there were some rigorous standards for her to have to get through to be able to compete," former world indoor champion Chaunte Lowe told Reuters.
"If she's there, I'm sure she deserves to be there."
Lasitskene said she had not "heard anything bad" and even if some of her rivals have made clear their disgruntlement in private, it has clearly not affected her form.
The former Youth Olympic champion has dominated her event this year and is unbeaten in 19 competitions, indoors and outdoors.
Earlier this month at a Diamond League meet in Lausanne she jumped a personal best of 2.06 metres, three centimetres off the world record set by Bulgaria's Stefka Kostadinova in 1987.
While the Russian authorities have deplored the absence of the country's flag from major track and field meets, they have generally supported the efforts of athletes to compete as neutrals.
"Even if she competes under the neutral flag, everyone perfectly knows that she is from Russia," Yury Borzakovsky, head coach of the national athletics squad, told Reuters.
"And she will prove to the whole world that everything has changed."
Russia has recently ramped up its efforts to overturn the bans against its athletics federation, its Paralympic Committee and its national anti-doping agency RUSADA.
The World Anti-Doping Agency (WADA) last month allowed RUSADA to plan and coordinate testing under the supervision of international experts, a key step for the agency to be reinstated.
The Russian government this month approved a plan to curb the use of performance enhancing drugs, while President Vladimir Putin barred dopers and their coaches from receiving Kremlin grants.
The impact of the ban on athletes like Lasitskene is undeniable, however, tearing nearly a year and half out of their careers and preventing them from competing in the Olympics and lucrative Diamond League meetings last year.
"Had there been a 2016 season, maybe the results now would be different," Lasitskene said.
"But that's a 'what-if'. We accepted this situation, trained and didn't give up."
Lasitskene is the only woman who has jumped 2.00 metres this year, clearing the height 10 times since the IAAF allowed her to compete in April.
"We have been advocating that high results can be achieved cleanly," Borzakovsky said.
"Maria is a bright example of this."
Lowe thinks Lasitskene can hit new heights in London, where she will be seeking to join Croatian Blanka Vlasic and South African Hestrie Cloete as the only women to have retained the high jump world title.
"It's like her coming of age party," the American said. "She always showed she had that talent and now she kind of went over the threshold to being known among the top high jumpers of all-time."
Void in the pool as post-Phelps era dawns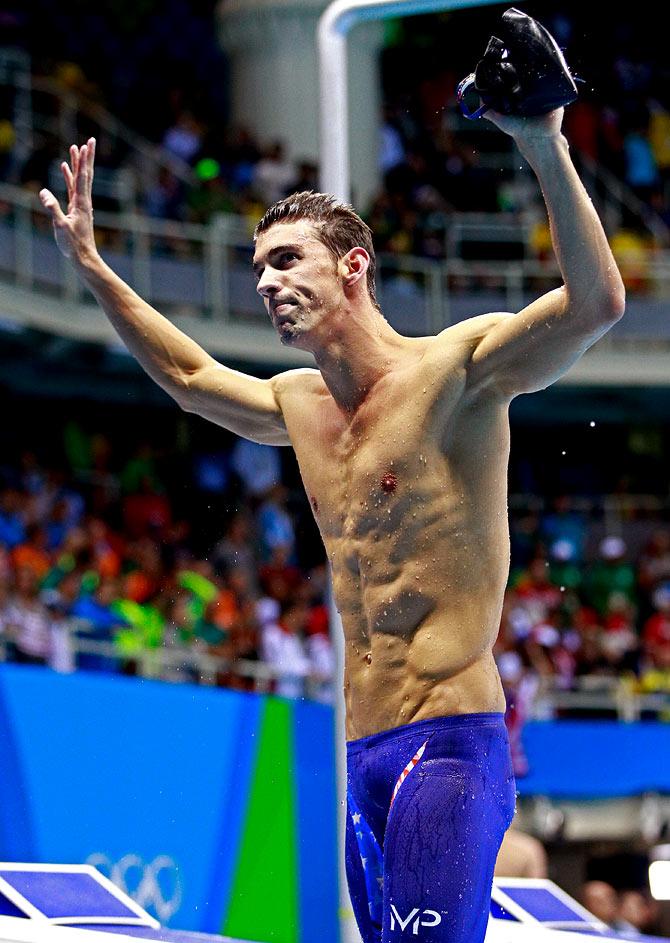 IMAGE: Michael Phelps celebrates. Photograph: Adam Pretty/Getty Images
The world swimming championships will usher in a new era following the retirement of American great Michael Phelps when eight days of racing commence at Budapest's Duna Arena on Sunday.
This will be the first global meeting since 1998 without either Phelps, holder of 23 Olympic gold medals and 26 world titles, or compatriot and six-time Olympic gold medallist Ryan Lochte who is ineligible to compete after a 10-month ban.
Although Phelps missed the 2013 and 2015 championships, it is his farewell after his final competitive race at the Rio Olympics which still resonates.
Phelps was the last to leave pool deck as he waved an emotional goodbye to a boisterous crowd after helping the U.S. to gold in the men's 4x100 metres medley relay.
Nearly one year on, his departure has left a void as the sport searches for the next global star to take over the 32-year-old's mantle.
A mixed medley relay, along with a men's 800m and women's 1500m freestyle races were last month added to the Tokyo 2020 programme by the International Olympic Committee (IOC) in a radical shake-up of the Games programme.
However, if those changes were implemented to ensure gender parity across the sport, it is women's elite swimmers who are likely to receive top billing in Budapest.
Following local favourite Katinka Hosszu's trio of Olympic titles at last summer's Olympics, an expectant nation will now be anticipating more bounty in the pool where she has been training for multiple individual tilts.
Following her Rio exploits, the self-billed 'Iron Lady' has entered six individual events across medley, backstroke, freestyle and butterfly. The 28-year-old is also bidding for a hat-trick of world titles in both the 200m and 400m individual medley.
Katie Ledecky of the United States is set to go one better.
Unbeaten at world championships, the American's freestyle brilliance is set to continue in the Hungarian capital as she aims for a hat-trick of individual world titles in the 400m, 800m and 1500m.
Like Hosszu, she is entered into six events - and unless she scratches some races, the 20-year-old collegiate will undertake her most active schedule yet in a major meet.
Along with Hosszu and Ledecky, Swedish sprint star Sarah Sjostrom, 23, will be vying to win her first freestyle world title, having come to the fore with Olympic gold in the 100m butterfly, her signature event.
Top male swimmers to look out for in Budapest include Britain's Olympic breaststroke champion Adam Peaty and South African Chad le Clos, who is aiming to put a disappointing Rio Games behind him after the defending champion finished outside of the medals in the 200m Olympic butterfly final.
Away from the pool, Julio Maglione will be seeking re-election at the helm of the sport's international body, FINA, when a presidency vote is held on Saturday.
Maglione, 81, is considered favourite for a fourth term when he stands against Italy's Paolo Barelli, the European Swimming Federation president.
Nastase given three-year ITF ban after Fed Cup meltdown
Romanian Fed Cup captain Ilie Nastase has been banned from acting in an official capacity at all International Tennis Federation (ITF) team competitions until Dec. 31, 2020, the governing body said on Friday.
The 71-year-old was sanctioned for multiple breaches of conduct rules during a Fed Cup tie between Romania and Britain in April, including making a "highly inappropriate and racially insensitive" comment about Serena Williams's unborn child.
The governing body's internal adjudication panel also found him guilty of making "advances of a sexual nature" towards British team captain Anne Keothavong, and "abusive and threatening comments" to members of the British team, match officials and a member of the press.
Nastase, who has been fined $10,000, will also be denied access to, and not granted accreditation for, all official ITF team competitions and tennis circuits until Dec. 31, 2018, the ITF said in a statement.
Grand slam tournaments, which lie outside the ITF's jurisdiction, are not included in the sanction.
Both Nastase and the Romanian Tennis Federation have 21 days to appeal the decision. There was no immediate comment from Nastase.
The ITF launched its investigation after Nastase was heard speaking in Romanian to one of his team members about Williams' unborn baby at the Fed Cup draw in Constanta in April.
"Let's see what colour it has. Chocolate with milk?" the former French Open and U.S. Open champion was quoted as saying.
Williams, who had confirmed her pregnancy through a spokeswoman a few days earlier, is engaged to Reddit co-founder Alexis Ohanian, who is white.
Nastase's comment was widely reported in the media, and he was booted out of Romania's Fed Cup tie against Britain the following day for aiming abuse at the umpire, British player Johanna Konta and Keothavong.