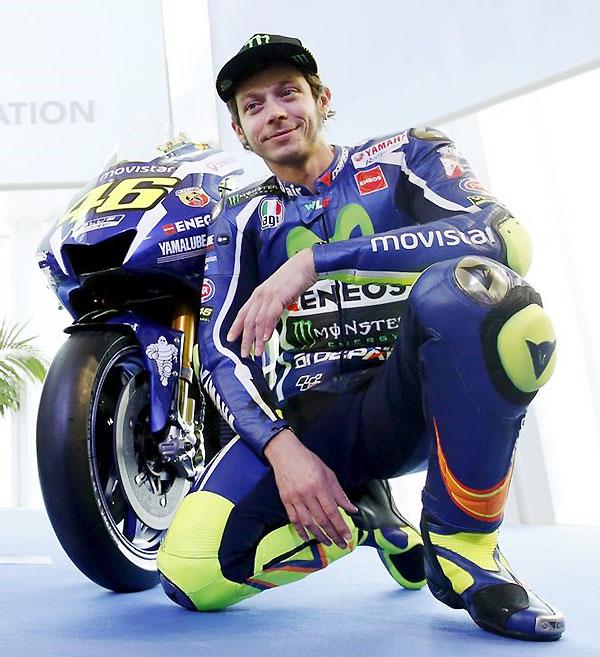 Nine-times world champion Valentino Rossi has tested positive for COVID-19 and will miss this weekend's Aragon MotoGP, the Yamaha rider said on Thursday.
Italian Rossi, 41, has failed to finish in each of the last three races, crashing out on the opening lap of last weekend's French Grand Prix.
"The 'quick PCR test' result was negative, just like the test I underwent on Tuesday. But the second one, of which the result was sent to me this afternoon, was unfortunately positive," Rossi said on Twitter.
"I'm so disappointed that I will have to miss the race at Aragon."
Yamaha confirmed Rossi travelled back to his home in Tavullia, Italy after the French Grand Prix and his condition will be closely monitored by the team's medical staff.
Multiple world champion Pellegrini tests positive for COVID-19
Multiple world swimming champion Federica Pellegrini has contracted COVID-19, the Italian said in a social media post on Thursday.
The 32-year-old, who intends to take part in her fifth and final Olympic Games in Tokyo next year, was due to leave for the International Swimming League event in Budapest but felt unwell after training on Wednesday.
"Unfortunately, I have some bad news: yesterday I stopped training because I felt pain and on the way home I also got a sore throat. So this afternoon I took a swab and I tested positive for Covid," she said in a tearful Instagram post.
"I was supposed to leave on Monday for Budapest to take part in the ISL," added the 200 metre freestyle world record holder.
"I was looking forward to getting back into the water and finally starting a normal season, even more so because I was fine and had trained well.
"Instead I have to stop again and in the meantime I will undergo ten days of quarantine."
Pellegrini won gold in the 200 metres freestyle at the Beijing Olympics in 2008 and the world championship in the same event in 2009, 2011, 2017 and 2019, plus the world title in the 400 metres freestyle in 2009 and 2011.
Australia Open golf cancelled for first time since WW2
The Australia Open will be absent from the sporting calendar for the first time since World War Two this season after Golf Australia and the PGA of Australia cancelled all of their top events on Friday because of the COVID-19 pandemic.
The 105th edition of the country's oldest and most prestigious tournament, scheduled to take place at Melbourne's Kingston Heath Golf Club, had already been postponed from its usual slot in November.
With Melbourne still in lockdown and access to Australia still extremely difficult for foreigners, however, the governing bodies decided to cancel both men and women's Opens as well as the Australian PGA Championship.
"It's unprecedented and a real blow for Australian golf and its fans," PGA of Australia chief executive Gavin Kirkman said in a news release.
"We have collectively spent months in exhaustive consultation with all relevant authorities and our sanctioning partners to try to find a way to stage all three events safely.
"But even with multiple contingency plans, it has reached a point where decisions have to be made and this, regrettably, is the one we've had to take."
The Australian PGA Championship, which was first played in 1905 and is co-sanctioned by the European Tour, had already been moved from December to February at Brisbane's Royal Queensland.
The governing bodies said they considered a raft of measures to get the tournaments up and running, including bringing players into a biosecure bubble and restricting crowds, but the options proved "unviable".
"The events rely on significant support from players and tours around the world, so given current quarantine restrictions, we believe the field strength of all three events would be severely compromised," said Golf Australia's new chief executive James Sutherland.