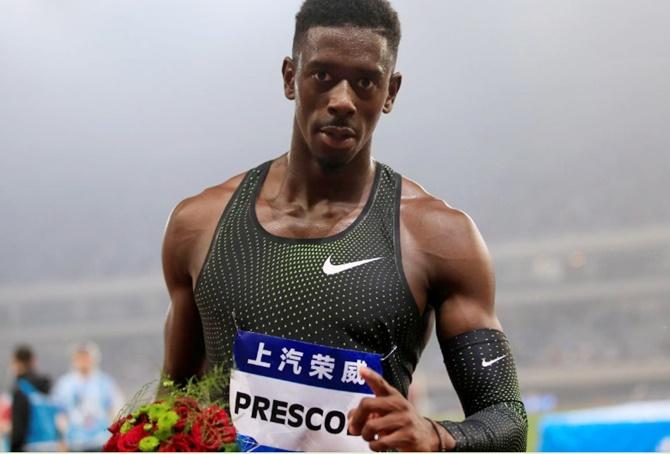 British sprinter Reece Prescod foiled the local challengers and overcame world champion Justin Gatlin to win the men's 100 metres at a rainy Shanghai Stadium to claim his maiden Diamond League victory on Saturday.
Running in the outside lane, the 22-year-old came through to win in 10.04 seconds, edging out local favourite Su Bingtian (10.05). China's Xie Zhenye came third in 10.17 with Gatlin trailing in seventh (10.20).
"When I saw the rain tonight I thought 'yes'. I train in these conditions all the time in the East Midlands. It suits me," said Prescod who was 0.01 seconds shy of his personal best.
"My expectation going in was I knew I had it in me as long as I executed my race. It is definitely the happiest moment in my time on the Diamond League circuit," he said.
American Gatlin put in a disappointing display after struggling to get out of the blocks.
"I got stuck a little in the blocks tonight, and I just had too much ground and distance to make up," Gatlin said.
In his first 110m hurdles race this year, world and Olympic champion Omar McLeod of Jamaica edged Spaniard Orlando Ortega in a repeat of the Rio Games to win in 13.16 seconds.
Bahamian Olympic champion Shaunae Miller-Uibo powered home in the women's 200 metres, clocking one of the eight meet records of the day to win in 22.06 seconds.
Fellow Olympic champion Brianna McNeal led an American sweep of the top four places in the women's 100m hurdles which she won in 12.50 seconds.
Chinese world champion Gong Lijiao showed her class in women's shot put with 19.99m to win in front of the delighted home crowd.
Colombia's Olympic gold medallist Caterine Ibarguen easily won the women's triple jump with 14.80 metres to take her Diamond League meeting victory tally to 29, which puts her behind only Sandra Perkovic (39) and Renaud Lavillenie (32).
The women's 3,000m steeplechase had some drama towards the end when Norah Jeruto slipped coming off the final barrier and fellow Kenyan Beatrice Chepkoech won in 9:07.27 minutes.
Jeruto recovered to finish second ahead of sister Daisy Jepkemei.
Revamped Davis Cup in Madrid or France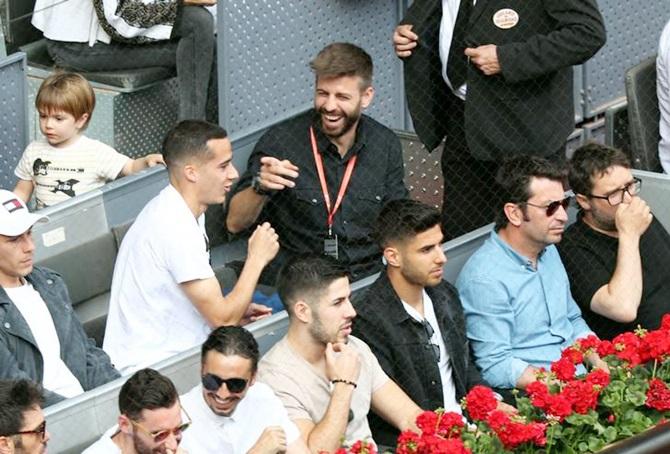 The Spanish Tennis Federation (RFET) has held meetings with the Barcelona and national soccer team player Gerard Pique about holding the planned revamped Davis Cup in France or Madrid next year, the organisation's chief Miguel Diaz said on Friday.
In February the International Tennis Federation (ITF) announced a massive shake-up of the competition, which will see the formation of an 18-nation World Cup of Tennis Finals played in one location, after agreeing a 25-year, $3 billion partnership with investment group Kosmos, founded and chaired by Pique.
"We are looking at a formula whereby the quarter-finals, semi-finals and final will be held in Madrid or in France so it doesn't have to go to Asia," Diaz told reporters at the Madrid Open on Friday.
"We've had a couple of meetings with Gerard Pique and we will have one more but we still need data. We are looking at the final format and still nothing has been decided. We will make the decision at our board meeting at the end of May."
The ITF was not immediately available to comment.
Pique, who is set to be named in Spain's squad for next month's World Cup in Russia, was photographed watching countryman Rafael Nadal's quarter-final defeat by Dominic Thiem on Friday at the Madrid Open alongside Real Madrid players Lucas Vazquez and Marco Asensio.
The new Davis Cup event represents a huge revamp for a competition which has been in existence since 1900 but has suffered in recent years with top players not competing.
ITF President David Haggerty has said the new format will be "a game-changer for tennis" but the proposed event, which would bring an end to traditional home and away ties, has been criticised by Belgian tennis chief Gijs Kooken, who said it risked "killing the soul" of the competition.
McIlroy leads young sportspersons' rich list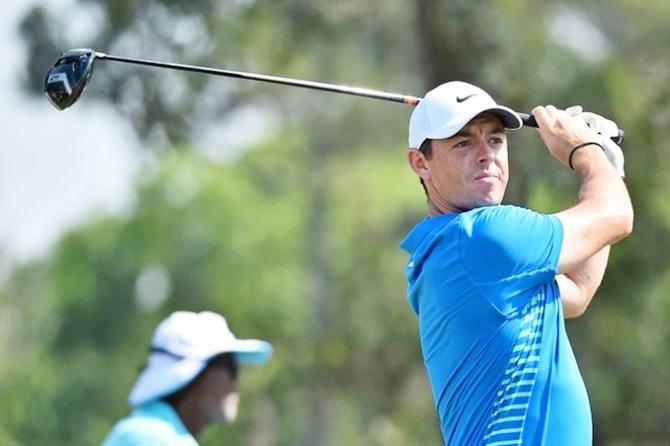 Former world number one golfer Rory McIlroy is the richest young sportsperson in Britain and Ireland with a net worth of 110 million pounds ($149.14 million), according to the Sunday Times newspaper's Rich List.
McIlroy's earnings have been boosted by his return to form in recent weeks, which saw him emerge as one of the contenders at the U.S. Masters before finishing tied for fifth.
Last year, the 29-year-old signed two 10-year endorsement deals worth $100 million each, with sportswear brand Nike and club manufacturer TaylorMade.
Tennis player Andy Murray is second in the rankings, with the Scot's wealth estimated at 83 million pounds.
A relatively modest 6 million pounds increase on the three-times grand slam winner's valuation from 2017 reflects his absence from the court after suffering a hip injury at last year's Wimbledon.
Real Madrid winger Gareth Bale and Manchester City striker Sergio Aguero are in the third and fourth spots respectively.
British heavyweight boxer Anthony Joshua, who most recently earned 18 million pounds from his title bout with Joseph Parker, completes the top-five.
10 richest young sports stars aged 30 or under (2018 wealth figures in pounds)
1. Rory McIlroy (golf) - 110 million
2. Andy Murray (tennis) - 83 million
3. Gareth Bale (soccer) - 74 million
4. Sergio Aguero (soccer) - 48 million
5. Anthony Joshua (boxing) - 35 million
6. Eden Hazard (soccer) - 32 million
7. Mesut Ozil (soccer) - 28 million
8. Theo Walcott (soccer) - 26 million
9. Paul Pogba (soccer) - 25 million
10. Juan Mata (soccer) - 24 million
Australian Open Badminton: Indian challenge ends as men's doubles pair loses in semis
The Indian men's doubles pair of Manu Attri and B Sumeeth Reddy today suffered a straight-game defeat at the hands of Berry Angriawan and Hardianto Hardianto of Indonesia to bow out of the Australian Open Badminton Championship in Sydney.
The third seeded India duo lost 17-21, 15-21 to their top seed opponents in a 39-minute contest at the Quay Centre Olympic Park Court.
With the pair's loss, the Indian challenge ended in the tournament. All the orther Indians could not get past the quarterfinals.
Yesterday, fourth seed Sameer Verma was shocked by Chinese qualfier Lu Guangzu while second seed B Sai Praneeth was knocked out by Lee Cheuk Yiu in the men's singles quarterfinals.
Pak hockey legend Mansoor Ahmed passes away in Karachi
Pakistan's World Cup-winning hockey goalkeeper Mansoor Ahmed passed away at a city hospital here today after battling a prolonged heart ailment.
The 49-year-old Olympian had been suffering for weeks from complications stemming from a pacemaker and stents implanted in his heart, and had reached out to India for help in securing a heart transplant.
Pakistan government had reportedly offered Ahmed a mechanical heart transplantation which, had he accepted, would have been the first time the procedure was to be conducted in the country.
But Ahmed had refused the offer as he wanted a more conventional and proven procedure, for which he had wanted to go to India.
The hockey legend, who was known as the 1994 World Cup hero for Pakistan, had been suffering from heart ailment for the past three years and was under treatment at the National Institute of Cardiovascular Diseases.
"Mansoor passed away this afternoon due to heart complications," Dr Naveed Qamar said.
Athletics Federation declares strict 'no-needle policy'
Left red-faced after two of their athletes were sent back home on charges of possession of needles during the recent Commonwealth Games, the Athletics Federation of India (AFI) has decided to implement a strict 'No-Needle' policy at all the national camps and training centres in the country.
The AFI, one of the first among National Sports Federations (NSFs) to declare a 'No-Needle' policy, has drawn up a protocol, which will be circulated to all the athletes at national camps and training centres across the country.
AFI President Adille Sumariwalla told PTI that the 'No-Needle' policy has come into effect immediately after it was declared on Friday.
"We have declared the 'No-Needle' policy yesterday and it has come into effect immediately. We have drawn up a two-page protocol to be distributed to all our athletes at all the national camps and training centres across the country," Sumirawalla said.
"We are zero tolerant in matters related to use of banned drugs by athletes and we are the first NSF to declare a 'No-Needle' policy in the country. We have intimated about this policy to Sports Authority of India also," he claimed.
Recently, Indian Olympic Association (IOA) President Narinder Batra has said that he would ask the Sports Ministry to implement 'No-Needle' policy at all the national camps in the country across all sports.
In order to the implement this policy, the AFI has formed a three member committee of coaches, which has been empowered to search the rooms of the athletes. Chief coach Bahadur Singh will head the committee while the other two members will be deputy chief coach Radhakrishnan Nair and chief coach (juniors) Sanjay Garnaik.
"This committee will be authorised to search the rooms of athletes and ensure the compliance of No-Needle' policy of the AFI," a circular issued yesterday said.
"All the coaches are requested to give it wide publicity amongst athletes so that nobody is in possession of needle or any forbidden substance. Strict action will be taken against those who are found violating this policy."
Sumirawalla said from now on, possession of needles inside the rooms of the trainees will be strictly prohibited. Those who require injections for genuine reasons, like for treatment of some illness, will have to do it at a particular place inside the campus and that too by the designated team doctor during the camp run by the AFI.
Lahiri misses cut, Woods squeezes through
Indian golfer Anirban Lahiri slumped to a mid-round tumble as he missed the cut for the third time in as many starts at the PLAYERS Championships.
Starting with a solid 69 under his belt, he looked even stronger with two birdies in first seven holes, but it literally went downhill after that and he finished at 75 and an even par total that ended his campaign.
But Tiger Woods, who went out around an hour after Lahiri, battled to a 71 after a 72 on first day. His total of 143 held up against the cut line, but not before world number two Justin Thomas (70) and world number four Jordan Spieth (68) bogeyed the 18th, allowing Woods and some others to squeeze inside the cut line.
Rory McIlroy (71-74), who seemed like making it tillhe hit the water on 17th, Phil Mickelson (79-73) and Rickie Fowler (74-71) were among the big names to miss the cut. Jordan Spieth (75-68) and Justin Thomas (73-70) also squeezed in on the cut line.
Meanwhile, leader Webb Simpson flirted with a chance for a 59 though a botched up shot on the Par-3 17th's Island Green saw him end at 63, still enough to tie the course record.
Lahiri faltered in the second round after making a great start with birdies on sixth and seventh, which saw him rise to 5-under and Tied-7th at that early stage on Friday.
A missed par-putt on eighth saw him drop his first bogey on the day, but the ninth may well have been the turning point of the day. The bogey on par-5 ninth after missing parfrom 12 feet was a disappointment.
Then came a three-putt on 10th and that ruined the day and the round.
The short birdie miss on 11th and then a bad swing on par-3 15th, which Lahiri called "pretty much the only bad swing all day" were followed by a bogey on 16th, which was the final straw.
"It was like a two-shot swing, from a chance for birdie to bogey," Lahiri said.
Still, Lahiri did well to par the 17th and 18th and he ended at T-81.