A summary of sports events and persons who made news on Tuesday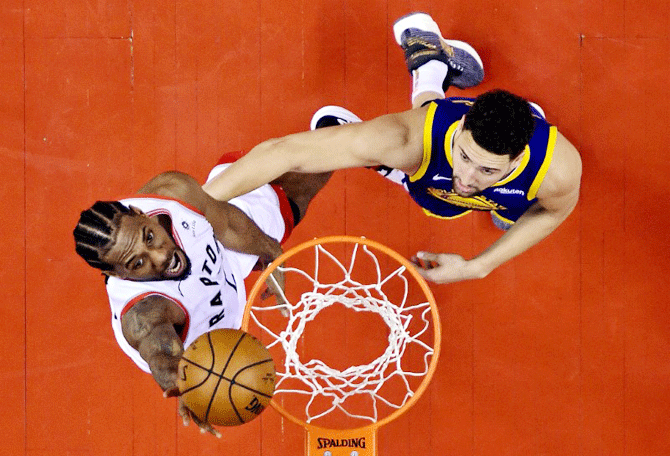 The Toronto Raptors had the Golden State Warriors on the ropes late in Game Five on Monday but even with one hand on the Larry O'Brien Trophy it was not enough to wrestle the NBA championship away from the two-time defending champions.
Toronto had mounted a fourth-quarter comeback to take control in front of a rollicking red-shirted crowd eager to celebrate the first NBA championship in the team's 24-year history, but then their shooters suddenly went cold.
Even after squandering a six-point lead with three minutes left the Raptors still had a chance to win the game but Kyle Lowry's last-second shot from the corner was not even close.
The Raptors guard dismissed suggestions they let thoughts of celebrating a title on their home floor creep into their minds.
"No, we stayed in the moment. They came back and made three straight threes. Played some good defense down the stretch," Lowry said after the 106-105 loss.
"We just missed some shots and they did what they were supposed to do."
The Raptors trailed by as many as 14 in the second half before a torrid run saw them grab a 103-97 lead with two-and-a-half minutes to play. However, they were then outscored 9-2 the rest of the way, shooting 1-for-6 in the closing minutes.
Raptors forward Kawhi Leonard had been contained for much of the night when he broke loose to get the comeback started, a three-point dagger putting Toronto ahead by one with five minutes to play.
That marked that start of a red-hot stretch for Leonard, his 10 consecutive Toronto points giving them the late six-point lead before head coach Nick Nurse called a timeout, which seemed to stall their momentum.
"At that time I felt that he probably wanted to get us some rest at that moment," said Leonard, who had a team-high 26 points.
"You never know, I mean, if we would have won the game, we wouldn't be talking about it."
But the Warriors, who lost Kevin Durant to an Achilles injury in the second quarter, came out firing and used some quick passing to set up a number of easy looks while taking advantage of some Toronto turnovers.
Thankfully for the Raptors, they have two more chances to close out the best-of-seven series, which resumes in Oakland on Thursday. A Warriors win there would set up a winner-take-all clash in Toronto on Sunday.
"Our team has reacted all year long great to bad losses, and I would say it takes a lot to beat this team, and that took a hell of a lot of blows and a heck of a lot of balls bouncing the wrong way in the last couple minutes for us to come out on the wrong side of it tonight," said Nurse.
"But I'm super proud of the guys. Man, they played their guts out, kept on fighting, and put themselves in position to win it."
Suspect in custody in shooting of retired Red Sox slugger David Ortiz
Police in the Dominican Republic were investigating why a man shot and wounded former Boston Red Sox slugger David "Big Papi" Ortiz as he sat in a nightclub late on Sunday, police and the team said.
Ortiz, a 43-year-old retired baseball player still beloved in Boston for his role on three World Series-winning teams, was recovering in a hospital in Santo Domingo on Monday from a bullet wound to his back, the Red Sox said.
His friend Jhoel López, a television host, was also wounded in the incident, police said in a statement.
Two motorcycle-borne assailants drove up to the club, where one of them appeared to approach on foot and open fire, sparking a panic in which diners fled their tables, according to police and video of the incident posted by media.
Some at the club then beat one of the suspects before police took him into custody. He was later identified as Eddy Vladimir Féliz García.
Police said they were still searching for the other suspect, who fled on foot. Féliz García had been arrested in 2017 on drug possession charges, police said, adding they had seized the motorcycle used in the attack.
El Nuevo Diario published what it said was security camera footage of the moment of the shooting. It showed patrons at the bar suddenly fleeing, leaving toppled chairs behind them.
The former baseball star was out of surgery and in stable condition and expected to make a full recovery, his father, Leo Ortiz, told reporters in Santo Domingo, according to CBS.
"Big Papi will be around for a long time," he said.
The surgery lasted about six hours, with doctors removing parts of his intestines, colon and gallbladder, ESPN reported, citing Leo Lopez, a spokesman for Ortiz.
Ortiz, who was in the intensive care unit, was flown to Boston's Massachusetts GeneralHospital late on Monday for further treatment, the Boston Globe newspaper and media said.
He arrived in Boston about 10:30 pm, and media showed images of an ambulance driving him to the hospital.
City trauma surgeons told the Globe that Ortiz's condition remained precarious.
The Red Sox said they were in contact with the family.
Ortiz started his career in 1997 with the Minnesota Twins, then played for the Red Sox for 14 seasons before retiring in 2016, according to Major League Baseball.
Boston Mayor Marty Walsh and Ortiz's fellow baseball stars were among those who expressed sympathy for the player and his family.
Ortiz was famously protective of Boston during his time with the Red Sox, and won international attention for a defiant speech in the days after the 2013 Boston Marathon bombing in which he exclaimed "This is our f*****g city" on national television.
Former Red Sox teammate Pedro Martinez called Ortiz a "strong man."
"I'm at peace knowing you (are) out of danger," he wrote on Twitter.
New England Patriots quarterback Tom Brady extended his get-well wishes on Twitter, writing: "Papi defines Boston Strong ... get well soon, my friend!!!"
Former US President Barack Obama also wished Ortiz a speedy recovery, writing on Twitter that his "spirit and resolve helped us all begin to heal from the Boston Marathon bombing."