Prannoy, Kashyap win; Jayaram loses in New Zealand Open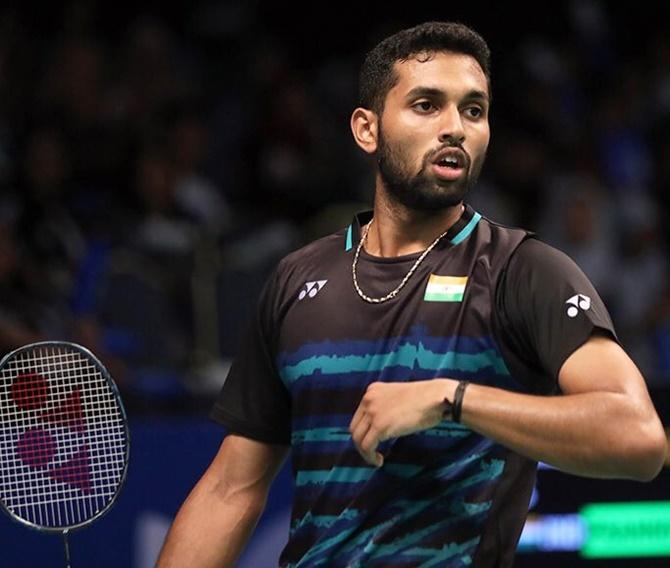 IMAGE: H S Prannoy reacts. Photograph: Twitter.
Newly-crowned US Open winner H S Prannoy and Commonwealth Games champion Parupalli Kashyap advanced to the second round but it was curtains for World Championship-bound Ajay Jayaram in the opening round of the New Zealand Grand Prix Gold in Auckland on Tuesday.
Fourth seed Prannoy defeated Indonesia's Shesar Hiren Rhustavito 21-14, 21-16, while 15th seed Kashyap brushed aside Indonesia's Dionysius Hayom Rumbaka 21-5, 21-10 in the men's singles competition.
Prannoy will cross swords with Indonesia's Firman Abdul Kholik and Kashyap will square off against local shuttler Oscar Guo.
Young shuttlers Siril Verma, Pratul Joshi, Sourabh Verma, Neeraj Vashist and Sahil Sipani also made positive starts to their campaign in the $ 120,000 event.
Seventh seed Sourabh beat Australian Nathan Tang 21-17, 21-15, 16th seed Siril defeated Indonesia's Riyanto Subagja 21-13, 21-12, Pratul dumped local shuttler Daxxon Vong 21-10, 21-13, Neeraj thrashed Indonesia's Androw Yunanto 21-8, 21-9, and Sahil surpassed New Zealand's Joshua Feng 21-10, 21-10 in other men's singles matches.
However, Jayaram suffered a shocking 19-21, 13-21 loss to Chia Hung Lu of Chinese Taipei in another men's singles match.
Harikrishna holds Navara in Biel Chess Festival
Indian Grand Master Pentala Harikrishna climbed to tied first position, courtesy a draw against Czech Grand Master David Navara in the seventh round of the 50th Biel Chess Festival.
The World No. 20, playing with black pieces, was wary of the Czech's attacking prowess and started off on a defensive note to lead the game towards neutral territory after a mere 24 moves.
Harikrishna had to be at his defensive best as the game saw both the players repeating moves thrice before they agreed to share the points.
"It was an equal game and we had to repeat moves before we decided to end the game as a draw," the 31-year-old from Guntur said after his game.
As the tournament entered it's business end, Harikrishna is on the pole position tied with three other Grand Masters, courtesy of two wins and five draws, remaining unbeaten after seven rounds.
He will take on former two-time FIDE World Chess Champion and Ukranian Grand Master Ruslan Ponomariov, in his second last game of this 10-man round-robin tournament.
Yuki sets up clash with Monfils, Ramkumar out of Citi Open
Yuki Bhambri set up second round clash with world number 22 and defending champion Gael Monfils at the ATP Citi Open after his first round opponent retired mid-way into the contest in Washington.
Yuki, who had qualified for the main draw of the ATP 500 tournament, was leading 7-5, 2-0 when American Stefan Kozlov opted out of contest due to viral illness.
However, another Indian qualifier, Ramkumar Ramanathan bowed out after a 4-6, 1-6 defeat against Argentina's Guido Pella in the opening round.
Talking about his clash against showman Monfils, Yuki was highly motivated to take on a quality player.
"It's a good test. We fight and work to play these kinds of matches and compete against the best, so it's a good opportunity," Yuki said.
"He is the defending champion and a class player. I have nothing to lose," said the 25-year-old Delhi lad.
Sanjeev Rajput wins men's 3P gold at KSS shooting meet
Two-time Olympian Sanjeev Rajput stamped his class in the men's 50m Rifle 3 Positions event by winning a gold medal on the final day of the XVII Kumar Surendra Singh Memorial Shooting Championship in New Delhi.
Representing Haryana, Sanjeev shot 461 in the finals to finish on the top of the podium, ahead of silver medallist Satyendra Singh, who shot 453.4, and Chain Singh, who settled for the bronze medal with an effort of 442.5 at the Karni Singh Shooting range.
Both Satyendra and Chain Singh represented the Army Marksmanship Unit (AMU).
In the junior category of the event, Nishant Dalal made it a double in 3P for Haryana, shooting 449.8 to win a gold, while Madhya Pradesh won both the silver and bronze medals. Akash Patidar bagged the silver with a score of 447.4 and Syed Araib shot 438.2 to finish in third place.
The rifle and pistol shooters will now move on to the third and fourth selection trials of the year, which will decide the Indian team for the Commonwealth Shooting Championship, scheduled for October-November this year in Australia.
With federation suspended, 19 Russians head to worlds as neutrals
If Russian hurdler Sergey Shubenkov retains his world title in London next week he will not be serenaded by his national anthem when he stands on the podium.
Shubenkov and 18 compatriots will compete as neutral athletes at the World Championships, the biggest international meeting to include Russians since their country's athletics federation was suspended nearly two years ago over an independent World Anti-Doping Agency (WADA) report that exposed the country's widespread state-sponsored doping.
"I want everything to be like in 2015," Shubenkov said, referring to the gold medal he won in the 110-metres hurdles at the last worlds in Beijing.
With their federation still suspended, dozens of Russians have been cleared to compete internationally after demonstrating to the International Association of Athletics Federations (IAAF) that their training environment meets the required anti-doping standards.