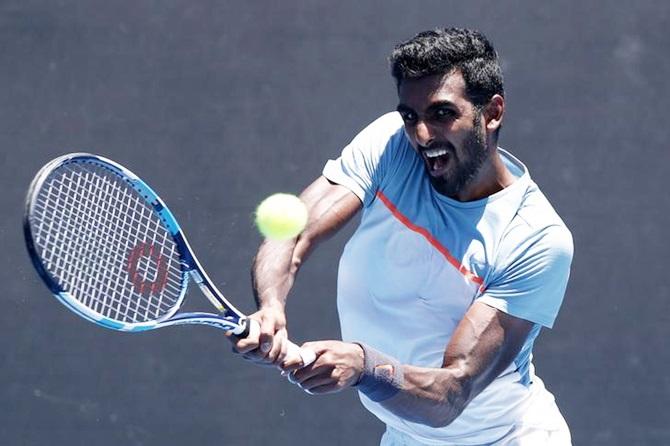 India's number one singles player Prajnesh Gunneswaran beat Jay Clarke of Great Britain in straight sets to enter the main draw of the Miami Open on Wednesday.
A 6-4, 6-4 victory in the second qualifying round of the ATP-1000 tennis tournament enabled him to progress to the main draw.
Having reached a career-high rank of 84 earlier this week, the India No. 1 began well, breaking Clarke in the opening game. He saved two break-points in the subsequent games before taking the first set.
The start of the second was similar as the 29-year-old Indian broke his 20-year-old opponent in the first game. Clarke saved two break-points but could not prevent Prajnesh going through.
This is Prajnesh's second straight Masters main draw appearance, coming a week after reaching the third round at Indian Wells.
He will meet Jaume Munar of Spain in the first round of the main draw on Friday.
Osaka faces lawsuit questions on Miami homecoming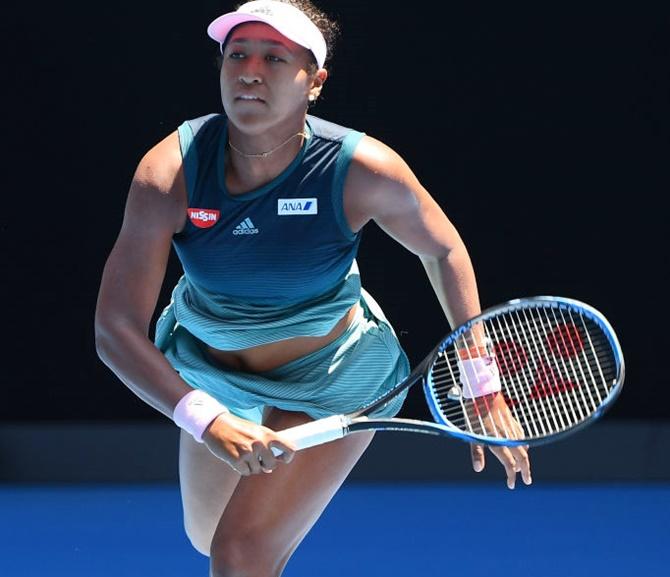 World number one Naomi Osaka arrived at the Miami Open on Wednesday to face questions about a multi-million dollar lawsuit for allegedly failing to honour a contract with a former coach.
According to the lawsuit filed in Florida's state court on Feb. 7 and seen by Reuters, Christophe Jean says he began coaching Osaka and older sister Mari in 2011.
Jean says he entered into a services contract with their father Francois in March 2012 that would pay him 20 percent of Osaka's future earnings.
Osaka's attorney Alex Spiro described the lawsuit as a "false claim" that has no merit.
Osaka, who has enjoyed a meteoric rise and won the last two grand slams to reach number one in the world, has career earnings of $ 10.8 million and has made millions more in endorsements.
Jean says that he signed a contract that would pay him a share of Osaka's future earnings as her family were unable to pay the going rate for coaching.
Asked about the lawsuit during her pre-tournament news conference Osaka, who grew up less than three miles from Hard Rock Stadium, the new home of the Miami Open, said: "I'm not allowed to say anything. I am unable to make a comment."
Spiro, however, said Jean was an opportunist looking to cash in.
"While it comes as no surprise that Naomi's meteoric rise as an international icon and inspiration would lead to some false claim, this silly "contract" that Naomi never saw or signed -- which purports to give away part of herself at the age of 14 -- is particularly absurd," Spiro told Reuters in an email. "This case has no merit and we will move past it."
The 21-year-old U.S.-based Japanese player raised eyebrows last month when she announced she was parting with coach Sascha Bajin, who guided her to the Australian and U.S. Open titles.
That split, however, appeared amicable with both Osaka and Bajin wishing each other the best for the future.
Asia Mixed Team C'ships: Ashmita, George-Shukla shine but India lose 2-3 to Chinese Taipei
India crashed out of the Asia Mixed Team badminton Championships after losing 2-3 to Chinese Taipei, despite some brilliant performances by rising star Ashmita Chaliha and men's doubles pair of Arun George and Sanyam Shukla in Hong Kong.
Ashmita and George-Shukla emerged victorious in the first two matches to give India a 2-0 lead in the five-match tie but defeats in the next three matches meant India failed to progress from Group B.
India had suffered a defeat to Singapore by an identical scoreline in their opening Group B match.
With this win, a resilient Taipei booked their quarter-final berth.
George and Shukla showed nerves of steel to hold off the World No. 14 pair of Liao Min Chun and Ching Heng for a 21-17, 17-21, 21-14 win.
Assam's 19-year-old Chaliha then played beyond her age to get a marathon 21-18, 17-21, 21-19 win in exactly an hour.
With India leading 2-0, World No. 32 Wang Tzu Wei and three-time Indian national champion Sourabh Verma were locked in a gritty contest before the Chinese Taipei shuttler pulled off a 21-7, 16-21, 23-21 victory.
It motivated the women's doubles and mixed doubles teams of the Taipei squad who did not even drop a game to complete the win.
While the women's doubles pair of Chang Ching Hui and Yang Ching Tun beat Arathi Sara Sunil and Rutaparna Panda 21-19, 21-17, the mixed doubles combine of Hsieh Pei Shan and Tseng Min Hao easily dismissed Shikha Gautam and Shlok Ramchandran 21-15, 21-14.
India thus failed to emulate their performance from the last edition in which they had made it to the quarter-finals.
India handed tough draw in Sudirman Cup
India has been drawn alongside 10-time champions China and Malaysia in the Sudirman Cup mixed team badminton championship to be held in Nanning, China from May 19 to 26.
India had reached the quarterfinals in the 2011 and 2017 editions, losing to China both times, and it will once again have a tough task in hand to qualify from Group 1D.
Top seeds Japan, searching their first Sudirman Cup title, are in Group 1A with Thailand and Russia.
Indonesia, winners of the first tournament in 1989, will be wary of Denmark and England in Group 1B, while defending champions Korea will also expect a challenge from Chinese Taipei and Hong Kong in Group 1C.
The top two teams from each sub-group in Group 1 will progress to the quarterfinals and compete for the title. The other 19 teams from Groups 2, 3 and 4 will compete for overall placings.
The draw for the 31 participating teams, which are divided into four groups based on team rankings, was conducted in Nanning.
Sudirman Cup is a mixed team badminton championship with each tie featuring all the five formats.
Groupings:
Group 1
Group A: Japan, Thailand, Russi
Group B: Indonesia, Denmark, England
Group C: Chinese Taipei, Korea, Hong Kong
Group D: China, India, Malaysia
Group 2
Group A: Netherlands, France, USA, Vietnam
Group B: Germany, Canada, Singapore, Israel

Group 3
Group A: Ireland, Australia, New Zealand, Nepal
Group B: Switzerland, Sri Lanka, Slovakia, Lithuania

Group 4
Macau, Greenland, Kazakhstan
Mugdha, Mithun lose in Orleans Masters
Indian shuttlers Mugdha Agrey and Mithun Manjunath suffered straight game losses to bow out of the Orleans Masters BWF Tour Super 100 tournament in Orleans.
It turned out to be a dismal day for India at the $ 75,000 event as women's doubles pair of Pooja Dandu and Sanjana Santosh and mixed doubles combination of Dhruv Kapila and Kuhoo Garg also went down in contrasting fashion in the pre quarter-finals.
In men's singles, Mithun lost 9-21, 18-21 to Gatjra Piliang Fiqihila Cupu of Indonesia in 37 minutes, Mugdha went down 10-21, 19-21 to sixth seed Sabrina Jaquet of Switzerland.
Fourth seeded women's doubles pair of Yulfira Barkah and Jauza Fadhila Sugiarto of Indonesia ended Pooja and Sanjana's run with a 21-14, 18-21, 21-19 win, while Dhurv and Kuhoo fought hard before losing 21-23 12-21 to fourth seeds Evgenij Dremin and Evgenia Dimova of Russia in mixed doubles.
P kashyap and Ajay Jayaram will play their respective men's singles pre quarter-finals later in the day.
Jamaica's Campbell told he had 'died' after collapse in New York
Jamaican distance runner Kemoy Campbell, who collapsed during the men's 3,000m at last month's Millrose Games, was told by doctors he had 'died' on the track, the 28-year-old said.
Campbell, who collapsed while acting as a pacesetter, was given medical treatment on site and later taken by a stretcher for further treatment. He spent 17 days in a hospital.
"I have no recollection of it. The doctors said my heart stopped and I basically died. It was a scary moment for me," Campbell, who underwent surgery to implant an internal defibrillator, told the BBC.
"When I woke up it was Monday morning (two days after the race) and I was in hospital. I didn't know where I was and how I got there. It was scary to know I missed almost a whole two days and couldn't recall what happened."
Campbell said that his doctors have not been able to diagnose his condition after weeks of testing but he is determined to return to the track.
"In my mind I should be back on the track. Doctors say I should take some time off then do some tests, then maybe I can start slowly and build back up. If I can't, it'll be the end of my career," Campbell added.