Summary of sports events and persons who made news on Friday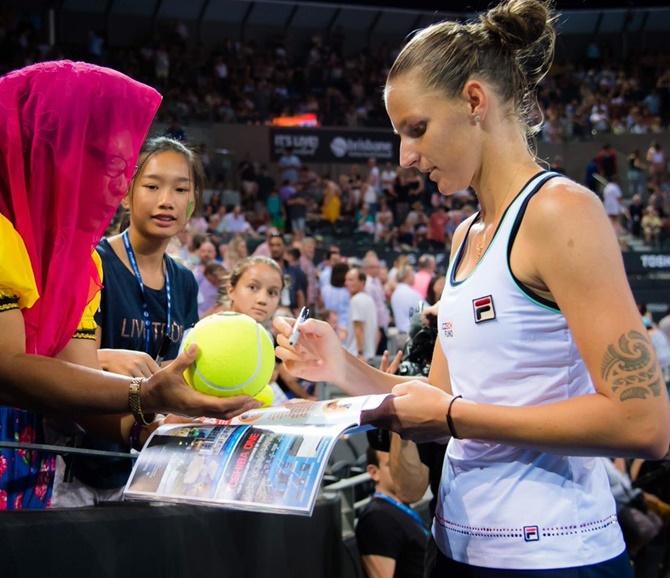 Former world number one Karolina Pliskova lost her way midway through a 'strange' encounter with Ajla Tomljanovic on Friday, before recovering to blaze past the Australian 6-1, 1-6, 6-1 and into the Brisbane International semi-finals.
After easing through the opening set in 26 minutes, Pliskova appeared to switch off as world number 46 Tomljanovic switched gears to win five games without reply before levelling the contest at one set apiece.
Pliskova was jolted back to life in the decider and showed the poise that has accompanied her rise up the rankings, as the world number eight raced to a 5-0 lead before sealing victory.
"It was a strange match today, but the beginning of the sets was important. I've never had a match like this, but I'm happy I'm back in the semis," Pliskova, who fired 14 aces and 27 winners, said.
"I was a little bit flat after the first set. She improved in the second set and it went quickly... she was more aggressive and serving much better."
Standing between Pliskova and a second Brisbane final in three seasons is Croatian Donna Vekic, who she last beat in the Pan Pacific Open semis last September.
Vekic earlier dismantled last year's finalist Aliaksandra Sasnovich 6-2, 6-0.
In the men's draw, fourth-seeded Daniil Medvedev, who beat former world number one Andy Murray in his previous match, rallied to knock out another former champion in Milos Raonic to reach the last-four.
The Russian, ranked 16 in the world, prevailed 6-7(2), 6-3, 6-4 over the 2016 winner to set up a meeting with Frenchman Jo-Wilfried Tsonga.
"I like the way I played these two matches against great players... champions of our sport," Medvedev, who saved eight break points against the big-serving Raonic, said.
"Despite the many chances that he had, I managed to hold my serves so I'm happy about it and the win... to see that what I have been working on in the off-season works in Brisbane is already a good sign."
Unseeded Tsonga defeated local favourite Alex De Minaur 6-4, 7-6(2) to advance.
Bopanna, Sharan pull-off another thriller to enter final
Rohan Bopanna and Divij Sharan came back from the brink for the second match in a row to reach the final of the Tata Open Maharashtra, taming Simon Bolelli and Ivan Dodig in a thriller in Pune.
The top seeded Indians, playing first time on Tour as a team, knocked out the Italian-Croatian combine 6-3, 3-6, 15-13 in one hour and 33 minutes after saving two match points in the Super Tie Break.
They had saved six match points on Thursday against Leander Paes and Miguel Angel Reyes-Varela before winning.
It was tough test for the new Indian team as it was up against players, who have a Grand Slam crown each to their credit, and the home team played better than its previous clash.
Bolelli, a top-50 singles player in 2009, had won the 2015 Australian Open doubles with fellow Italian Fabio Fognini while Dodig also won his first and only men's doubles Grand Slam crown in the same year at French Open with Marcelo Melo.
Bopanna as usual was solid with his returns while left-hander Sharan put up a better show than Thursday.
It will be the first final on the ATP World Tour for both the players. Bopanna last played a final when he won the Vienna event in October 2017 with Pablo Cuevas and Sharan won the Antwerp title with Scott Lipksy in the same month.
"We played a better match today, happy to ride the wave. It was completely different from yesterday, these guys were returning stronger," said Bopanna.
"To have an Indian team back on tour is good and we are improving. But it will take some time to set patterns. We have not played much together and need some off-court practice together," he added.
Sharan, who struggled with his serve, said he it's a work in progress but he still has "spots" where he can get points.
"I am not putting much spin to the ball. Conditions were different from yesterday and I was not finding my rhythm. Tomorrow, the key will be to play freely and fight for every point," the Delhi lad said.
In a fast-paced match, the top seeds from India broke Dodig in the eighth game to nose ahead. Bopanna created the opportunity with a service return winner and then Sharan was locked an interesting volley-rally battle which ended with Bolleli chipping one over the baseline.
Serving for the set, Bopanna began with consecutive double faults and was down by a deciding point but the big-serving Indian ensured that advantage was not lost.
In the second set, the Croatian-Italian combine broke Sharan in the fourth game. After serving a double fault, Sharan gave a free point to opponents when one of his returns hit Bopanna.
On the next point, Dodig found a volley winner to earn two break chances.
With both Indians standing in the middle of the court, Bolleli hit a deep looping return. Sharan ran hard to cover the ground and managed to connect his forehand but it went long, giving the unseeded team a 3-1 lead.
A solid hold from Dodig pushed them ahead 4-1.
Bopanna struggled to pick a half volley at 30-30 in the next game to be down by a break point but he saved that and also the deciding point with a strong serve.
Sharan served to stay alive in the set and the error-littered game put them down by two set points but still, they managed to save the game.
The Indians had a chance to get the break in the next game but Sharan could put the return inside the lines when Bolelli served on the deciding point.
The Indians went down by a match point at 8-9 but Bopanna hit a backhand winner to save that.
Up 13-12, Bopanna hit one long to squander a fourth match point. Bolelli hit long to give the Indians their fifth match point and it was converted when Dodig hit a return out.
They will now fight it out for the title with the British pairing of Luke Bambridge and Jonny O Mara.
Manu Bhaker reminds Haryana sports minister of promised Rs 2 crore award
Teenage shooting sensation Manu Bhaker Friday reminded Haryana sports minister, Anil Vij, of a Rs 2 crore cash award promise, which he made after her Youth Olympic gold medal, but is yet to fulfil.
The 16-year-old Bhaker caught the attention with her stunning exploits in shooting ranges across the world, winning multiple gold in her maiden senior World Cup, Commonwealth Games, besides the top prize at the Youth Olympics last October.
The pistol shooter, hailing from Goria village in Jhajjar, posted screenshots of Vij's tweet in which he had promised her cash award to the tune of Rs 2 crore on behalf of the state government.
"Sir Please confirm if it is correct... Or just Jumla (sic)," Bhaker wrote on Twitter.
After Bhaker had become the first Indian shooter to win gold at Youth Olympics, Vij had tweeted, "Congratulations to Manu Bhaker for winning shooting gold in Youth Olympics. Haryana government will give a cash prize of Rs 2 crore to Manu Bhaker for winning this gold. Previous governments used to pay Rs 10 lakh only."
The shooter also felt that someone in the Haryana government has been playing 'games' with the money that was to be awarded to the medallists.
As per the state government's changed policy, which came into effect before the Youth Olympics, Rs 2 crore was marked for the gold medallists, Rs 1.25 crore for silver medallists and Rs 80 lakh for the bronze winners. Before that, the YOG medallists would get Rs 10 lakh, Rs 7.5 lakh and Rs 5 lakh in descending order.
However, the government again revised its policy last December and brought the amount down to Rs 1 crore for gold, Rs 65 lakh for silver and Rs 40 lakh for the bronze medallists.
Bhaker's father Ram Kishan Bhaker, who is a chief engineer in the Merchant Navy, said moves such as this can break the morale of athletes.
"Far from motivating sportspersons, such moves will break their morale. She is yet to get the promised cash award and now they have revised the policy again. I really hope enough thought is given before they finalise something. Otherwise, it can be detrimental to an athlete's career," Bhaker senior said.
Bhaker had a phenomenal year in 2018 when she won the Commonwealth Games gold in Gold Coast, a month after winning gold in the 10m air pistol individual and team events at the ISSF World Cup in Guadalajara, which was her maiden appearance in a senior meet.
Vikas set for pro debut in US on Jan 18
Indian boxer Vikas Krishan will make his professional debut on January 18 in New York against American Steven Andrade.
The welterweight bout will take place at the Stone Resort Casino and will form the under-card of Olympic silver-medallist Shakur Stevenson's IBF Intercontinental and WBC Continental Americas featherweight title contest against Jessie Cris Rosales in a 10-rounder, an official associated with Vikas said.
Vikas' bout will be a six-round contest and mark his foray into the pro circuit after signing up with the legendary Bob Arum's Top Rank Promotions. His opponent, Andrade, is six fights old on the circuit with a 3-3 record. He will go into this contest after three consecutive losses, the last being in November 2017.
The 26-year-old Vikas is one of India's most decorated boxers and has won gold medals at the Asian and Commonwealth Games. He is also a world championships bronze-medallist.
Besides, Vikas is a multiple-time Asian championships medallist.
"I was an amateur for a very long time, and the time was finally right to turn pro," Vikas had stated after turningprofessional, a move that he had been planning for since 2016.
Vikas has been training with Stevenson's grandfather Wali Moses, according to media reports in the US.
Vijender Singh, India's first and only Olympic medallist in boxing, has also signed up with Top Rank Promotions after an undefeated professional run in England and India. His debut on US soil is being planned for March later this year.
AITA challenges 'biased' Somdev to implement his vision
If Somdev Devvarman has a better vision for Indian tennis than AITA, who is stopping him from implementing it, questioned the national tennis federation, which also accused the former player of bias.
Somdev recently had asked what was AITA's vision for sport in country, suggesting the federation had not done enough to lift the game in the country.
In a sarcastic response, Chatterjee said one must ask Somdev when and where he won his first tournament.
He said that it was the All India Tennis Association (AITA), which brought hundreds of tournaments to India and players like him moved up the ranking ladder by competing in those events.
"As far as the vision is concerned we brought international junior, men's and ladies events to our country and organised the same at our cost. Our players benefited, including Somdev," Chatterjee said.
"Ask him which was his first junior & men's international event he won and where. We also have an internationally recognised development program for officials and coaches.
"If his vision is so great why can't he implement the same now that he is the government observer, entrusted to do so," Chatterjee said.
He said it was Somdev who was responsible for the state of the Centre of Excellence, a project which is not moving forward.
"The entire responsibility of the Centre Of Excellence (COE) was with government observer Mr. Somdev Devvarman. It is for him to convince the government (to not reduce budget) and not us as he is paid by the government to decide and recommend," Chatterjee said.
"The COE, decided during (then Sports Secretary) Mr. Injeti Srinivas' time was budgeted for Rs 20 crore. Rs. 10 crore was to be funded by the government and remaining 10 was to be arranged through corporate funding. "After Mr. Injeti was transferred, Mr Rahul Bhatnagar (current secretary) felt the budget was high which needed to be reduced. We have no role in budget cut," the senior AITA official explained.
Chatterjee also claimed that they had no role in deciding the salary of the COE head and it was only Somdev who suggested the figure of Rs 2 crore per annum.
"Director Operations salary suggested by Somdev was felt to be too high, hence, he was asked to take up the job at a lower cost," Chatterjee said.
While Chatterjee said there was no disagreement on implementation of plans for COE project, the AITA did differ with Somdev on issues like players funding through TOPS.
"He did not feel Ankita was a deserving candidate and that she can't win a medal but she went on to shut everyone's mouth by winning a bronze at the Asian Games," Chatterjee said.
"She was number one player but she was still left out. Why?" he asked, suggesting that there could be an agenda.
The senior official said AITA and Somdev were on same page as far as implementation of the plan was concerned.
"We at AITA wanted to support all top-10 players of all age groups including men's and women's based on ranking. We wanted about 100 players to train at the Centre and Somdev also agreed on this. There was no disagreement whatsoever," he said.
In a veiled reference, the AITA official also suggested that Somdev is not an ideal candidate for the position of government observer because of a certain conflict of interest.
"People engaged privately for coaching should not be the one who will recommend (names for) the government grants," he said.
By his own admission, Somdev at times "mentors" many Indian players in Chennai such as country's number one player Prajnesh Gunneswaran but insisted that he does not get paid for it.
When contacted, Prajnesh told PTI from Melbourne that he only paid Somdev once but that was just to manage the cost since Milosh, a foreign, coach, had come before the 2017 Chennai Open.
"Other than that, we just hit on and off. We have never discussed money. He's always happy to help," said Prajnesh.
As government observer, Somdev has a role to recommend names for TOPS, which provides financial support to players. He was appointed government observer in March 2017.