A summary of sports events and sports persons, who made news on Tuesday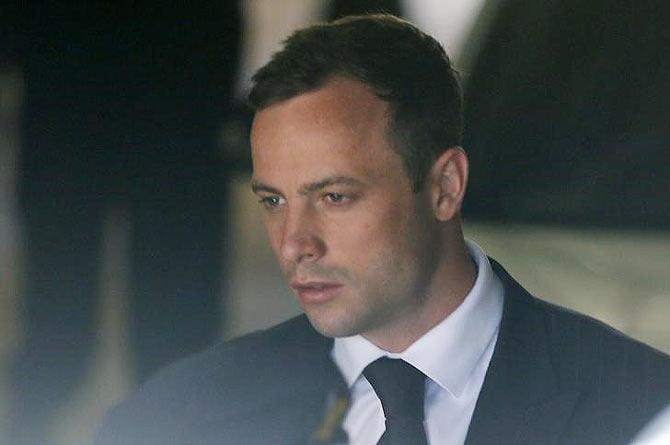 IMAGE: South African Olympic and Paralympic sprinter Oscar Pistorius. Photograph: Mike Hutchings/Reuters
Jailed South African track star Oscar Pistorius will appeal against his increased prison sentence of 13 years and five months at South Africa's Constitutional Court, Eye Witness News reported on Tuesday.
South Africa's Supreme Court more than doubled Oscar Pistorius' murder sentence last month, accepting prosecutors' argument that the original jail term of six years for shooting dead his girlfriend Reeva Steenkamp was "shockingly lenient".
Pistorius's family spokesman was not available to comment.
Legal analysts have said Pistorius could appeal to the Constitutional Court, South Africa's topmost legal authority, but saw his chances of success as slim.
The gold medal-winning athlete, a double amputee known as the "Blade Runner" for his carbon-fibre prosthetics was given the minimum 15 years prescribed for murder by the Supreme Court, reduced to 13 years and five months, taking into account time served.
The athlete was jailed in July last year after being found guilty on appeal of murdering model and law graduate Steenkamp on Valentine's Day 2013 by firing four shots through a locked bathroom door.
Rights groups in a country beset by high levels of violent crime against women say Pistorius, 31, received preferential treatment compared to non-whites and those without his wealth or celebrity status.
Although in jail, Pistorius has remained in the news. He suffered a bruise in a fight with another inmate after spending too long on a phone call, a prison spokesman said.
Govt to privatise stadia under SAI to improve service quality
Sports Minister Rajyavardhan Singh Rathore said on Tuesday that the government will privatise some of the stadia under the Sports Authority of India to improve their administration and quality of services.
Rathore said the move was aimed at delivering better playing experience to the sportspersons.
"We are keenly thinking of privatising some of our stadia to have better operations in terms of delivering sports to the sportspersons. There was a general study on how the stadia can be improved. The fact is that there is need to improve the way stadia are administered," Rathore said.
"The stadia must have better quality of service and playing area. The sheer experience of playing needs to improve. The SAI was created before 1982 Asian Games to help in conducting the Games and looking after these stadia. The mandate has increased now from that time and I think it's time in today's world we bring in as many stakeholder as possible."
He said privatisation will be done through Corporate Social Responsibility or PPP (Public Private Partnership) model.
He also announced that centres of the CentralSportsUniversity in Manipur will be set up in other cities.
Two teams from India to take part in Jr NBA World C'ships
Two teams from India will compete at the inaugural Junior National Basketball Association (NBA) World Championships in the US from 7-12 August next year.
The top performers in the 5-on-5 competitions from the Reliance Foundation Jr NBA Program will make for a city All-Star Team. One boys' and one girls' team from each of the eight participating cities will be selected to compete in a National Final. The winners of the National Final will then represent India at the Jr NBA World Championship, a media release said.
The Jr NBA World Championship will feature boys and girls divisions, each comprising 16 regional champions (eight US and eight international teams).
The championship will be separated into US and international brackets that include round-robin competition followed by single-elimination boys and girls tournaments.
Along with India international teams from Africa and Middle East, Asia Pacific, Canada, China, Europe, Mexico and South America will also take part in the tournament.