A summary of sports events and persons who made news on Monday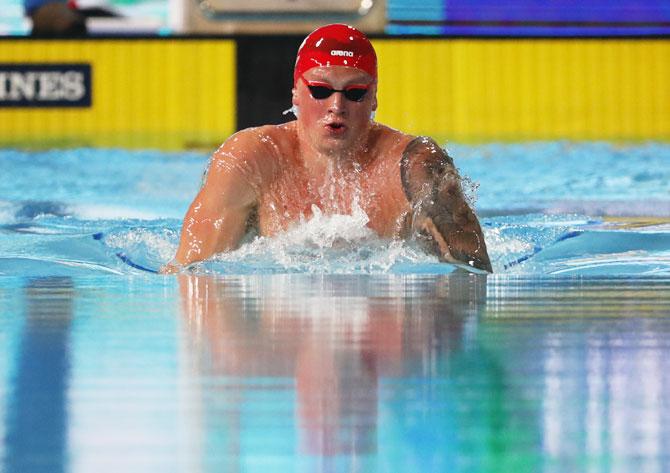 Adam Peaty's world 100 metres breaststroke record, set at the European Championships on Saturday, has been amended after problems with the race-timing equipment came to light, officials said on Sunday.
The time, revised from 57.00 seconds to 57.10, is still faster than Peaty's previous record of 57.13 set at the 2016 Rio de Janeiro Olympics, sparing organisers the embarrassment of having to wipe the 23-year-old Briton's new mark from the record books.
The European Swimming League (LEN) have apologised to Peaty and other affected athletes, a senior LEN official said later on Sunday, adding that he could see no reason why the record would not be ratified by the sport's governing body FINA.
A second world record set on Saturday, the 50 metres backstroke mark of Russian Kliment Kolesnikov, remains unchanged as it was not one of the nine races that were affected by the equipment problem.
LEN said the starting mechanism had been "incorrectly configured" so that nine of Saturday's races at the Tollcross International Swimming Centre showed times that were 0.10 seconds too fast.
"During the afternoon competition session on Saturday, the LEN Technical Swimming Committee became aware of a potential problem in relation to the race timing equipment for the first nine races of that session," a statement from the European governing body said.
"Upon thorough investigation it became apparent that the starting mechanism had been incorrectly configured prior to the start of the session which resulted in all reported times being 0.10s faster due to a configuration delay of 0.10s.
"The LEN Technical Swimming Committee, working with the timing system operators, carried out extensive tests to confirm this system configuration error and have, with the benefit of the necessary technical analysis, revised all recorded times for the first nine races during that session.
"The (committee) confirms that all times recorded during the first three competition sessions and after the first nine races of that session are accurate."
The affected races were the women's 800 metres freestyle final, 100m butterfly final and two 100m breaststroke semi-finals and the men's 100m breaststroke final, 200m butterfly semi-finals and 100m freestyle semi-finals.
"We have spoken to Adam Peaty and his agent, and British Swimming," Craig Hunter, vice chairman of the technical swimming committee of LEN, told reporters later.
"We said sorry, we apologised, as we did to all of the teams.
"This shouldn't have happened. It has happened, and when issues happen we have to apologise.
"We will be submitting the record application for the world record to FINA. It will be signed by the referee, who will follow all the usual protocols. Provided it meets all the viable criteria in the usual way it will be approved, absolutely.
"Of course it is (up to FINA to ratify the record), they are the governing body, but the form has been correctly completed, it has an accurate official time from LEN and we cannot foresee a reason why FINA would not ratify it."
British swimming officials took the revision in their stride.
"We support LEN's vigilance in this matter and appreciate the time they have taken to make sure all times are correct," said national performance director Chris Spice.
"We want this event to be remembered for the amazing achievements of the athletes so it is important that the results are correct.
"We don't want this to take away from Adam's amazing performance which we all experienced in a fantastic environment."
Swastika Ghosh wins bronze in Hong Kong Open TT
Young paddler Swastika Ghosh claimed a bronze medal in the junior girls' doubles along with Singapore's Jingyi Zhou in the 2018 Hang Seng Hong Kong Junior and Cadet Open that concluded last week.
The pair defeated their Taipei opponents Pei-Ling Su and Yu-Chin Tsai 3-1 in the round of 16 before overcoming the Chinese duo of Binyue Zhang and Yi Chen with a similar score in the quarter-finals, according to the information received.
The combination of Li Lin Jassy Tan of Singapore and Ruei Ling Wen of Taipei, however, proved too strong for Swastika and her Singapore partner in the semi-finals and the latter lost 2-3 last Saturday to lose the chance to reach the gold medal round.
In the junior boys' doubles category, the Indian combination of Raegan Alberquerque and Payas Jain got through to the pre-quarters, but couldn't continue their winning run as they lost to the Thai pair of Yanapong Panagitgun and Supakron Pankhaoyoy.
Aditi records her best finish at Major with T-22 at British Open
A flawless four-under 68 helped Aditi Ashok record her best ever finish in a Major as she ended her campaign at Tied-22nd in the Ricoh Women's British Open here.
The 20-year-old Indian finally found some rhythm in her game this week as she produced a bogey free round that included a hat-trick of birdies from sixth to eighth and a fourth one on 16th.
Her earlier rounds were 72, 72 and 73 and she totalled three-under 285.
Aditi's previous best at a Major was T-29 at the 2017 Women's PGA Championships.
The Bangalore girl has made cuts in ANA Inspiration with a best of T-42, while missing the weekend action at the US Women's Open and Evian Championships.
England's Georgia Hall with her father Wayne on the bag made history on Sunday. Hall carded a final round five-under 67 to win the Ricoh Women's British Open at Royal Lytham & St Annes for her first victory on the LPGA Tour.
With her win, she becomes the fourth Englishwoman to win the Championship and first since Karen Stupples in 2004.
The 2018 LPGA Tour rookie finished the week at 17-under par, two-strokes ahead of 36 and 54-hole leader Pornanong Phatlum of Thailand.
So Yeon Ryu finished solo third at 13-under par with a final round 2-under 70.
Hall's victory comes one year after she finished T3 at the 2017 Ricoh Women's British Open at Kingsbarns.
Hall made two bogeys the entire week and didn't drop a single shot yesterday as she kept pace with Phatlum, who recorded a two-under 70. The runner-up finish is a career best for the Thai.
Semenya cruises to 27th consecutive 800m victory
South Africa's Olympic and world champion Caster Semenya won her 27th successive 800 metres final when she clocked an impressive one minute 56.06 seconds at the African championships in Asaba, Nigeria on Sunday.
The title was the second at the five-day games for the 27-year-old who had earlier won the 400m in a national record of 49.96 seconds, while her 800m time was a championship record.
Winner of the 800 and 1,500 metres at the 2016 African championships, Semenya has not been beaten in the shorter race since 2015.
"Today was just to see how we could run after a hard 400 metres," the South African told the IAAF website https://www.iaaf.org/news/report/african-championships-asaba-final-day "Which wasn't a bad thing to do - to test my limits after running 49. And 1:56.06, that's a beautiful time. I couldn't have asked for more."
With winners in the championships qualifying for next month's Continental Cup in Ostrava, the 27-year-old Semenya confirmed she would contest both distances.
Burundi's Francine Niyonsaba, the Olympic and world silver medallist, again was second, running 1:57.97, with Ethiopia's Habitam Alemu taking the bronze in 1:58.86.
Ivory Coast's Marie-Josee Ta Lou added the 200m title to her 100 crown, winning in 22.50 over Cameroon's Bevina Abessolo (23.36).
Kenya piled up six more golds in sweeping the women's 3,000m steeplechase and winning the men's 1,500m, 5,000m, 4x400 relay, 20km race walk and javelin.
World record holder Beatrice Chepkoech clocked 8:59.88 for a comfortable win over team mates Celliphine Chespol (9.09.61) and Fancy Cherono in the steeplechase.
Commonwealth Games champion Elijah Manangoi snapped training partner Timothy Cheruiyot's five-meet winning streak in Kenya's 1-2 in the 1,500. Manangoi claimed gold in 3:35.20 with Cheruiyot running 3:35.93.
Edward Zakayo, who is only 16, claimed the 5,000m title in 13:48.58, 2008 Olympic champion Julius Yego won the javelin with a throw of 77.34 metres and Alphas Kishoiyan anchored Kenya to the 4x400m relay gold in a championship record 3:00.92.
The performances sent the Kenyans to the top of the medals table with 11 golds, six silver and two bronze.
South Africa, with Ncincilili Titi taking the men's 200m in 20.46 seconds, finished second in the gold race with nine. They had 30 overall medals, 13 silver and eight bronze.
Hosts Nigeria also had nine golds after Glory Nathaniel took the women's 400m hurdles in 55.43 seconds, Grace Anigbata won the women's triple jump (14.02m) and their women's 4x400m relay team ran 3:31.17.