A summary of sports events and persons who made news on Thursday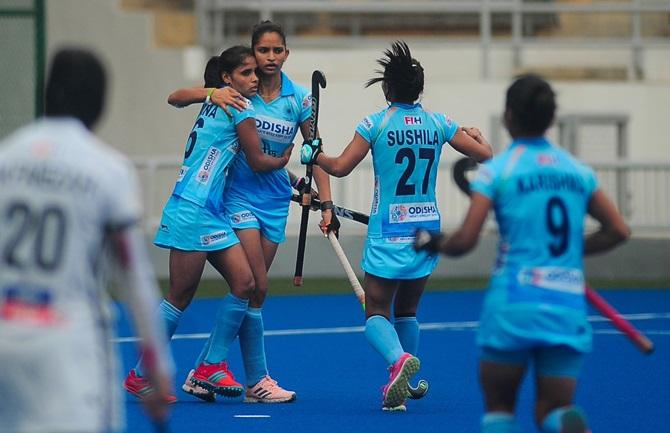 India beat Malaysia by a solitary goal to complete a 4-0 triumph in the five-match bilateral women's hockey series, in Kuala Lumpur, on Thursday.
Navjot Kaur's fine field goal in the 35th minute and a good defensive display helped India emerge winners.
India did well to create scoring opportunities with substantial circle entries but could not convert enough chances.
"We need to work on converting goals," stated Indian team chief coach Sjoerd Marijne, who was not very pleased with the margin of victory in the final game.
"I am happy with the number of times we entered the opponent's circle. We created enough opportunities with shots and PCs but we have to keep working on converting in small space," he said.
Speaking about the tour which saw India win 3-0, 5-0, draw 4-4 and win the last two matches 1-0 respectively, Marijne said, "This tour gave us more insight on how to play against a very defensive team like Malaysia. Also it was good that some of our young players experienced what it takes at international level and this will really help us to create depth in the squad."
The team will return from its successful campaign on Friday.
New Zealand honours paralympian Deepa Malik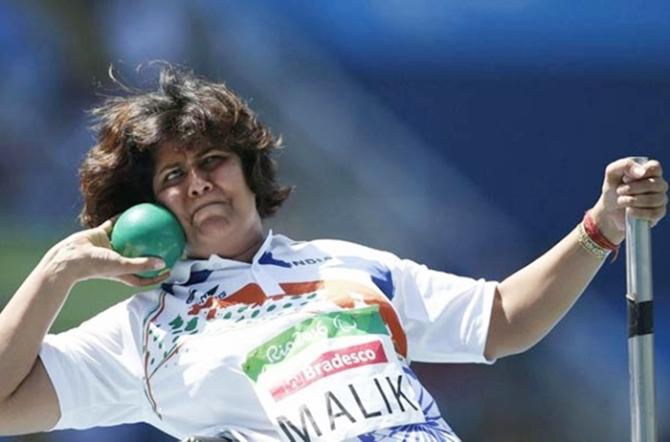 Rio Paralympics silver medallist Deepa Malik was awarded the New Zealand Prime Minister's Sir Edmund Hillary Fellowship for 2019 in recognition of her "inspiring achievements".
The 48-year-old Deepa, who won the silver medal in shot put F53 event in Rio in 2016, will work to promote sporting, cultural, as well as people-to-people relationship between India and New Zealand.
Athletes in F53 category can do only seated throws and they have full muscle power on their shoulder, elbow and wrist in the throwing arm.
"We are very pleased to announce that the New Zealand Prime Minister's Sir Edmund Hillary Fellowship for 2019 has been awarded to Indian Paralympic athlete Deepa Malik. The fellowship, awarded by Prime Minister Jacinda Ardern, aims to strengthen the ties between India and New Zealand," read a statement from the New Zealand High Commission on Thursday.
"It gives us great pleasure to award this fellowship to someone who exemplifies two values that make a great sportsperson: courage and a can-do attitude. In Deepa, we see an inspiring achiever who can confidently and proudly carry forward our message of inclusivity and the pursuit of excellence," it added.
Congratulating Deepa, High Commissioner Joanna Kempkers said, "When Deepa comes home, she will be a great ambassador for the India-New Zealand relationship. We hope that she will share her experiences in New Zealand far and wide, bringing greater understanding and helping to build the people-to-people links between the two countries."
Deepa, on her part, said the conferment of the prestigious fellowship on her was a "clear declaration of great attention towards the empowerment of women and of people with disabilities, and the celebration of diverse cultures in both countries".
"I feel absolutely humbled and blessed to be able to represent the essence of India, for the bilateral relationship between the two countries. Prime Minister Ardern's leadership is such an inspiration to the world and resonates with Indian values," she said.
"Having won my first major medal, a silver in F53 women's shot put at the IPC World Para Athletics Championship 2011 in Christchurch, I have always had a special connect with New Zealand and its Paralympics fraternity and I happily accept this purposeful association on behalf of my fellow citizens of India," Deepa said.
As a Hillary Fellow, Deepa will travel to New Zealand and meet Prime Minister Jacinda Ardern, undertake a series of visits to Paralympic sporting organisations and engage with Kiwi athletes, students and media as well as the significant Indian community there.
At 36, she was diagnosed with a spinal tumour which left her unable to walk.
She became the first Indian woman to win a medal at the Paralympic Games when she bagged a silver in shot put F 53 at the Rio Paralympics in 2016, scoring her personal best of 4.61m.
She is the only Indian woman to have won medals in three consecutive Asian Para Games in 2010, 2014 and 2018. Her tally of laurels stands at 58 national and 23 international medals.
A recipient of India's civilian honour Padma Shri and the prestigious Arjuna Award for excellence in sports, Deepa has entered the Limca Book of World Records four times.
"New Zealand has a world-class Paralympic sporting system and we are excited by the opportunity for Deepa to visit New Zealand, see our facilities first-hand, and meet with some of our Paralympic sportspeople," the New Zealand High Commission said.
IAAF ethics board closes investigation into Coe
The world athletics governing body (IAAF) has closed an ethics investigation into its president Sebastian Coe over allegations that he provided misleading answers to a British parliamentary committee in 2015.
The IAAF's ethics board said, following a six-month investigation, that it had found there was no basis on which "any disciplinary case could be established that Lord Coe intentionally misled the Parliamentary Committee."
"The investigation has therefore not identified evidence of a potential breach of the code of ethics by Lord Coe," it said.
Coe has denied throughout that he misled the Digital, Culture, Media and Sport (DCMS) select committee when he appeared before it in December 2015, four months after being elected IAAF president.
Coe, previously an IAAF vice-president, was questioned about what he knew about doping in Russian athletics before he took office. In its final report 'Combating doping in sport' in 2018, the committee criticised Coe's answers as misleading.
"It stretches credibility to believe that he was not aware, at least in general terms, of the main allegations," the report added.
The IAAF's ethics board then opened an investigation in September into whether Coe's conduct had violated its own regulations.
Coe, a double Olympic 1,500 metres gold medallist, insisted that he did not know the specific detail of an email sent to him by former London Marathon race director David Bedford in 2014.
Bedford said the attachments contained details of how Russian marathon runner Liliya Shobukhova had sent hundreds of thousands of dollars to the IAAF to cover up positive doping tests.
Shobukhova was banned for three years and two months, later reduced by seven months for assisting with investigations.
Although Coe confirmed receiving the email, he said he forwarded it to the IAAF ethics board without reading the attachments.
The board said in its decision on Thursday that Coe "behaved appropriately" by referring the matter.
"Coe's evidence is that his personal assistant forwarded the email with its attachments to the Chairperson of the Ethics Board and that he (Coe) did not read the attachments," it said.
"The investigation did not find any evidence inconsistent with that position."
Garin saves five match-points to stun Chardy in Houston
Chilean Christian Garin saved five match points to upset second seed Jeremy Chardy of France 3-6, 7-6(4), 7-6(7) and advance to the quarter-finals of the US Men's Clay Court Championship in Houston on Wednesday.
The 22-year-old benefited from a fortunate bounce on match point in the third set tiebreaker when Chardy's forehand caught the net cord and was redirected out of bounds, ending the three hour affair.
While Garin was rewarded for his never-say-die attitude, Chardy was his own worst enemy, issuing 13 double faults including two in the decisive third set tiebreaker.
Next up for Garin is a quarter-final meeting with Swiss Henri Laaksonen, whose stout defence made the difference in his 6-4 7-5 win over American Ryan Harrison earlier in the day on the red clay courts.
Upsets were in the humid Texas air as Norway's Casper Ruud overcame 16 aces from fourth-seeded Reilly Opelka to claw back to a 4-6, 6-4, 6-4 win to end the day's action.
Ruud converted his lone break point opportunity in the second set and took advantage of a mistake-prone Opelka in the third set to advance over the big-serving American.
Ruud will face Marcel Granollers in the quarters after the Spaniard upset fifth-seeded American Taylor Fritz in the opening round and crushed Australian Bernard Tomic 6-1, 6-2 on Monday to advance.
With Opelka eliminated only two of the 11 American who entered the tournament are left -- top-seeded Steve Johnson and Sam Querrey.