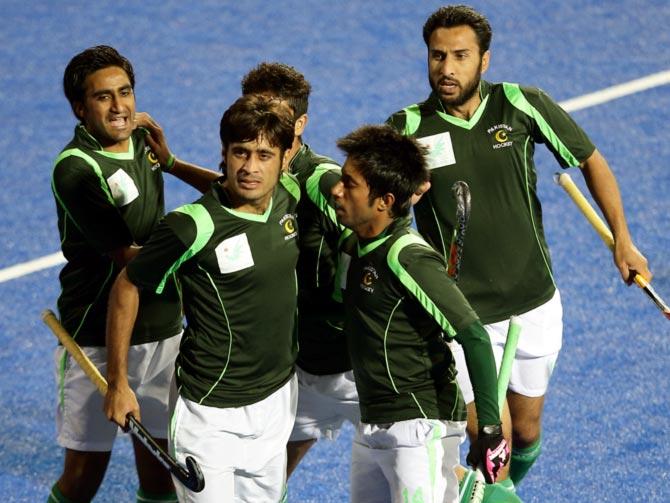 Uncertainty hung over the Pakistan hockey team's participation in the upcoming Asian Games after the players threatened a pullout owing to non-payment of daily allowances for past six months.
The Pakistan Hockey Federation (PHF) said it was pinning its hopes on sponsors and a new government, expected to be led by one of the country's biggest sporting icons, Imran Khan.
PHF has not paid the national team daily allowances for past six months, the total now amounting to more than Rs 8 lakh per player.
They have played domestic as well as international tournaments like the Champions trophy during this period.
"We have decided that we will not travel to Indonesia if our dues are not paid. Our team has to depart on August 12 and we will wait till 10th. Then only we will decide about our participation," captain Mohammad Rizwan senior said.
When asked if the players will boycott training, he replied in the negative.
"We are training at the national camp in Karachi and will continue. Our preparation is good and we have a good bunch of experienced and young players. You can expect exciting hockey from us," he said.
The Asian Games are slated to be held in Jakarta and Palembang from August 18 to September 2.
The Pakistan hockey team is in Pool B, which include Bangladesh, Thailand, Malaysia, Oman and host Indonesia.
Sitting over the issue for months, the PHF still managed to sound optimistic.
Javelin thrower Amit Kumar tests positive, suspended by AFI
Talented javelin thrower Amit Kumar, who had won a bronze medal at the recent National Inter-State Athletics Championships, has tested positive for a banned substance during an exposure trip to Finland last month.
While Athletics Federation of India (AFI) has remained tight lipped about the developments, sources close to the athlete confirmed that Amit has been handed provisional suspension.
Amit, who had won a silver at the Federation Cup before the bronze at Inter State Meet, could not make it to the Asian Games team as he fell short of the 81m mark.
It is learnt that Amit was tested in Finland during the exposure trip in June. The tests were conducted by Finland's anti doping agency on the directions of the Athletes' Integrity Unit (AIU) of the IAAF.
While filling up the Dope Control form, Amit did not mention about a supplement he had consumed before landing in Finland.
He tested positive for excessive levels of testosterone, that was present in that particular supplement.
A source close to the athlete said that had Amit mentioned about the supplement in his form, there was a chance of getting relief but he did not mention it because at that particular time, he was not consuming it.
Little did he know that the supplement's composition had prohibited substance.