Summary of sports events and persons who made news on Monday.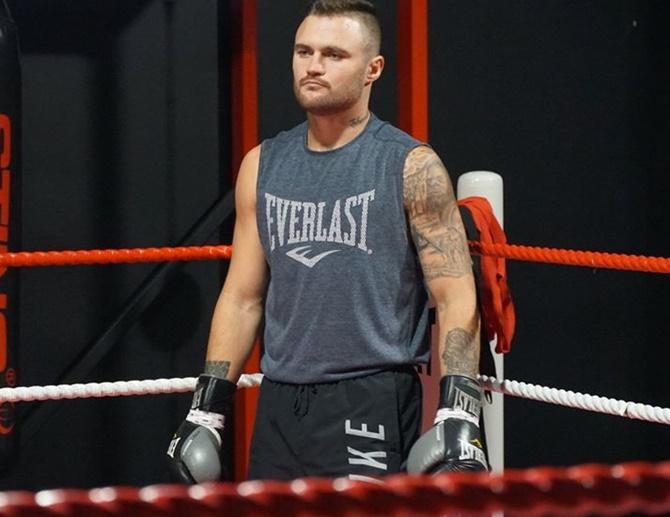 Australian boxing was in shock on Sunday after local fighter Dwight Richie died in a training accident at the age of 27.
Ritchie's promoter confirmed the boxer's death in a Facebook post.
"It is with great sadness and shock to announce that the fighting cowboy Dwight Ritchie sadly passed away today doing what he loved," Jake Ellis wrote.
"As Dwight's promoter and friend it's unbearable to accept the tragic news that's just surfaced."
One of the country's brightest boxing talents, Ritchie last fought Tim Tszyu, the son of former world champion boxer Kostya Tszyu, in August for the IBF Australasian super welterweight title in Sydney.
He lost by unanimous decision but was to return to the ring next month for a light-middleweight fight against Tommy Browne.
Sydney's Daily Telegraph newspaper reported that Aboriginal Australian Ritchie, who had a record of 19 wins and two defeats, collapsed when sparring with another boxer in Melbourne on Saturday and could not be revived.
Ritchie leaves three children behind.
His death sparked a flood of tributes from local boxers on social media.
"Today we lost one of our own," Australian professional and Olympian Luke Jackson wrote on Twitter.
"I remember having my professional debut on Dwight's card. Sending my love to his family, loved ones and the whole of boxing Australia."
Paes drops out of top-100 for first time in 19 years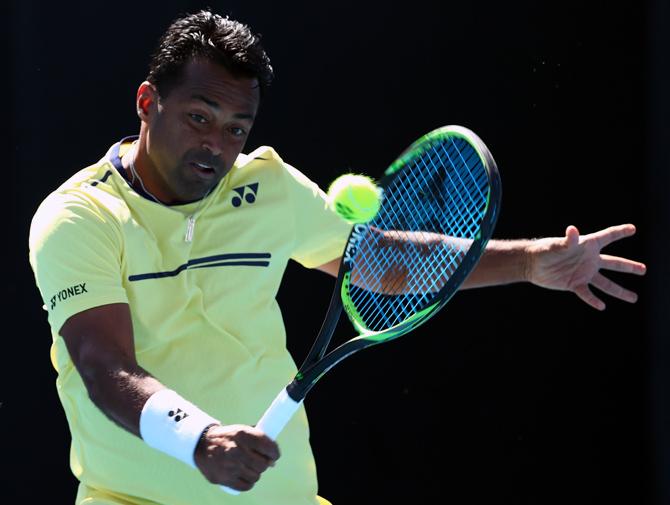 Veteran tennis star Leander Paes on Monday dropped out of the top-100 bracket for the first time in 19 years, slipping to 101 after losing five places in the ATP doubles chart.
With 856 points, Paes is now the fourth-highest ranked Indian player behind Rohan Bopanna (38), Divij Sharan (46) and Purav Raja, who re-entered the top-100 by jumping eight places to 93.

The last time the 46-year-old Paes was placed outside the top-100 was in October 2000 when he was ranked 118.

Paes, one of the finest tennis players that India has seen, dominated the doubles circuit with compatriot Mahesh Bhupathi between the late 1990s and early 2000s.

In August 2014, Paes had lost his place in the top-10 and in another two years time he was outside the top-50 as well.

The passionate Paes, winner of 18 Grand Slam titles, has not played since US Open this year in September. He has made himself available for the upcoming Davis Cup tie against Pakistan.

Meanwhile, in the singles, Prajnesh Gunneswaran continues to be India's top-ranked singles player though the Chennai left-hander dropped a rung to 95 and was followed by Sumit Nagal (127, +2), Ramkumar Ramanathan (190, +9), Sasi Kumar Mukund (250, +2) and Saketh Myneni (267, -1).

To win more games, we need to score more: Gurpreet Sandhu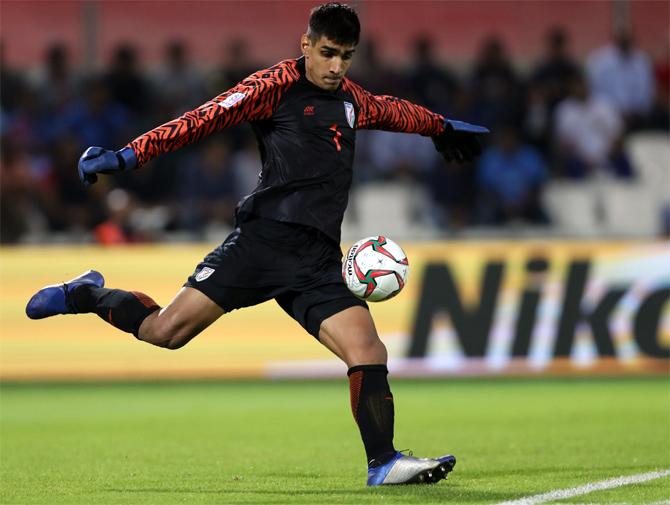 India goalkeeper Gurpreet Singh Sandhu believes the team has moulded itself into a battle-hardened unit but it still needs to find the back of the net consistently to improve its winning ratio in top-flight football.

On a high after holding Asian champions Qatar to a goalless draw, a struggling India escaped with a 1-1 draw against lower-ranked Bangladesh in their previous 2022 FIFA World second round qualifying match in Kolkata.

"I think, of late, we have turned ourselves into a team which is tough to beat. We just have to add something more to it which is scoring to get the points on the table and we have that quality," Gurpreet said.

Skipper Sunil Chhetri had promised to put their best foot forward in the upcoming qualifiers against Afghanistan and Oman, Gurpreet also said they will have to get something substantial out of the two matches.

"Both games are difficult. Oman are a very good side and have quality players, whereas Afghanistan will be tough to play against in Tajikistan. But we have to go there with a strong approach to get something out of the two games," the country's first-choice goalkeeper said.

Gurpreet said coach Igor Stimac has been smart in introducing a host of new faces.

"We have grown stronger with the introduction of the young players who will improve with time."
While Chhetri feels the team is still far from fully implementing coach Stimac's vision, Gurpreet said they are gradually getting accustomed to his philosophy.

"Yes, the team is getting accustomed with the system but most importantly getting used to each other as well playing with the ball."

India endured a disastrous campaign in the 2015 World Cup qualifiers, including a shock loss to tiny Pacific nation Guam, and Gurpreet said the team has come a long way from those days.

"I think if we compare it with the 2015 qualifiers that we played, we have come a long way since then. We have two points on the table and have only lost one game which also we could have won. I am happy but not satisfied because I know we have the potential to do more."

Yet to taste a win in the ongoing qualifiers, India are scheduled to play Afghanistan on November 14 and against Oman on November 19.

Having squandered a one-goal advantage to lose 1-2 to Oman in their opener at home, India held fancied Qatar in Doha before the underwhelming result against Bangladesh in Kolkata.
IOA rejects new Draft National Sports Code
India will incur the International Olympic Committee's wrath and might even be suspended if it goes ahead with administrative reforms enshrined in the Draft National Sports Code 2017, the Indian Olympic Association warned, rejecting the proposed document completely.

The IOA also expressed surprise with the government's move to seek feedback on the draft after the Sports Minister Kiren Rijiju, on October 11, announced the formation of a committee to look into the contentious provisions such age and tenure cap on officials, which are being opposed by National Sports Federations.

Despite the announcement by Rijiju, the ministry, through its Director (Sports), sent a letter to the IOA on October 24 to send feedback on the Draft National Sports Code latest by November 10.

IOA secretary general Rajeev Mehta, in turn, sent a note rejecting the changes proposed by the 2017 Draft National Sports Code.

"We, the IOA and all our members, outrightly reject the new Draft Sports Code as it interferes in the autonomy of the IOA and its members. The Sports Code was discussed with GOI MYAS and implemented in 2014 in IOA Statutes which enabled IOA to regain its recognition in 2012," Mehta said in the feedback letter sent to the ministry.

"Any further interference in IOA Autonomy will also be taken seriously by IOC and OCA and can once again lead to suspension of membership IOA. We certainly hope that it is not the intention of the Sports Ministry to send Indian contingent to Tokyo in 2020 Olympics under IOC Flag and not the Indian Flag."

The IOA was suspended by the IOC in December 2012 for government interference and was reinstated 14 months later after assurances on autonomy.

Expressing surprise at the insistence of the ministry to furnish feedback on the Draft Sports Code, he wrote: "We are willing to work together by forming a small committee to take it forward as was agreed on 11.10.2019 and we sincerely hope that MYAS will also stand by what was conveyed to IOA & NSF's in the 11th October, 2019 meeting."

The National Sports Code 2011 is currently in force but a new National Sports Code was drafted in 2017.

The draft proposed drastic changes in the 2011 Code, including barring of ministers, members of Parliament and Legislative Assemblies and government servants from holding office in National Sports Federations (NSF) and the IOA, tenure restrictions and age cap of 70 years. The draft also widened its scope to all office-bearers and board members of the IOA and NSFs.

It also calls on the NSFs to appoint CEOs, Nominee Directors and an Ombudsman. Besides, an eminent athlete is also required to be a part of the NSFs. All NSFs will also have to constitute an athletes commission.

If implemented, the IOA and the NSFs will have six months to amend their constitutions as prescribed by the draft.
Ghosal enters pre-quarterfinals of PSA World Championship
India's Saurav Ghosal put up a fine performance to get past seasoned Frenchman Lucas Serme 11-8, 11-5, 11-5 and enter the pre-quarterfinals of the PSA Men's World Squash Championship in Doha.
The Indian No. 1 had faced the Frenchman only twice in his career, with their most recent meeting also coming in the second round of a PSA World Championships, in Chicago in February.
Ghosal controlled everything from rallies to strokes and subdued Serme in the Qatari capital on Sunday night.
Serme saved one game ball in the first game but was outplayed in the next.
Having grabbed the first two games, Ghosal won the first five points in the third game to extend his dominance and seal it in his favour.
In the pre-quarterfinals on Tuesday, the tenth seeded Ghosal will face Egyptian world No. 2 and top seed Mohamed El Shorbagy.