Defending champion Nagal beats last year finalist Clarke in 1st round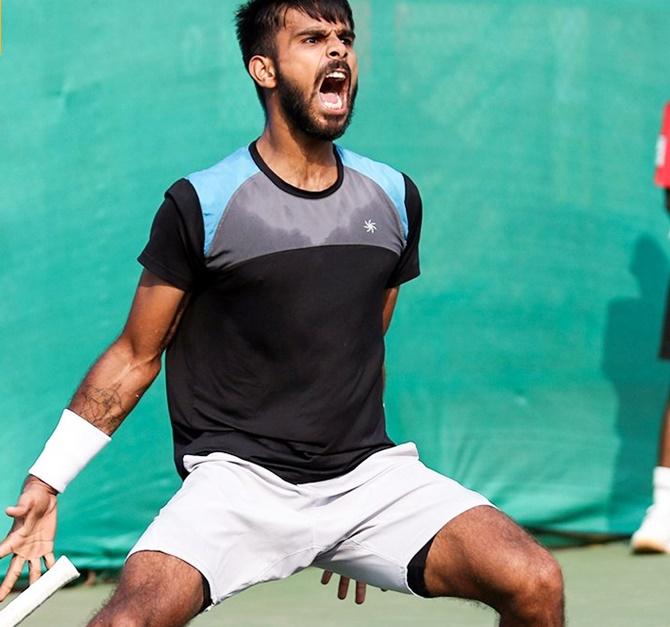 Enduring a dismal season this year, defending champion Sumit Nagal, on Monday, began his campaign at the $ 150,000 Bengaluru Open with a bang by defeating last year's finalist Briton's Jay Clarke in the opening round.
Nagal, who had won his maiden Challenger title last year, defeated Clarke 6-4, 7-5.
The Indian youngster broke Clarke in the ninth game to take a 5-4 lead in the opening set and served it out with a forehand return from the baseline in the next game.
In the second set, Nagal took an early lead 2-1 as he broke Clarke, but the Briton came back strong by breaking the Indian youngster, making it 2-2.
Trailing 4-5, Nagal broke Clarke for the second time to level scores. The Indian was down a breakpoint in that game and broke again for a 6-5 lead. He sealed the match on his serve.
The Indian pair of Arjun Khade and Saketh Myneni downed Sanchai Ratiwatana and Sonchat Ratiwatana of Thailand 6-3, 3-6, 11-9 to move to the doubles quarterfinal.
In yet another doubles match, India's S D Prajwal Dev and Niki Poonacha overwhelmed Alexander Pavlioutchenkov of Russia and Filip Peliwo of Canada 1-6, 7-6 (3), 10-2.
However, India's Chandril Sood and Lakshit Sood bowed out after being trounced 2-6 2-6 by Max Purcell and Luke Saville of Australia.
Max Verstappen ordered to do 'public service' post Ocon clash
Red Bull's Max Verstappen has been directed by Federation Internationale de l'Automobile (FIA), the governing body of motorsports, to take part in two days of 'public service' following his angry post-race confrontation with Force India's Esteban Ocon in Brazil Grand Prix.
The incident, which saw the Red Bull driver push Ocon during a tense exchange in the FIA garage, followed a clash between the two men on Lap 44 of the race, during which backmarker Ocon tagged race leader Verstappen into a costly spin that ultimately lost the Dutchman the race.
Following a similarly tense war of words in television interviews, both Ocon, who finished 15th after serving a stop-go penalty, and Verstappen, who finished second behind Lewis Hamilton, were called before the stewards to explain their 'physical contact', with the stewards also reviewing CCTV footage from within the garage.
Ultimately it was decided that Verstappen had "started an altercation" before "pushing or hitting Ocon forcefully several times in the chest" - actions that were deemed inappropriate for a sportsman and role model of the Dutchman's stature.
"The Stewards understood from Max Verstappen that he was extremely upset by the incident on track during the race and accepted his explanation that it was not his original intent to strike Ocon, but that he was "triggered" and caused him to lose his temper," read the official stewards verdict.
"While sympathetic to Verstappen's passion, the Stewards determined that it is the obligation of sportsmen at this level to act appropriately and as role models to other drivers at all levels and found that Verstappen failed in this respect," the verdict added.
Verstappen is required to perform the days of public service within the next six months.