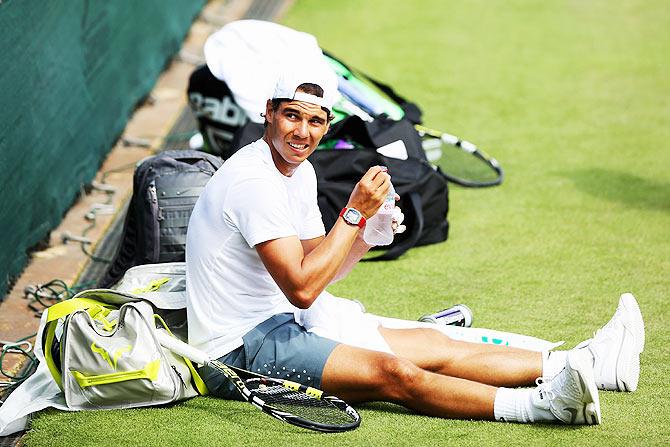 Rafael Nadal of Spain. Photograph: Dan Kitwood/Getty Images
Rafael Nadal is recovering satisfactorily from appendicitis and will continue a course of antibiotics in a bid to be fit for the remainder of the 2014 season, the World No 2's spokesman said on Thursday.
Nadal returned to the court for the first time since Wimbledon last week in Beijing before he was diagnosed with appendicitis ahead of the Shanghai Masters.
He was able to play his second-round opening match against Spanish compatriot Feliciano Lopez on Wednesday but lost 6-3, 7-6 before returning to Spain for tests in Barcelona.
"In medical terms his development is satisfactory and he is not currently showing any symptoms," Nadal's spokesman said in a statement.
"The (antibiotics) treatment will continue for 4-5 days and depending on his recovery the ecessary decisions will be taken on further treatment," he added.
Nadal said after his Shanghai exit he was planning to play the indoor hard court tournament in Basel later this month as well as the Paris Masters and the season-ending ATP Tour Finals in London.
The 28-year-old will then have surgery to remove his appendix and hope to be back in time for the beginning of the 2015 season.
After Nadal's early exit in Shanghai, Swiss Roger Federer will replace him at number two in the rankings when they are updated on Monday.
Away goals rule has become outdated, says Blatter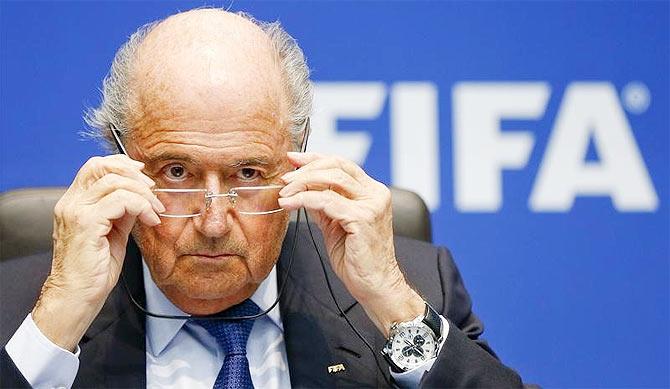 FIFA President Sepp Blatter. Photograph: Arnd Wiegmann/Reuters
The away goals rule used for settling the outcome of two-legged knockout ties has "fallen behind the times" and needs rethinking according to FIFA president Sepp Blatter.
The method under which the team that scores the most goals away from home wins the tie was introduced in the mid-1960s.
It replaced the coin toss or the drawing of lots to settle ties which were level on aggregate after the second leg.
The system is used in the Champions League and Europa League plus many other domestic cup competitions around the world.
But in Blatter's column in the FIFA Weekly magazine, which is published on Friday, he writes that the rule favours teams playing away from home in the second leg because those games can go to extra time meaning more chance of scoring an away goal.
"It is time to rethink the system," says Blatter.
"Football has progressed since the 1960s, so the away goals rule may now be questioned. Does the away goals rule still make sense?
"The idea dates back to a time when away games were often an adventure, involving journeys that could be long and arduous -- and the playing conditions would vary considerably.
"In reality it favours the club that play away from home in the second leg. Where the scores are tied, that team has 30 minutes more than their opponent to score a valuable away goal. After all, in the first leg there is no extra time.
"Such an imbalance has already been disposed of in various competitions. The away goals rule is no longer used in the semi-finals of the promotion playoffs in English football."
Blatter suggests implementing the rule used in the MLS playoffs in the United States and in the CONCACAF Champions League where away goals only count "double" until the end of normal time.
The away team has then done enough to force extra time and away goals do not count double in the additional 30 minutes.
Spain's Villa set for A-League debut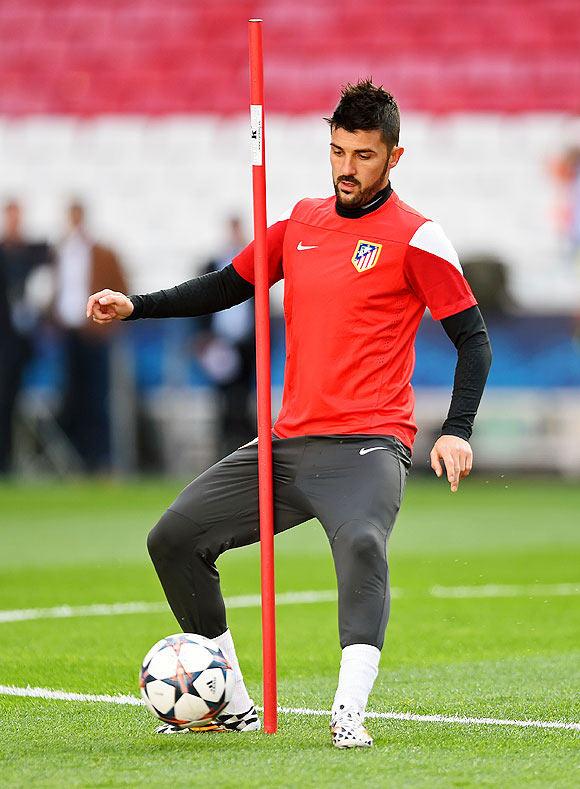 David Villa. Photograph: Laurence Griffiths/Getty Images
Former Spain striker David Villa will definitely make his A-League debut for Melbourne City this weekend but is not certain to start Saturday's match at Sydney FC, manager John van't Schip said on Friday.
Villa is the highest profile recruit to the A-League this season and there is much excitement about his 10-game guest stint on loan from New York City.
The 32-year-old has not played since Spain's final match of the World Cup against Australia, though, and having arrived in Melbourne on Monday, there was some doubt about whether he would be fit for the season-opener at Sydney Football Stadium.
"Yes, he is going to be part of the game and we will just see which part," Van't Schip told reporters.
"We know he's fit, he can play, he wants to play."
Villa won the World Cup with Spain in 2010 and helped Atletico Madrid to last season's La Liga league title after moving to the capital from a successful spell at Barcelona.
City finished bottom of the A-League as Melbourne Heart last season and will most of all be looking to the Spaniard for goals - he scored a record 59 for his country - to kickstart their campaign.
Saturday's match will also be the club's first A-League clash as Melbourne City after a re-brand in the wake of the takeover by English champions Manchester City, who also own American soccer team New York City.
The Melbourne outfit's desire to switch the red and white stripes worn by Heart for the sky blue shirt of their parent club has been scuppered by Football Federation Australia (FFA).
That the FFA decision came at the behest of Sydney FC, who have worn the colour since their inception, might not add an extra edge to Saturday's match but Villa can certainly expect a robust welcome from the home defence.
"I just hope he's ready," former Leeds United, Liverpool and Melbourne Heart striker Harry Kewell said on Thursday.
"Playing at the highest level in Europe it's different to here, it's a lot more physical here, it's a lot tougher."
US top-scorer Donovan set to play final international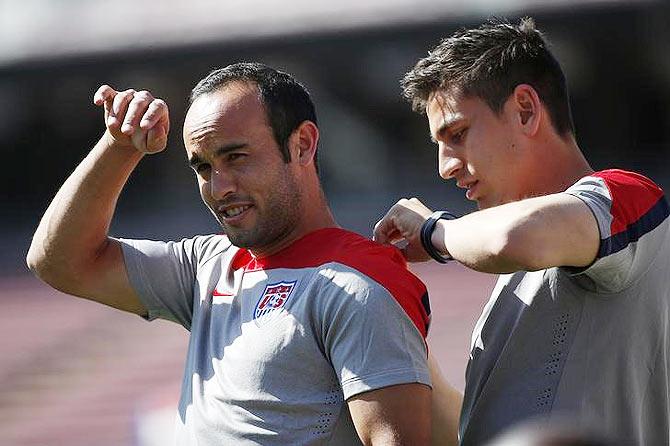 Landon Donovan (left) of the U.S. men's national soccer team, is helped by a teammate during the team's World Cup training camp. Photograph: Stephen Lam/Reuters
The Landon Donovan era in US soccer will come to an end on Friday as the national team's top scorer plays his final game in a friendly against Ecuador, closing the door on a career which saw him feature in three World Cups.
The build-up to the game has been accompanied by tributes from players past and present along with media appreciations of a 14-year career which saw the Californian play in 156 internationals, scoring 57 goals.
Donovan will captain the team and will no doubt receive a warm send-off from fans who understand that while the 32-year-old may never have ranked among the very best players in the world, he has certainly been a central figure in the growth of the game in the United States.
But while efforts will be made to put aside the bitterness caused by US coach Juergen Klinsmann's decision to leave Donovan out of his squad for this year's World Cup in Brazil, there will surely be some awkwardness about the occasion.
Donovan was swift to criticise Klinsmann's tactics after the U.S's second round exit at the hands of Belgium, confirming, if any had doubted, that there is no love lost between the two.
Klinsmann is in charge of the team for Friday's game which will feature a young and experimental squad as the US coach begins a new cycle towards the 2018 World Cup in Russia.
But the former Germany striker and coach will probably opt for a low-key role in Hartford, Connecticut, with any attempt at a public reconciliation with Donovan likely to be met with cynicism.
Donovan even said in a recent interview with Sports Illustrated that he had to consider whether to accept the offer, from US Soccer Federation president Sunil Gulati, to make a formal final bow.
"I thought about it for a while," he said, "Obviously, this summer didn't leave the best taste in my mouth with everything that happened.
"But the more I thought about it, the more I realised this was something that I think would be really special, not only for me to feel and receive, but also my opportunity to say thank you."
After Friday's game, the U.S, without Donovan, will face CONCACAF rivals Honduras in a friendly in Boca Raton, Florida and Klinsmann said the two fixtures mark the start of a process.
"We look at these two games as an opportunity to take a picture of the player pool as it stands now," said Klinsmann.
"Already the hierarchy starts to shift in some ways, which is normal at the beginning of a cycle.
"We are excited to look at this group against a very competitive team like Ecuador, and then we will have a chance to bring some different faces for the game against Honduras.
"Obviously, it's going to be a special night on Friday as everyone in the U.S. Soccer family will have the chance to honour the amazing career of Landon Donovan."
While all eyes will be on Donovan, one intriguing call-up in Klinsmann's squad is uncapped winger Miguel Ibarra.
The 24-year-old plays in the second-tier North American Soccer League for Minnesota United – the first time a player from that competition has been called up and another reminder that Klinsmann is not afraid to make unorthodox decisions.
Simon shocks Berdych in Shanghai, advances to semis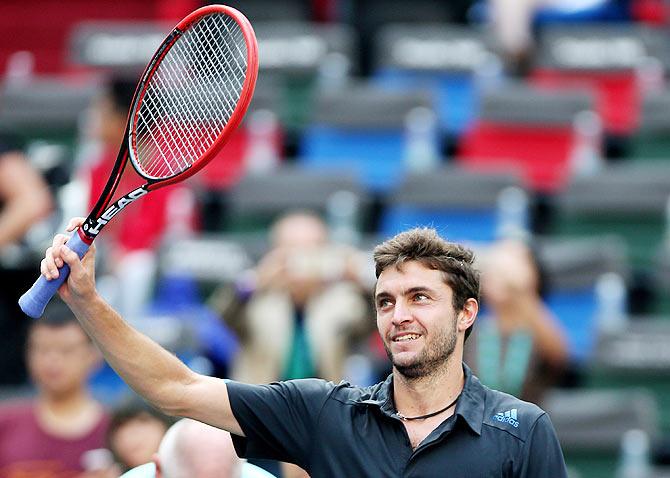 Gilles Simon of France reacts after winning his match against Tomas Berdych of the Czech Republic in Shanghai on Friday. Photograph: Zhong Zhi/Getty Images
Unseeded Frenchman Gilles Simon moved into the semi-finals of the Shanghai Masters on Friday after ousting sixth seed Tomas Berdych in three sets, leaving the Czech sweating about his place at the ATP World Tour finals.
Simon, ranked 29th in the world, earned a 7-6(4), 4-6, 6-0 win after a two-and-a-half hour slugfest to set up a last four meeting with either Russian Mikhail Youzhny or Spain's Feliciano Lopez, who were next on court.
The Frenchman has made the final of a Masters series event just once, in 2008, but will be confident he can repeat that feat after taking down the tall Czech, who reached the final in Beijing last week.
The win was Simon's second big upset of the tournament following his second round victory over Australian Open champion Stan Wawrinka.
Berdych is currently seventh in the ATP Race To London standings, with five singles spots left up for grabs at next month's season-ending event.
He will compete in next week's Stockholm Open to try to book a spot in the eight-man field for London.
World number one Novak Djokovic plays another London hopeful in Spain's David Ferrer later on Friday in the third Shanghai quarter-final, while Swiss Roger Federer takes on Julien Benneteau in the final match of the day.
THE RACE TO LONDON:
1 Novak Djokovic 8650-qualified
2 Roger Federer 7020-qualified
3 Rafael Nadal 6735-qualified
4 Stanislas Wawrinka 4795
5 Kei Nishikori 4255
6 Marin Cilic 3980
7 Tomas Berdych 3765
8 Milos Raonic 3740
- - - - - - - - - - - -
9 Andy Murray 3565
10 David Ferrer 3535
11 Grigor Dimitrov 3405
12 Jo-Wilfried Tsonga 2650
13 Ernests Gulbis 2445
* Points as of October 6.
English league to review lack of ethnic minority coaches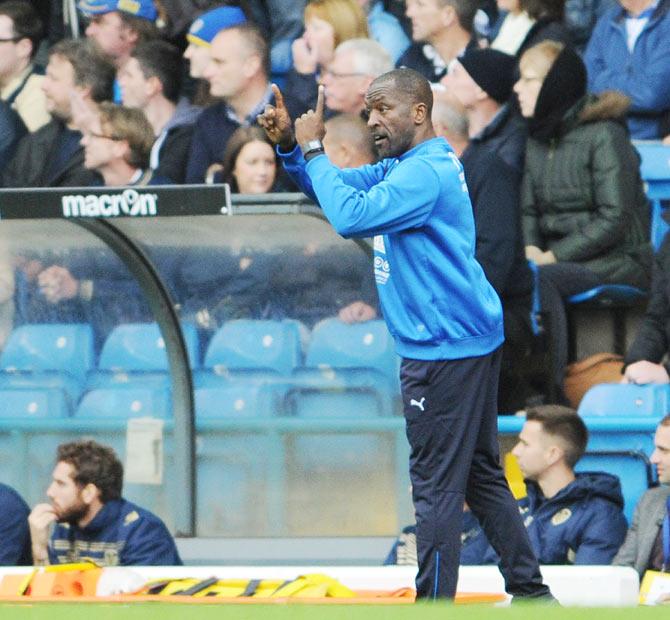 Manager Chris Powell of Huddersfield Town. Photograph: Ryan Browne/Getty Images
The Football League are to review the under-representation of Black, Asian and Minority Ethnic (BAME) managers and coaches among their clubs, the organisation said on Thursday.
Of the Football League's 72 Championship, League One and Two teams, the three levels immediately below the Premier League, only Keith Curle of Carlisle United and Huddersfield Town's Chris Powell are BAME managers.
The FA, Professional Footballers Association, League Managers Association, Football Supporters Federation and the Kick It Out charity will be consulted as part of the planned review, the results of which are to be published at the end of the season.
"The current under-representation of BAME managers and coaches in the professional game is an important matter," Football League chairman Greg Clarke said in a statement.
"We have consistently recognised the imbalance in representation at first-team manager level but have yet to see a comprehensive solution being proposed."
The so-called 'Rooney Rule' has been touted as a possible way to address the lack of BAME managers.
The American Football rule was established in the NFL in 2003 and dictates that at least one black or ethnic minority candidate must be interviewed for a vacant coach's position.
"The Rooney Rule has been suggested by some as a potential way forward however until we have consulted fully with all parties we will remain open minded about any potential solutions," Clarke added.
"The real challenge is to increase BAME representation at all levels of the coaching pipeline and to ensure there is fair access to employment opportunities for everyone.
"To this end the Football League is already actively participating in the FA chairman's England Commission which is urgently seeking to address existing issues relating to coaching development including BAME participation," said Clarke.