Summary of sports events and persons who made news on Friday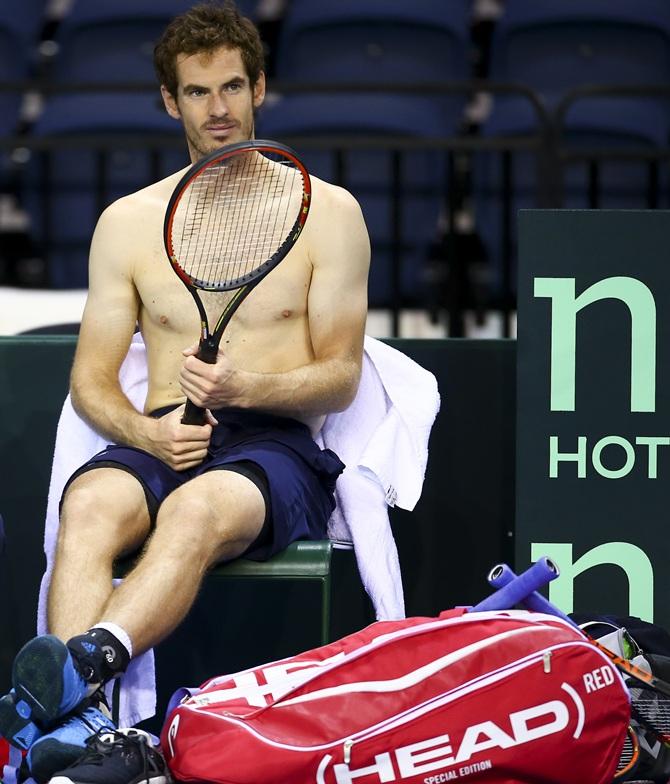 Andy Murray is still feeling the effects of a hip injury that forced a premature end to his 2018 activity, but the Briton hopes the pain will ease as he plays more matches in the lead-up to next month's Australian Open.
The former world number one returned to the ATP tour in June after having hip surgery at the start of the year but ended his season in September to concentrate on being in the best possible shape for 2019.
"I still have some pain in my hip but I need to play matches and see how it feels when I am able to play three, four, five matches in a row and take it from there," Murray told reporters ahead of next week's Brisbane International.
"Last year when I came here it was tough, I was struggling quite a lot. It definitely feels a bit better than it did coming here last year. I've always loved playing here."
Murray, whose world ranking has dropped to 256, said that he was in a "better place" than he was a few months ago when he missed Wimbledon and stumbled to a second-round defeat at the U.S. Open.
He ended his 2018 season after losing in the quarter-finals of the Shenzhen Open and Murray said he hoped to return to his best in the next few weeks in Australia.
"I would just like to get through the tournaments and feel like I am able to compete and not be restricted by my hip," Murray, who will be unseeded in Brisbane, added.
The Australian Open will be held in Melbourne from January 14-27.
Weightlifter Iovu gets third doping violation
Cristina Iovu, a weightlifter who has competed for three different countries, is among eight new doping cases announced by the International Weightlifting Federation (IWF).
Iovu, 26, now has a doping violation for all three nations – Moldova, Azerbaijan and Romania – and faces a lifetime ban from the sport.
Iovu, who has been provisionally suspended by the IWF, has been charged not for testing positive, but based on witness statements and/or other documentary evidence provided to the sport's ruling body.
Alex Padure, secretary general of the Romanian Weightlifting Federation, said his organisation was surprised to hear of the violation but had very little information.
"We are not managing the case ourselves, as Cristina Iovu has appointed lawyers and is managing it herself with them," he told Reuters.
The Federation had not been told when the alleged violation occurred, and Padure said: "We hope to learn more soon."
The eight names on the IWF's new list take to 13 the number of weightlifting doping cases announced in the past week.
Weightlifting's future on the Olympic programme is under review by the International Olympic Committee (IOC), whose sports director Kit McConnell praised the IWF last month for "very strong and positive progress" in tackling its doping problems.
The IWF said in a statement it would "not make any further comments on the case until it is closed".
Iovu was born in Moldova, for whom she won an Olympic bronze medal in London in 2012, in the women's 53kg category.
Within months she and her Moldovan team mate Iuri Dudoglo had switched nationality to Azerbaijan.
But both were among the 18 Azerbaijan weightlifters who tested positive for steroids at a training camp in 2013. Their performances that year were annulled, they were both banned for two years and never competed for Azerbaijan again.
In 2016 Iovu came up positive in the IOC's retesting of samples from the Beijing 2008 and London 2012 Games, and forfeited her bronze medal for Moldova.
She made a legal challenge against her four-year suspension and won on a technicality because she had been informed of her first offence after her second one.
Iovu was eligible to compete again at the World Championships in Turkmenistan in November, this time for Romania, with which she has family ties.
Iovu finished fourth in the new 55kg class, helping her multi-sport club CS Dinamo Bucharest to win a national award two weeks ago.
Iovu was among Dinamo athletes described by Carmen Dan, Romania's Minister of Internal Affairs, as "true ambassadors of Romania".
Dudoglo was banned for life this week after totting up three offences and Iovu will face a similar punishment if the case against her is proved.
The other cases on the IWF list include a men's world youth champion and women's super-heavyweight World Championship bronze medallist from Thailand – Teerapat Chomchuen, aged 17, and Duangsakorn Chaidee, 21.
Thailand, due to host the 2019 IWF World Championships, has had three positives announced within seven months.
If all are upheld as 2018 offences Thailand will fall foul of the IWF's "three in a year" rule which could result in a suspension of up to four years - though the Thailand Amateur Weightlifting Federation said one of the three positives dated back to August 2017.
Kremlin says Russia working with WADA to settle lab data issue
Russia is working with the World Anti-Doping Agency (WADA) to settle an issue regarding the transfer of laboratory data, the Kremlin said on Friday - a condition for the country's anti-doping agency to keep its accreditation.
Russian anti-doping agency RUSADA was conditionally re-accredited by WADA in September but will lose that status if Moscow does not hand over the data by December 31.
It had been stripped of accreditation in 2015 after a WADA-commissioned report found evidence of state-sponsored doping in Russian athletics.
RUSADA head Yuri Ganus on Thursday called on President Vladimir Putin to help ensure that data from the former Moscow anti-doping laboratory was handed over by the end of the year.
In a video address, Ganus said another suspension would deal a serious blow to Russian sport and further isolate it on the international stage.
Russia was barred from this year's Pyeongchang Winter Olympics after it was found to have orchestrated a state-sponsored doping cover-up scheme at the 2014 Winter Games, held in the southern Russian city of Sochi. The International Olympic Committee (IOC) invited Russians with no history of doping to compete as neutrals.
Kremlin spokesman Dmitry Peskov said Russia was working with WADA to settle the issue and that many of the concerns expressed by Ganus were unwarranted.
"Mister Director (Ganus) is not fully aware of this work process," Peskov told reporters on a conference call. "He does not know the details. Many of the concerns he expressed are unfounded."
Peskov said Russia had a "agreements and a general understanding" about how it would work with WADA to transfer the laboratory data. He did not say whether this would happen by the end of the year.
Russia's athletics federation, which was also suspended in the wake of the scandal, has yet to be reinstated, although some Russians have been cleared to compete internationally as neutrals.
Moscow has denied the existence of state-sponsored doping but acknowledged some shortcomings in its enforcement of anti-doping regulations.
Sprinter De Grasse switches coaches, now trains in Florida
Triple Olympic medallist Andre De Grasse has selected well-known trainer Rana Reider as his new coach and moved to Florida where the Canadian is working to rekindle his sprinting career.
"The focus is completely on Doha with the aim on getting to the podium in both the 100m and 200m," De Grasse, in an email to Reuters, said of his goals for the 2019 world championships.
His past two seasons curtailed by injuries while training in Arizona, the 24-year-old said he made the switch after learning the highly respected Reider was returning to the United States.
The versatile coach, an American, had been working in the Netherlands for several years, mentoring a cast of world class athletes including U.S. two-time Olympic triple jump gold medallist Christian Taylor and Dutch 200m world champion Dafne Schippers.
Previously the 48-year-old Reider worked as a national coach with British sprinters after an extended U.S. collegiate career.
"I have been acquainted with Rana over the years and when I heard he was making the move back to the States, my manager reached out and set up a meeting," De Grasse said.
Now based in Jacksonville, Florida, the sprinter trains at the University of North Florida with Reider's group.
"It has only been a few weeks so far but I feel really good about the training and the direction we are moving," De Grasse said.
His silver medal in the 200m and bronzes in the 100m and 4x100m relay for Canada at the 2016 Rio Olympics had led many to believe he would become one of the next sprint stars.
But a hamstring injury in practice knocked him out of the 2017 world championships. Then, as he recovered, mononucleosis slowed his 2018 return with another hamstring injury, this time in the 200m at the Canadian championships, ending a second consecutive season.
He has not competed since the latest mishap in early July.