Summary of sports events and persons who made news on Friday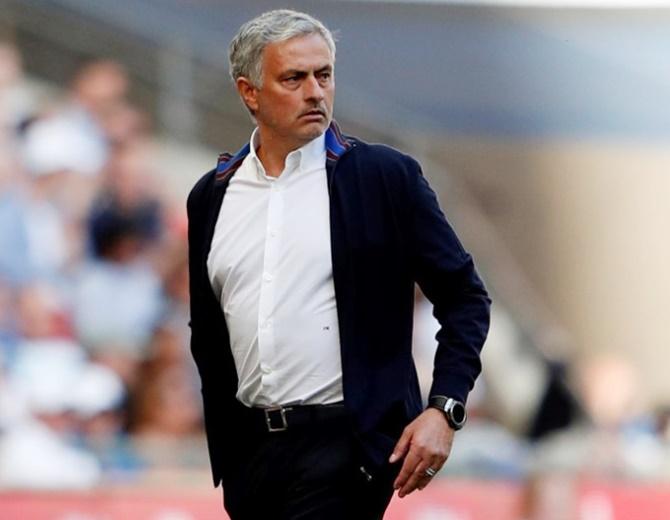 Former Manchester United manager Jose Mourinho has said coaches need structures in place to support them as he broke his silence following his sacking by highlighting the difficulties he faced at the Premier League club.
Mourinho was dismissed by United last month after a rancour-filled final few months in the job amid media reports of conflicts with players.
Appearing as an analyst with BeInSports television, Mourinho repeated that his second-placed finish with United last season was one of the best achievements of his career and went on to outline the challenges he said he faced.
"People might say: 'This guy is crazy, he won 25 titles and now he says that second position with United was one of his best achievements in football," Mourinho said.
"I keep saying this because people don't know what is going on behind the scenes."
Mourinho made his point by talking about the set-up that managers need to have in place in order to be successful.
"We are not any more in a time when the coach by himself is powerful enough to cope," he said.
"The coach nowadays needs a structure, he needs a club organised in a certain way.
"The club must have an owner or a president, a CEO or executive director, a football director and then the manager. This is the structure that can cope with all the problems modernity is bringing all of us.
"A club must be very well organised to cope with all these kind of situations where the manager is only the manager and not the man that is trying to keep the discipline or is trying to educate the players," he added.
"(Former United manager) Sir Alex Ferguson used to say the day a player is more important than a club, goodbye," said the Portuguese, a former Real Madrid and Inter Milan coach.
"Not any more. The manager ought to be there to coach the players, not to keep the discipline at any cost. You need a structure to protect the manager and keep everything in place, so that the players do not arrive in a situation where they feel more powerful than they used to be."
United have won all five games in the Premier League since former player, Norwegian Ole Gunnar Solskjaer, took charge of the side on an interim basis following Mourinho's departure.
Mourinho, who also had two spells in the Premier League with Chelsea, said he aims to be back in full-time management and has no intention of retiring yet.
"I want to coach. I belong to top-level football and (that) is where I am going to be.
"I am too young, I am in football for a long, long time but I will be 56 in a couple of weeks and am really too young."
Gattuso handed one-game ban for threatening behaviour
AC Milan coach Gennaro Gattuso has been given a one-match touchline ban for threatening behaviour towards the referee at the end of his team's 1-0 defeat to Juventus in their Italian Super Cup match on Wednesday.
Serie A said that "in a threatening manner, in the proximity of the referee, (Gattuso) loudly challenged one of his decisions as well subsequently, while awaiting the awards ceremony, addressing offensive and insinuating words."
Gattuso will miss Milan's Serie A match away to Genoa on Monday.
Milan had midfielder Franck Kessie sent off after a VAR review during the match in Jeddah, Saudi Arabia, and there were furious protests after they had a penalty appeal ignored late in the game.
Most football associations support 48-team World Cup in Qatar: FIFA chief
Most soccer associations in the world back increasing the size of the 2022 World Cup in Qatar to 48 teams from 32, with some matches to be played in neighbouring countries, FIFA President Gianni Infantino said on Thursday.
Infantino told a news conference the Qataris were open to the larger format. FIFA would make a decision no later than June, once a feasibility study is over, he said.
Saudi Arabia, the United Arab Emirates, Bahrain and Egypt launched a diplomatic and trade boycott of Qatar in June 2017 that has complicated the prospect of sharing the tournament.
The countries accuse Qatar of supporting terrorism, which it denies.
"We are doing football not politics," Infantino said.
FIFA voted in 2017 to increase the size of the tournament to 48 teams starting from 2026 but, since then, Infantino has been considering the possibility of bringing the change forward to 2022.
"Most football association across the globe hope for opening up the World Cup to more teams," he said, lamenting that continental champions such as Cameroon, Chile and the United States were absent from last year's World Cup after failing to qualify.
"If it is possible to organise a 48-team World Cup in Qatar with some games in neighbouring countries, that will be great," he said.
Infantino said it was "premature" to speak of a planned joint bid from Spain, Portugal and Morocco for the 2030 World Cup, which would be the first time countries from different continents had applied to stage the tournament.
"I welcome all bids. The more the better," he said.
Infantino was speaking following a FIFA executive summit in Marrakech which brought together some 60 football associations.
NBA's Kanter urges Trump to act on Turkey's human rights record
New York Knicks player Enes Kanter urged US President Donald Trump to be more vocal about human rights in Turkey, after prosecutors in Istanbul requested the basketball player's arrest and extradition over his ties to a US-based cleric.
The 26-year-old center has been an outspoken critic of Turkish President Tayyip Erdogan and his human rights record. He was indicted by a Turkish court last year on charges of belonging to an armed terrorist group, which he denies.
Istanbul's state prosecutor has sought an Interpol "red notice" to detain the basketball player and requested his extradition, a spokesman for the prosecutor's office said on Thursday. Interpol declined to comment.
Kanter describes himself as a close ally of US-based Islamic preacher Fethullah Gulen, wanted in Turkey on suspicion of orchestrating a failed coup in 2016. Gulen denies the accusation.
Kanter said he had been receiving death threats because of his views and had decided to skip his team's game in London on Thursday, prompted by fears he may be harmed by Turkish government agents or by Erdogan supporters.
"I feel like Trump definitely should talk about these issues with what's going on in Turkey because there are lots of reports of people getting kidnapped, getting tortured in jail, getting killed," Kanter told Reuters in New York City on Wednesday.
Turkish authorities have jailed some 77,000 people pending trial since the coup attempt, while 150,000 state employees including teachers, judges and soldiers have been suspended or dismissed in a crackdown on alleged supporters of Gulen.
Turkey says the scale of the crackdown is necessitated by the threat from Gulen's network. Some 250 people were killed in the failed putsch when rogue soldiers commandeered warplanes, tanks and helicopters in a bid to seize power.
Amnesty International said in a report last year it had evidence that some of those detained since the attempted coup had been subjected to beatings and torture. Turkish government officials have denied accusations of torture in custody.
A representative of the Turkish embassy in Washington directed queries about Kanter's comments to the Turkish foreign ministry. The foreign ministry did not immediately respond to a request for comment.
In an email, Robin Sirin, an aide to Gulen, said the cleric was "unable to field interview requests right now due to ongoing health issues."
Kanter said he had met with Republicans and Democrats in Congress but has yet to speak to anyone in the Trump administration and would welcome time with the president to discuss human rights in Turkey.
The White House declined to comment.
Erdogan has said human rights in Turkey have improved in the 16 years he has been in power.
The 6-foot-11 (211 cm) Kanter said he had decided not to travel with his team to London for Thursday's game against the Washington Wizards at 2000 GMT (3 p.m. EST) before the report of the extradition request. He said he would watch the game from his New York City apartment.
"I'm going to put my double-zero jersey on and feel like I'm sitting on the bench with my teammates and I'm going to cheer for them," Kanter said. "I want to feel like I'm in the game."
The Knicks lost 101-100 to the Washington Wizards in the NBA London Game at the O2 Arena.
Sports Minister on SAI arrests: We didn't want cover up
Sports Minister Rajyavardhan Singh Rathore said that the government entrusted Central Bureau of Investigation to investigate the corruption allegations levelled against the sports department officials as transferring them wouldn't have addressed the real problem.
The CBI on Thursday took six people into custody, including Sports Authority of India (SAI) director and three officials, in connection with a case of alleged corruption.
The probe agency has arrested Director Sports Authority of India S K Sharma, Junior Accounts Officer Harinder Prasad, Supervisor Lalit Jolly and UDC V K Sharma, besides private contractor Mandeep Ahuja and his employee Yunus, the officials said.
It is alleged that bills of Rs 19 lakh were pending to be cleared by the SAI officials for which a demand of three per cent was being made.
"A few months back, we got information that a few officials of sports department have been involved in corruption. We could have transferred them but that wouldn't have been a solution to the problem but only a cover up," Rathore said on his official twitter page.
The sports minister said that probe agency was handed over the investigations as people expect the government to take action.
"As the public expects from our government, we entrusted the duty of investigation to the agencies. After few months of investigation, on Thursday, they raided SAI and arrested a few officials.
"We expect the (CBI) agency to take the investigation to the right conclusion and our endeavour is to put an end to any corruption existing in sport. We want to free sport from any sort of corruption. for that matter any ministry and any sort of corruption. We are committing to working and making our system transparent and fair," the Athens Olympics silver medallist said.
The arrests were made during searches at the sports administrator's office in Delhi's Lodhi Road area, they said.
The CBI officials reached the SAI headquarters at the Jawaharlal Nehru Stadium around 5 pm and sealed the entire premises, sources in the SAI said.
It was learnt that the raid happened after SAI Director General Neelam Kapur took up the matter with the CBI.
''The matter came to light before SAI DG 6 months back after which she informed the sports minister. On the insistence of the minister the DG wrote to the CBI,'' the source said.
The accused staff was responsible for procuring all office stationeries and were dealing with tenders of all electronic equipment and furniture required for SAI offices.
The irregularities were going on in SAI for more than a year, the source said.
India para-powerlifter fails dope test, banned for 4 years by world body
Indian para-powerflifter Vikramsingh Adhikari has been handed a four-year ban by the International Paralympic Committee (IPC) for a second anti-doping violation.
The 39-year-old Adhikari, who took part in the 2000 Sydney Paralympics, returned positive for Clomiphene in a urine sample provided on February 28, 2017 following his participation at the 8th Fazza 2017 World Para Powerlifting World Cup in Dubai, United Arab Emirates.
Paralympic Committee of India Vice-President Gursharan Singh said that the latest result was that of the 'B' sample test.
"I can confirm that Vikramsingh Adhikari has tested positive for a banned substance. It is the 'B' sample result. We have received the communication from the IPC and he has been banned for four years," Gursharan told PTI.
Clomiphene, which can be used to accelerate testosterone secretion, is included on the World Anti-Doping Agency (WADA) 2017 Prohibited List under the category S4. Hormone and Metabolic Modulators is prohibited both in and out-of-competition, the IPC said.
Adhikari's suspension has been backdated to the date of notification and he will not be able to return to competition until April 26, 2021.
"As a result of his latest violation, Adhikari will be ineligible for competition for four years from 26 April 2017, the date of notification, until 25 April 2021," the IPC said in a statement.
All of Adhikari's results obtained from February 28, 2017, the date of the test, and onwards will be disqualified including forfeiture of any medals, points, records and prizes, the world body added.
Adhikari finished 14th in the 56 kg competition at the Sydney Paralympic Games. His best result at the World Championships came when he claimed ninth place in the same weight category in 2002.
WADA says it has recovered doping data from Moscow lab
World Anti-Doping Agency (WADA) inspectors have recovered doping data from a discredited Moscow laboratory, WADA said on Thursday - a condition of its controversial decision in September to restore the accreditation of Russia's anti-doping agency (RUSADA).
"This is a major breakthrough for clean sport," said WADA President Craig Reedie in a statement. "It shows we are continuing to make real progress that simply would not have happened without the 20 September executive committee decision."
RUSADA was suspended in 2015 after a WADA-commissioned report outlined evidence of systematic, state-backed doping in Russian athletics. Another report the following year documented more than 1,000 doping cases across dozens of sports, notably at the Winter Olympics that Russia hosted in Sochi in 2014.
With the data secured, albeit two weeks after an agreed deadline, WADA's executive committee will now consider recommendations on RUSADA's status from its compliance committee.
Were RUSADA to lose its accreditation again, so soon after being reinstated to howls of outrage from athletes and administrators, Russian sport would face the prospect of new sanctions.
Russia, one of the leading sporting powers, was banned from sending an official team to last year's Winter Games in Pyeongchang, and many Russians were excluded from the 2016 Rio Games. Most Russian athletes have also been excluded from international track and field competitions since 2015.
Due to a threat of Russian interference in the collection of data and concerns for the inspectors' safety, the CRC had said it would not send a report to the executive committee before the team had completed its work and was on its way home.
The executive committee will hold a teleconference and make their ruling on January 22.
WADA will now examine the data for any sign of tampering, while Russian authorities must ensure that any re-analysis of samples required by WADA is completed - in an accredited laboratory - by June 30.
WADA said data from the laboratory will be crucial to building strong cases against cheats, and exonerate other athletes suspected of having participated in doping.
Russia has accepted there was extensive doping in the country, but its authorities have continued to deny that any of it was state-sponsored.