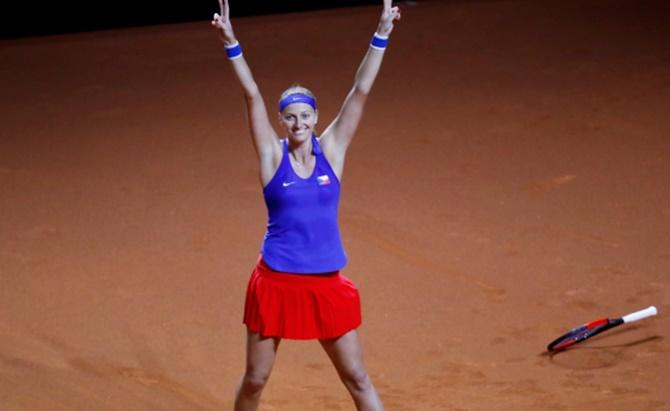 Petra Kvitova put Czech Republic into the Fed Cup final with a convincing victory over Angelique Kerber of Germany that gave the 10-time champions an insurmountable 3-1 lead in the tie in Stuttgart on Sunday.
Kvitova, twice Wimbledon champion, struck 24 winners in a 6-2, 6-2 victory over Kerber as the Czechs booked their place in the final for the sixth time in eight years.
"I knew I had to start very strong today and continue that throughout the game," the 28-year-old said after recording her 30th Fed Cup victory.
"From the beginning of the match I knew I had all the weapons."
Earlier in the day, German number one Julia Goerges had dragged her country back into the tie with a 6-4, 6-2 win over Karolina Pliskova. Goerges needed only 27 minutes to claim the opening set before she took advantage of the first two break opportunities in the second to clinch the victory in under an hour.
But former world number one Kerber struggled to cope with Kvitova's powerful groundstrokes and was broken five times as the Czechs returned to the final after a one-year absence.
The Czechs are undefeated in their previous five final appearances and will face the US in the final on Nov. 10-11.
Keys sends US into second straight Fed Cup final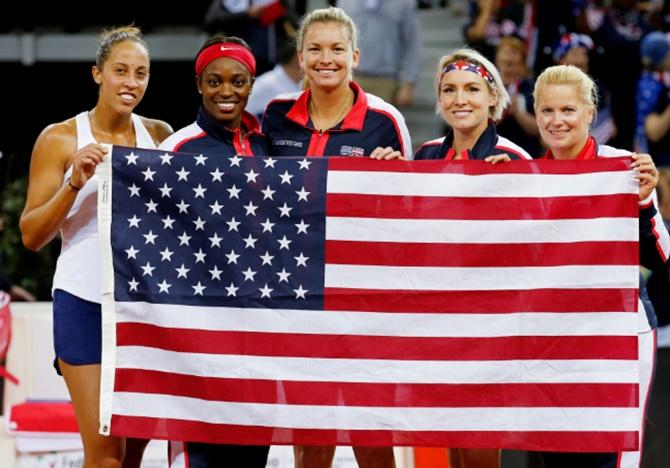 Madison Keys battled past Pauline Parmentier of France 7-6(4), 6-4 to lead the US into their second consecutive Fed Cup final in Aix-en-Provence.
Keys, who was named as a late replacement for CoCo Vandeweghe, rallied back from 4-1 down to claim the opening set before a decisive break in the ninth game of the second ensured the victory.
Keys' victory handed the defending champions an unassailable 3-1 lead over France in the semi-final tie before the hosts won the dead doubles rubber.
The French pair of Amandine Hesse and Kristina Mladenovic edged Vandeweghe and Bethanie Mattek-Sands 6-4, 3-6, 10-6.
Earlier in the day, US Open champion Sloane Stephens thrashed Mladenovic 6-2, 6-0 to collect her second singles victory this weekend.
Stephens was aided by 25 unforced errors from world number 20 Mladenovic, whose touch eluded her far too often in the match.
"That was a really good one. You never anticipate a scoreline like the way it turned out but it was really solid," Stephens said.
The Americans extended their winning record to 12-2 against the French.
Bounasser wins Vienna marathon as Kimetto drops out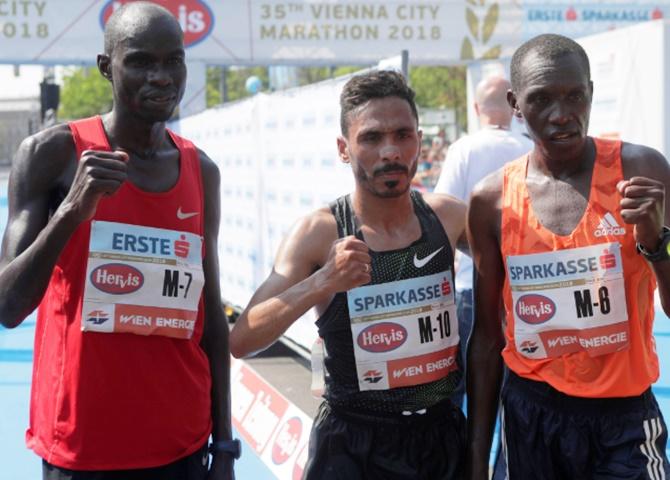 Morocco's Salaheddine Bounasser was the surprise winner of the Vienna marathon on Sunday while world record holder Dennis Kimetto's injury frustration continued as he failed to finish.
Bounasser, who won in two hours, nine minutes and 29 seconds, and Kenya's Ishmael Bushendich broke away from the rest of the pack as they passed the Ernest Happel stadium.
They raced side-by-side for around 20 minutes before Bounasser made his move at the 39-kilometre mark and left the Kenyan in his wake. Bushendich finished second in 2:10:03 and his fellow Kenyan Samwel Maswai was third.
Kimetto, who ran a world record of 2:02:57 in Berlin 2014, was hoping to rekindle his career in Vienna after a series of injury frustrations.
The 34-year-old has not finished a marathon since London in 2016 and suffered another happy day as he also dropped out in Vienna.
Kimetto was clearly limping as he lost touch with the leading pack around halfway through the race and he dropped out after one hour and 20 minutes.
Kipchoge wins third London Marathon as Farah breaks British record
Eliud Kipchoge defied soaring temperatures to win the London Marathon for a third time on Sunday, while Mo Farah finished in an impressive third place, breaking the British record in the process.
Kipchoge raced out of the start, with the leading group registering a blistering opening mile of four minutes 22 seconds, but the Kenyan could not maintain that pace as temperatures rose over 20 degrees Celsius.
Farah, who overcame early problems with his drinks bottle, fell well behind Kipchoge but still registered a time of 2:06:32 to break Steve Jones's British record achieved in 1985.
Having taken a break from the London Marathon last year to try to run a sub-two-hour marathon in Italy, Kipchoge returned to add to his 2015 and 2016 titles with ease, finishing ahead of Ethiopia's Tola Shura Kitata in 2:04:27, two-and-a-half minutes off Dennis Kimmetto's world record.
Cheruiyot shocks Keitany to win London Marathon
Vivian Cheruiyot shocked favourite and fellow Kenyan Mary Keitany to win the London Marathon for the first time on Sunday but failed to break Paula Radcliffe's world record as high temperatures took their toll.
Keitany, who set the women's world record in London last year, ran this year's race with the aid of male pacemakers, as Radcliffe did in 2003 when setting the unsurpassed time of 2:15.25 to break the "mixed race" record.
Having shot into the lead, the 36-year-old Keitany looked to be on course to break that 15-year record, running 32 seconds quicker than Radcliffe's 10-mile time, but as the temperature rose above 20 degrees Celsius her pace tailed off, allowing Cheruiyot to steal in.
Brigid Kosgei completed a Kenyan one-two.
Cheruiyot, who won her first marathon in Frankfurt only last October, came out of nowhere to race past Keitany, who struggled over the finish line fifth and remains stuck on three wins in the English capital, one behind Norwegian Ingrid Kristiansen's career total.
Indian Tigers beat China Dragons 4-1 in WSB
Mandeep Jangra defeated Haerheng Wulepaer of China Dragons to register his first ever win in the World Series of Boxing format and guide the India Tigers to second consecutive victory here.
The India Tigers emerged 4-1 victorious at the National Boxing Academy in Rohtak.
The 2014 Commonwealth Games silver medallist Mandeep (75 kg) looked in ferocious form as he set off from the word go and looked to finish his opponent off early on. He nonchalantly kept landing his powerful punches as the Chinese tried to step up to his pace.
It was sheer power from Mandeep as he dominated the proceedings, whereas the Chinese had no answers except to lock his arm for which he was even warned. The Indian kept on attacking, giving no respite to the Chinese and eventually won 3:0.
Earlier, Mohammad Etash Khan walloped Boxiang Zhu by a unanimous decision to hand the Tigers an unassailable 3-1 lead in their encounter against China Dragons.
In the high intensity bantamweight clash, Khan lived up to his favourite tag and brushed aside his opponent rather easily to ensure a second consecutive win for the Tigers.
The 19-year-old pugilist from Manipur, who came into the contest with the hosts leading 2:1, moved around the ring intentionally keeping a near impregnable defence and landing his punches which made the Chinese bite the dust in the first round.
Khan looked a class-apart and connected almost everything that he threw at his opponent to leave him battered and bruised in the middle of the squared ring.
In the WSB opener against the Dragons, three-time King's Cup gold medallist Shyam Kumar (49 kg) exuded confidence while entering the ring.
However, Shyam did not have the best of starts as the Chinese landed a few quick jabs on him. But, he tried to take advantage of his reach and bomb Wu with his vicious hooks and uppercuts while keeping a safe distance.
With the Chinese Dragons missing a member in the 91 kg category and Qi (64 kg) falling sick before the clash, the Indian Tigers had a comfortable 2-0 lead before even the clash started.
But Wu was up to the task and closed in on the Indian to keep landing his combinations and kept him on his toes. Even after a valiant show inside the ring by Shyam, the Chinese Dragons' Wu landed cleaner punches and won the bout via a split decision.
The Indian Tigers will take on China Dragons in an away clash on April 27 and if they continue to dazzle, they will cement their place into the play-off rounds.