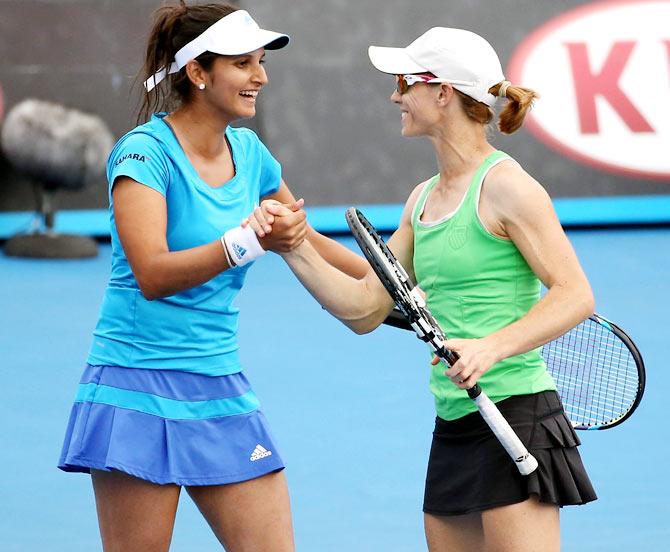 Image: Sania Mirza (left) with Cara Black. Photograph: Michael Dodge/Getty Images
Defending champions Sania Mirza and Cara Black knocked out Martina Hingis and Belinda Bencic in straight sets to reach the semi-finals of the Toray Pan Pacific Open, in Tokyo, on Thursday.
Sania-Cara needed 62 minutes to dispatch the Swiss pair 6-4, 6-2.
The top seeded Indo-Zimbabwean pair broke seven times but also lost their serve four times in the contest.

They take on the Serbian-Spanish combine of Jelena Jankovic and Arantxa Parra Santonja next.

After the tournament, Sania will fly straight to Incheon, in Korea, to join the Indian tennis team at the Asian Games.
Michael Schumacher's medical bills soar!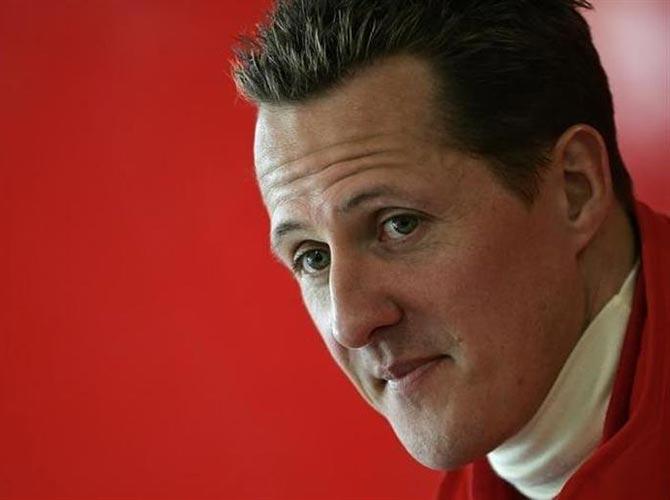 Image: Michael Schumacher. Photograph: Tony Gentile/Reuters
Formula One legend Michael Schumacher's medical bills have soared to 1,00,000 pounds-a-week.
Details of the care given to Schumacher were disclosed on Wednesday. He has a team of 15 doctors looking after him.
The seven-time world champion still needs round-the-clock care from a team of 15 doctors at the specially built hospital wing in the grounds of his 35 million pounds Swiss mansion, The Daily Star reported.
Schumacher was sent home last week from a rehab centre in Lausanne, Switzerland, nine months after a ski accident in the French Alps resort of Meribel left him with head injuries.
The hospital trained the medical team at his Lake Geneva home, which is now battling to give the 45-year-old the chance of a normal life.
A spokesman said that their specialists trained a large part of the team that cares for Schumacher, adding that they are following his treatment and are still a point of contact and entirely at his disposal.
Last week the driving legend's manager Sabine Kehm denied he was moving home because he was significantly better.
Schumacher remains in a state of minimal consciousness, unable to speak or move any body part but his eyes.
Schumacher's family and wife Corinna have rarely left his side since he suffered near-fatal head injuries in a skiing accident in France in December last year. His father Rolf now plans to move from his home in Germany to a house in the grounds of the Formula One legend's mansion to be near his son.
And Schumacher's children Mick, 15, and Gina-Marie, 17, are said to spend hours every day at his bedside, the report added.
Former Chelsea boss Grant takes role at Thai club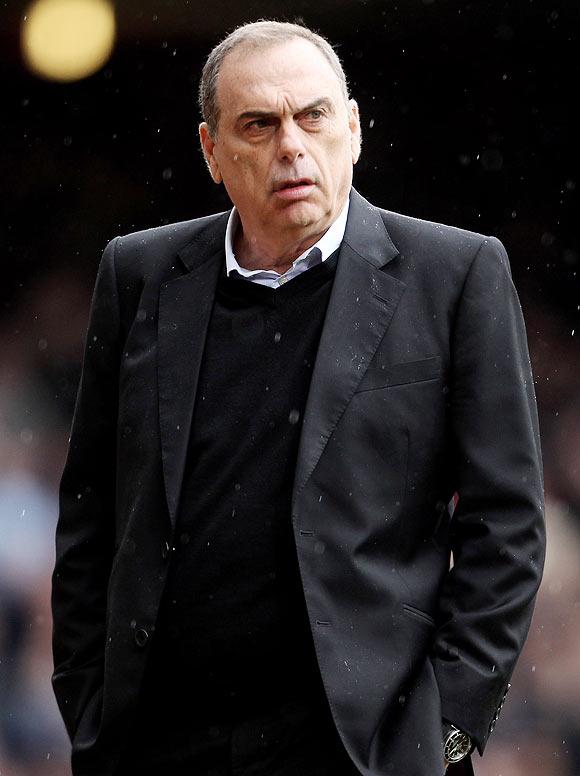 Image: Avram Grant. Photograph: Reuters
Former Chelsea manager Avram Grant has been appointed technical director at Thai Premier League club BEC Tero Sasana, who also agreed a five-year partnership deal with Brazilian side Cruzeiro.
The 59-year-old Israeli takes over the role once held by former England manger Sven-Goran Eriksson, who lasted only a matter of weeks in 2012 before leaving for the United Arab Emirates and then China.
"I come here to help make the team become better," Grant told reporters in Bangkok on Wednesday.
"I come here to create chances for the team - that's my job."
BEC are currently third in the 20-team Thai league which will resume next month after the conclusion of the Asian Games in Incheon, South Korea.
Grant has also managed English sides West Ham United and Portsmouth, Serbians Partizan Belgrade and the Israeli national team.
He will work alongside coach Jose Alves and general manager Robert Procureur at the Fire Dragons, who are six points behind league leaders Buriram United.
Disappointment over FIBA decision on Sikh players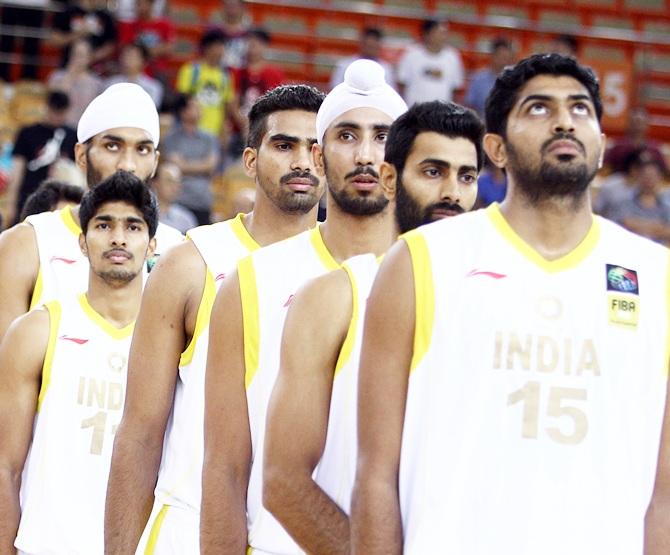 Image: India's basketball team. Photograph Courtesy: basketballindia.org
Two leading US lawmakers have expressed disappointment over the decision of FIBA to continue with its policy to ban players from wearing headgears in international matches, even though it allowed them to sport religious headgear as part of a 'trial period' for two years.
"We are deeply disappointed with the International Basketball Federation (FIBA). It shouldn't take two years to make what should be a simple decision to eliminate a discriminatory practice," Congressman Joe Crowley and Ami Bera said in a joint statement.
The two Democratic lawmakers said there is no evidence that turbans or religious headgear pose a threat to players, and it's time for FIBA to do what the rest of the sporting world is doing and let Sikhs play.
In the announcement, FIBA also said it will wait until 2016 to make a permanent decision about religious accommodations.
Last month, both led dozens of Members of Congress in a letter to FIBA's president urging the board to update its policies to stop requiring Sikhs to remove their turbans during basketball games.
The letter followed an outcry over an incident involving two Sikh players who were told by referees that they must remove their turbans if they were to play in FIBA's Asia Cup.
The incident involving the two Sikh players has led many to speak out against the FIBA's policy, and sparked a social media campaign using the hashtag #LetSikhsPlay.
Ronaldinho misses penalty on Mexican debut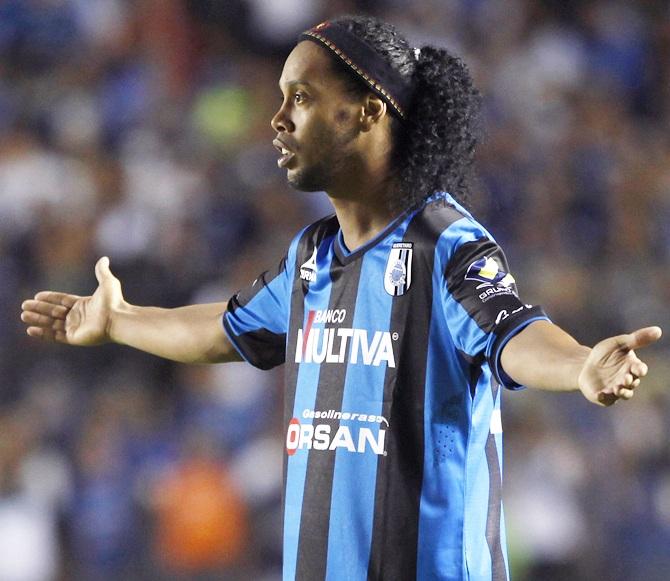 Image: Queretaro's Ronaldinho gestures. Photograph: Juvencio Hernandez/Reuters
Ronaldinho missed a penalty on his debut for Mexican side Queretaro who lost 1-0 at home to UANL on Wednesday, frustrating a packed crowd who had turned out to watch the 34-year-old Brazilian.
The former World Player of the Year, clearly short of match fitness, fired his effort over the bar in the 61st minute, having surprisingly been kept on for the second half despite looking tired.
A full house turned out to watch the game in the Mexican Cup, known locally as the Copa MX, which features teams from the top two divisions.
Ronaldinho, a World Cup winner in 2002, signed for the White Roosters earlier this month, making Queretaro an unlikely stop on a career that has already taken him to Gremio, Flamengo and Atletico Mineiro in his homeland, Paris St Germain, Barcelona and AC Milan.
Last week, he was victim of a racist insult by a Mexican politician who referred to Ronaldinho as an 'ape' after getting stuck in a traffic jam allegedly caused by the player's official presentation at the Corregidora stadium.
Queretaro demanded an 'exemplary punishment' after Carlos Trevino, a member of the PAN party, wrote the insults on his Facebook page, which were later removed.