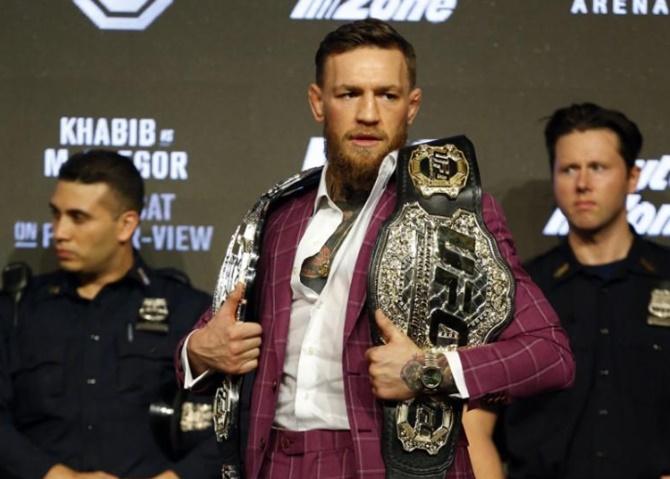 Irish mixed martial arts (MMA) fighter Conor McGregor said on Tuesday he was retiring from the sport, five months after losing to Khabib Nurmagomedov in a controversial title fight in Las Vegas that sparked a brawl and led to a six-month ban.
The 30-year-old, who has a record of 21 wins and four defeats, is still suspended by the Nevada State Athletic Commission for his part in the melee that broke out after his bout with the Russian last October.
This marks the second time McGregor has announced on Twitter that he has 'retired'. A month after losing to Nate Diaz in March 2016 he said he had decided to "retire young", but returned to defeat the same opponent later that same year.
"Hey guys quick announcement, I've decided to retire from the sport formally known as 'Mixed Martial Art' today," McGregor said on his official Twitter account.
"I wish all my old colleagues well going forward in competition. I now join my former partners on this venture, already in retirement."
The Dublin-born 30-year-old has never been far from controversy throughout his turbulent career.
The brash Irishman was charged in April 2018 with three counts of assault and one count of criminal mischief after police said he attacked a charter bus in New York carrying UFC fighters.
Video footage appeared to show McGregor and his entourage in an underground parking area smashing windows on a bus filled with Ultimate Fighting Championship fighters who were at the arena to publicize an upcoming UFC event.
He pleaded guilty to disorderly conduct, a violation which would not result in a criminal record.
In a separate incident earlier this month, McGregor was arrested in Florida after smashing a fan's phone.
Inside the octagon, there have been few better.
McGregor won the UFC's featherweight title in 2015 by knocking out Brazilian Jose Aldo in 13 seconds before having two fights against Diaz at welterweight the following year.
He became the first fighter to hold two UFC belts simultaneously when he defeated Eddie Alvarez for the lightweight title in November 2016 but was later stripped of the strap after a period of inactivity.
McGregor was outclassed by five-division champion Floyd Mayweather in a much-hyped boxing bout in August 2017 and he returned to the octagon for the now infamous fight with Nurmagomedov last October.
His announcement comes in the wake of reports that UFC boss Dana White had denied McGregor the main event slot at the upcoming event in Las Vegas scheduled for July 7.
ESPN's Brett Okamoto quoted White as saying McGregor's retirement "makes sense".
"He has been so fun to watch," White said in the tweet. "He has accomplished incredible things in this sport. I am so happy for him and look forward to seeing him be as successful outside of the octagon as he was in it."
Wimbledon champ Kvitova's attacker gets eight-year sentence
An attacker who stabbed two-time Wimbledon champion Petra Kvitova was sentenced to eight years in prison by a Czech regional court, CTK news agency reported on Tuesday.
Kvitova suffered severe wounds to her left playing hand as she struggled with the intruder in her flat during the attack in December 2016.
She returned to professional tennis in May 2017, crowning her comeback 18 months later with her first final appearance at 2019 Australian Open.
Kartik, Pranaav lead Indians into main draw at India Open
Indian shuttlers expectedly dominated the qualifying round at the India Open with eight singles and 10 doubles pairs from the country securing berths in the main draw in New Delhi on Tuesday.
As many as 13 shuttlers out of 16 in the men's singles qualifiers were from India, with Rahul Yadav Chittaboina, Siddharath Thakur, Kartik Jindal and Kartikey Gulshan Kumar making it to the main draw.
World No. 257 Jindal hardly broke a sweat in dismissing the 365th-ranked Pavel Kotsarenko in the first round. He was then made to work hard by the spirited Sarath Dunna, who had knocked out Yehezkiel Fritz Mainaky, 21-9, 17-21, 21-16 in his opening round.
Dunna showed the same resolve against Jindal before going down 12-21, 23-21, 19-21 in a tight contest that lasted 53 minutes.
"I feel delighted qualifying for the main draw but need to recover from today's play for tomorrow's match against Khosit Phetpradab from Thailand," the 20-year-old Jindal said.
Chittaboina recorded a 21-14, 21-15 victory over Anant Shivam Jindal to qualify for the main draw. Thakur was equally impressive in his 21-6, 21-13 win over Gurpartap Singh Dhaliwal and was joined by Kartikey Gulshan Kumar.
In women's singles, Ritika Thaker, Prashi Joshi, Riya Mookerjee, and Vaidehi Choudhari progressed out of the eight qualifiers, which featured six Indians.
While Thaker will face eighth seed Mia Blichfeldt, Joshi and Choudhari have tough opponents in the form of third seed He Bingjiao and seventh seed Han Yue respectively.
Pranaav Jerry Chopra, one-half of India's mixed doubles pair of N Sikki Reddy, had an easy outing alongside Shivam Sharma in the men's doubles qualifying round where all eight pairs were Indians.
The duo needed just 19 minutes to prevail over Vikas Chauhan and Sandeep Choudhary 21-10, 21-5.
In the women's doubles, Megha Morchana Bora and Manali Sinha staved off a stiff resistance from Anamika Kashyap and Sanghamitra Saikia to register a 24-22, 21-13 win.
In the mixed doubles, Aparna Balan and Mohamed Muanis went down to the experienced Hong Kong pair of Tang Chun Man and NG Tsz Yau.
On Wednesday, 2017 champion PV Sindhu will start her campaign against compatriot Mugdha Agrey, while 2015 winner Kidambi Srikanth meets the tricky Wong Wing Ki Vincent in the opening round and fifth seed Sameer Verma has Rasmus Gemke of Denmark as his first round opponent.
Key results:
Rahul Yadav Chittaboina (IND) bt Anant Shivam Jindal (IND) 21-14, 21-15; Siddharath Thakur (IND) bt Gurpratap Singh Dhaliwal (IND) 21-6, 21-13; Kartik Jindal (IND) bt Sarath Dunna (IND) 21-12, 21-23, 21-19; Pranaav Jerry Chopra (IND)/Shivam Sharma (IND) bt Vikas Chauhan (IND)/Sandeep Chaudhary (IND) 21-10, 21-5; Megha Morchana Bora (IND) /Manali Sinha (IND) bt Anamika Kashyap (IND)/Sanghamitra Saikia (IND) 24-22, 21-13.
Ajay Malik makes junior Indian Davis Cup cut
Ajay Malik, who rose from the mud courts of Haryana's Gohana, has made it to the Indian junior Davis Cup team for the upcoming Asia/Oceania final qualifying matches in Thailand.
Ajay, who had won the Under-14 national title at Fenesta Open in October 2016, has been selected to represent India along with Divesh Gahlot and Sushant Dabas, who are ranked higher than him.
Udit Gogoi is the reserve member of the side.
The selectors have gone by national rankings in the Under-16 category while picking the squad.
The selection panel, led by Anil Dhupar, also picked the Junior Fed Cup squad which has three playing members in Bhakti Shah, Sudipta Senthil Kumar and Sanjana Sirimala.
Gargi Pawar is the reserve member of the side.
Both junior Davis Cup and Fed Cup were to be played at DLTA in New Delhi but the tournaments have been moved to Bangkok, Thailand due to the uncertainty caused by the diplomatic tension between India and Pakistan.
The Davis Cup is scheduled to be held from April 8-13 while Fed Cup is scheduled for April 15-20.
To reach the Finals, every nation with the exception of the host nation, must win through regional qualifying. A total of 16 boys' and girls' teams are drawn into four round-robin groups before the top teams in each group progress to the semi-finals where a knock-out competition decides the champions.
Mick Schumacher to test with Ferrari and Alfa Romeo
Mick Schumacher, son of seven-times world champion Michael, will test with Ferrari and Alfa Romeo in Bahrain next week, the Formula One teams announced on Tuesday.
The German, who makes his Formula Two debut in Bahrain this weekend with the Prema team, will test Ferrari's F90 car at the Sakhir circuit on April 2 after the grand prix there.
The 19-year-old, who won the European F3 title last year and is a member of Ferrari's young driver academy, will also test Alfa Romeo's new car on the Wednesday.
"I am really looking forward to what I'm sure will be a great experience," he said.
"But for the moment, I am consciously putting all thoughts of the test to one side, because I am also very much looking forward to competing in my first F2 race and would like to focus 100 percent on the weekend to come."
Britain's Callum Ilott, who is also in Formula Two this season and is another Ferrari academy member, will make his F1 test debut with Ferrari-powered Alfa in Barcelona in May after the Spanish Grand Prix.
Schumacher's father, who has not been seen in public since suffering severe head injuries in a skiing accident in 2013, won five of his record seven Formula One titles with the Italian team between 2000-04 and holds the record of 91 wins.
Ferrari principal Mattia Binotto said the team's current driver Charles Leclerc was proof of the worth of the academy as a high level training programme for talented youngsters.
"Mick, who joined the FDA in January, and Callum, who has been with us since 2017, are definitely drivers on their way up," he said.
"I believe that driving the SF90 in an official setting such as the tests in Bahrain and Barcelona can be very useful at this stage in their career."