AFI provisionally suspends Manpreet for second dope offence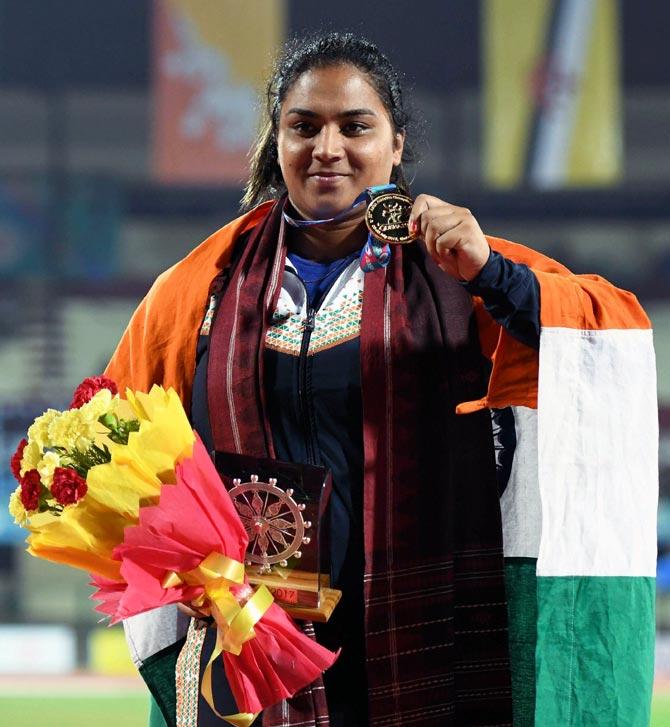 IMAGE: Manpreet Kaur poses with her gold medal at the Asian Athletics Championships in Bhubaneswar. Photograph: PTI
Top Indian shot-putter Manpreet Kaur was on Thursday suspended provisionally for her second dope offence after she tested positive for a banned steroid, just a couple of days after her first dope flunk.

Manpreet has tested positive for a banned steroid and stimulant dimethylbutylamine in a test conducted on her urine sample taken on April 24 during the first leg of the Asian Grand Prix Meet at Jinhua in China.

The 27-year-old Punjab athlete had hurled the shot put to a distance of 18.86m at the Chinese city (which was then the world's leading performance) to win the gold medal and book a berth for the World Championships to be held in London from August 4-13.

Manpreet had also won a gold medal in the recently-concluded Asian Athletics Championships in Bhubaneswar.

She will miss the World Championships as the Athletics Federation of India (AFI) has suspended her provisionally for her dope offence.

"We have been informed that she (Manpreet) has tested positive for a steroid and stimulant (dimethylbutylamine). She has been handed provisional suspension by the AFI. She will now be dropped from World Championships team," AFI president Adille Sumariwalla said.

The Asian Grand Prix comes under the aegis of the continental governing body, the Asian Athletics Association.

If her 'B' sample also returns positive, Manpreet could face a ban of upto four years for a first time dope offence.

Manpreet's second dope offence came a day after she tested positive for the banned stimulant dimethylbutylamine from her urine sample collected by National Anti-Doping Agency Officials during the Federation Cup National Championships held in Patiala from June 1-4.

It is a massive embarrassment for the country which might lose the gold medal clinched by Manpreet earlier this month in Bhubaneswar.

She was not put under provisional suspension after her first offence as dimethylbutylamine is a specified substance under the WADA Code but India will lose the gold medal she won in Bhubaneswar if her confirmatory urine sample 'B' test also returns positive.

Manpreet had also won a gold in the National Inter-State Championships which concluded at Guntur on July 18.
Kashyap stuns top seed Lee Hyun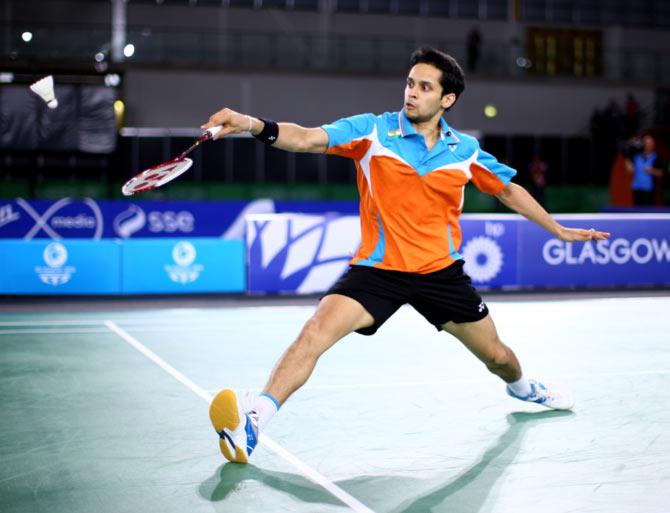 IMAGE: Parupalli Kashyap in action during the 2014 Commonwealth Games in Glasgow. Photograph: Richard Heathcote/Getty Images

Commonwealth Games champion Parupalli Kashyap knocked out top seed Lee Hyun Il of Korea in the men's singles opening round of the US Open Grand Prix Gold badminton tournament in Anaheim, United States.

On a comeback trail after recovering from a shoulder injury, Kashyap dished out a gritty performance to stave off the challenge from World No. 15 Lee 21-16, 10-21, 21-19 in a match that lasted an hour and three minutes.

Fifth seed Sameer Verma, who also is making a comeback after recovering from a shoulder problem, made a positive start to his campaign by defeating Vietnam's Hoang Nam Nguyen 21-5, 21-10 in another men's singles match.

Second seed H S Prannoy, who was in rampaging form at Indonesia Super Series Premier, also reached the second round after beating Austria's Luka Wraber 21-12, 21-16, while Harsheel Dani brushed aside Mexico's Arturo Hernandez 21-13, 21-9 in another match.

World No. 59 Kashyap will face Hungary's Gergely Krausz, while former National champion Sameer will take on Croatia's Zvonimir Durkinjak, Prannoy will meet Ireland's Joshua Magee and Dani will square off against Vietnam's Tien Minh Nguyen.

In the women's singles, Rituparna Das defeated Canada's Rachel Honderich 21-16, 21-18 and Sri Krishna Priya Kudaravalli beat American Maya Chen 21-13, 21-16.

However, it was curtains for Lakhanee Sarang, Abhishek Yelegar, Sai Uttejitha Rao Chukka, Reshma Karthik and Ruthvika Shivani Gadde.

Lakhanee lost 16-21, 13-21 to Kenta Nishimoto of Japan, Abhishek suffered a narrow 17-21, 21-16, 13-21 loss to third seed Brice Leverdez of France and Netherlands' Gayle Mahulette ended Sai Uttejitha Rao's campaign 23-25, 21-13, 21-16.

Ruthvika also put up a gallant fight before losing 14-21, 27-25, 16-21 to Japan's Aya Ohori and Reshma's fight too ended with a heart-breaking 21-12, 16-21, 15-21 loss against Sofie Holmboe Dahl of Denmark in the opening round.

In the men's doubles, Manu Attri and B Sumeeth Reddy defeated Canada's Jason Anthony Ho-Shue and Nyl Yakura 21-15, 21-19, while Francis Alwin and Tarun Kona beat local combo of Yan Tuck Chan and Brian Chi Cheng 21-3, 21-10.

The women's doubles pairing of Meghana Jakkampudi and Poorvisha S Ram defeated Japan's Rira Kawashima and Saori Ozaki 21-16, 14-21 21-14, while Manu and Maneesha beat Canadian combo of Nyl Yakura and Brittney Tam 21-13, 21-15 in mixed doubles competition.

Third seed Pranaav Jerry Chopra and N Sikki Reddy lost 21-19, 19-21, 17-21 to English pair of Ben Lane and Jessica Pugh in the mixed doubles, while Kuhoo Garg and Ningshi Block Hazarika lost 12-21, 10-21 to Russia pair of Anastasia Chervyakova and Olga Morozova in the women's doubles.

Fourth seeds Satwiksairaj Rankireddy and Chirag Shetty too suffered a 21-8, 19-21, 19-21 loss to Kohei Gondo and Tatsuya Watanabe of Japan.

Vietnam's Tuan Duc Do and Nhu Thao Pham ended the campaign of Tarun and Meghana 21-15, 21-17 in another mixed doubles match.
Japan thrash India in HWL Semifinal
Japan blanked India 2-0 in a 5-8 placing match of the Women's Hockey World League Semifinal in Johannesburg on Thursday.
India made a zestful start to their campaign against Japan with Monika getting an early shot on goal in the opening minute of the game.
But Japan's goalkeeper Megumi Kageyama made a good save to deny India the early lead.
In the following minutes Japan put up a tighter defence while their attackers broke the Indian defence to foray into the striking circle.
The aggressive approach resulted in Japan winning their first PC of the match in the seventh minute which was successfully converted by Kana Nomura.
Japan won two more penalty corners in the 8th and the 10th minute but India's Monika and Savita came up with good saves, respectively.
The second quarter saw Indian attackers try different channels to break the Japanese defence but in vain.
Akiko Kato of Japan showed excellent dribbling skills to carry the ball into the circle and take a shot on goal but Savita was exceptional in her effort to save.
Japan's second goal however came through another PC in the 29th minute. It was Naho Ichitani who converted the shot after they came up with a brilliant variation to trick the Indian defenders.
Falling behind by two goals, India looked to make amends in the third quarter. Though Japan won another PC in the 31st minute, Namita Toppo did well as the first runner to block away the attempt.
Soon after, Rani setup a counter attack to make a swift foray into the striking to take a go at the goal but she was slightly off target.
The final 15 minutes saw India create some strong chances to score.
Though India played a much better third and fourth quarter, it wasn't enough to stop Japan from walking away with the win.
India will play seventh and eighth placing match on July 22.
Jaiswal wins double gold at 33rd Delhi State Shooting C'ship
Karan Jaiswal won a double gold in men's and junior men's 10m air rifle event while Kapila
Dabas and Pooja Rastogi won gold and silver respectively in women's 10m air rifle event at the 33rd Delhi State Shooting Championship in New Delhi on Thursday.
Shaurya Sarin also won two gold medals in the youth men's 10m air pistol and 50m pistol event while Tarun Dahiya won a silver and bronze medal in the 10m air pistol junior and senior events respectively.
In the Delhi State Inter School Shooting Competition which was held a day prior to the state meet, Aman Aryan Roach of the academy won the gold in the men's 10m air rifle event at the Dr. Karni Singh Shooting Range.