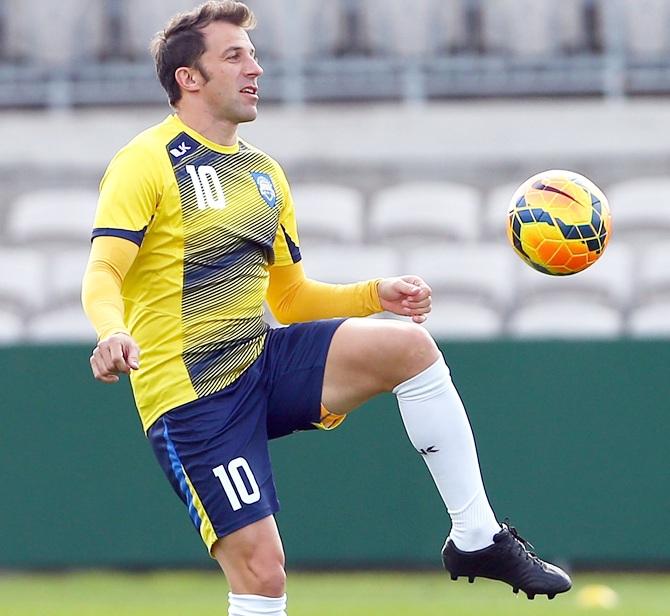 Alessandro Del Piero in action. Photograph: Renee MCKay/Getty Images
Italy's renowned World Cup winner Alessandro Del Piero has called the Indian Super League football tournament an 'adventure' and said he was
'enthusiastic' about embarking on this new journey.
"I'm very enthusiastic about this adventure. It fits perfectly with the way I chose to move forward since I left Juve," the 39-year-old Del Piero wrote on his twitter handle.
The Juventus legend who has won almost every tournament he has played in for club and country, has many achievements to his name in a career spanning over two decades. The highlight of his career was winning the World Cup in 2006, when he scored in the semifinal and final.
Del Piero will be playing for Delhi Dynamos FC as its marquee player in the franchise-based ISL tournament, which is scheduled to be held across different venues from October 12 to December 20.
Soon after his official signing with the Delhi team on Friday, Del Piero had stated: "It's really exciting to be coming to India and playing for the capital of the country. I am thoroughly looking forward to training with my teammates and work together with the coach and the club and I hope to encourage the people of Delhi to follow our games."
Del Piero, also nicknamed 'Il Fenomeno Vero' or The Real Phenomenon, is the 10th all-time top-scorer in the Champions League and has been featured in FIFA 100, a list of the top greatest living footballers compiled by Pele.
The Italian great played for Sydney FC for the last two seasons and is credited for putting the A-league onto the world stage and inspiring a new generation of football players in that country.
He won the Sydney FC Player of the Year award and Sydney FC Golden Boot in 2013 and also scored the A-League goal of the season for 2012-2013.
Malaysia's Lee ends run of local hero Axelsen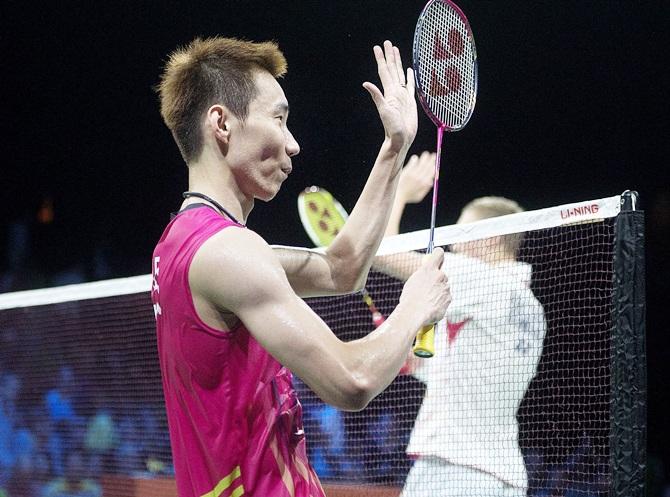 Lee Chong Wei, left, of Malaysia and Viktor Axelsen of Denmark gesture. Photograph: Liselotte Sabroe/Scanpix Denmark/Reuters
Lee Chong Wei ended Denmark's hopes of having a representative in the World Badminton Championships final on home soil by mercilessly dispatching local favourite Viktor Axelsen 21-9, 21-7 in Copenhagen on Saturday.
- World Badminton Championship: Sindhu settles for second bronze
Top-ranked Lee silenced the partisan crowd by securing his spot in the final for the third year in a row, beating the up-and-coming young Dane in just 33 minutes.
Despite his status as World No 1, Malaysian Lee has never won a world or Olympic title, losing in two world and Olympic finals, and he will be eager to end that barren run in the majors on Sunday.
Hoping to gatecrash Lee's party will be China's Long Chen, who edged out Indonesian Tommy Sugiarto 21-16, 22-20 after a thrilling second set.
Europe's only interest in Sunday's singles finals will be Spain's Carolina Marin. The ninth seed cruised to victory over India's Pusarla Venkata Sindhu 21-1, 21-15 to set up a final showdown with Chinese top seed Li Xuerui.
Li powered to a 21-8, 21-14 over Japanese dynamo Minatsi Mitani.
China are guaranteed gold and silver in the women's doubles after Xiaoli Wang and Yang Yu set up an encounter with Qing Tian and Yunlei Zhao.
The men's doubles final will be an all-South Korean affair as Yong Dae-lee and Yeon Seong-yoo take on outsiders Sung Hyun-ko and Baek Choel-shin.