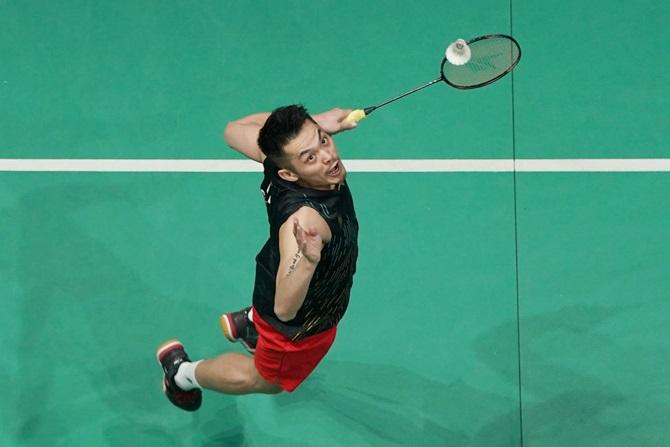 Chinese badminton ace Lin Dan won the Malaysia Open on Sunday after an electric performance against countryman Chen Long to claim his first major title in two years.
The win comes after the five-time World champion made several early round exits since January, including at the Indonesia Masters, German Open and the All-England.
But in a nail-biting 78-minute match, the world number 16 smashed his way back to 9-21, 21-7, 21-11 victory.
Speaking to reporters afterwards, Lin said his game against two-time World champion Chen was a sign that his spate of bad luck was finally over.
"My performance last year was not ideal, and I was under a lot of pressure and even doubted myself," he said.
"But here in Malaysia, I was determined to play well and was hungry for victory ... I think the bad times are over."
It was a game that saw Lin up against an in-form Chen, who got breezed through the Open impressively in a series of straight matches.
But the 35-year-old Lin, five years Chen's senior, dictated the pace by working his opponent with deft netplay and his trademark ferocious front court smash.
The title is Lin's first win this year, and also his first major success since taking the Malaysia Open in 2017.
The women's singles saw Taiwanese top seed Tai Tzu-ying clinch her third consecutive Malaysia Open title after a dominant 21-16, 21-19 triumph over Japan's Akane Yamaguchi.
China dominated all the other events, winning the mixed doubles, women's doubles and the men's doubles.
Chinese duo Li Junhui and Liu Yuchen beat Japanese pair Takeshi Kamura and Keigo Sonoda 21-12, 21-17 to win the men's doubles.
Zheng Siwei-Huang Yaqiong and Chen Qingchen-Jia Yifan also clinched the mixed doubles and women's doubles respectively.
Indian swimmer Kushagra achieves B cut for Olympics 2020
Indian swimmer Kushagra Rawat made the B standard for the FINA World Championships this year and the 2020 Tokyo Olympics after clocking 08.07.99 seconds in the 800m freestyle category at the Speedo Thailand Age Group Championships at Bangkok.
The B timing for men's 800m freestyle for World Championship 2019 is 08:10.91 and Tokyo Olympics is 08:08.54.
Kushagra also made the B cut for the World Championships in the 400m FS with a time of 03:56.10. The B Cut qualifying time for the World Championships is 03.56.14.
"Your aim must be high, do your efforts accordingly, you will get your goal nearby," said Kushagra, who trains at the SAI Glenmark TIDM programme which is based out of the Dr SPM Swimming Complex in Delhi.
One Swimmer can qualify for individual events at the FINA World Championships in South Korea with a B Time Standard provided no swimmers achieve the A time standard in that event and they are the fastest B Time Standard.
The SGTIDM programme was setup in 2016 wherein the Sports Authority of India and Glenmark Aquatic Foundation partnered with a vision to develop Indian swimmers for podium finishes at global aquatic meets like the Olympics.
Kushagra joined the academy in 2016 wherein his best time in the 800 FS 08.49.24. He shed around 42 seconds in three years to become the fastest in India.
Kipserem sets new course record to win Rotterdam marathon
Kenya's Marius Kipserem set a new course record to win the Rotterdam Marathon on Sunday in two hours, four minutes and 11 seconds, his second success in four years.
The previous course record had stood for 10 years after Kenyan Duncan Kibet ran 2:04:27 to win in 2009. Yet that time always looked under threat as the frontrunners set a quick pace of 1:02:16 at the halfway mark.
A Kenyan quartet of Kipserem, who also won in 2016, Emanuel Saina, Vincent Rono and Josphat Boit broke away after about 30km but Rono and Boit fell away as Kipserem and Saina battled it out.
Saina faded near the end to allow Turkey's Kaan Ozbilen to pip him to second place.