Anand wins, Harikrishna shocked in World Cup Chess opener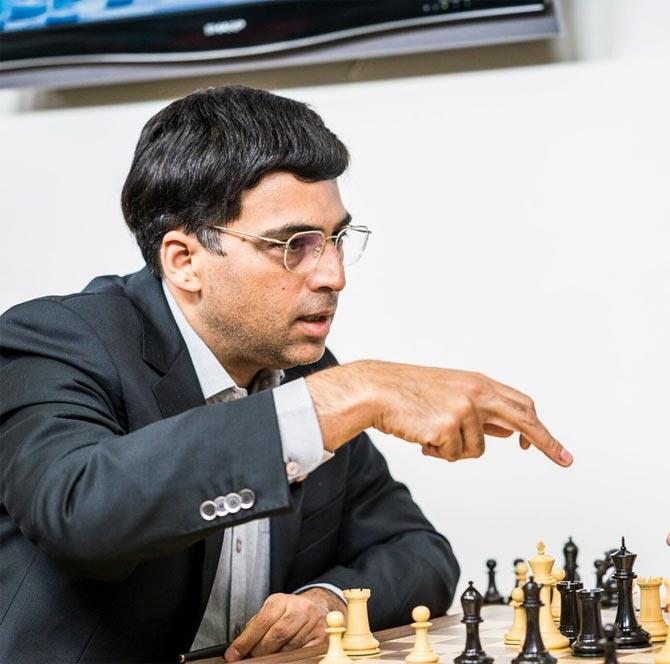 IMAGE: Viswanathan Anand in action. Photograph: Grand Chess Tour/Twitter
Five-time world champion Viswanathan Anand started off with a clinical victory over Li Tian Yeoh of Malaysia in the first round of the first game of World Chess Cup in Tbilisi, Georgia on Sunday.
The second highest rated Indian, P Harikrishna, however, suffered a defeat at the hands of Yuri Vidal Gonzales of Cuba.
Anand was superior in all departments of the game. The Alapin opening by the Malaysian did not bother the Indian ace much as he gained easy equality early in the opening.
However, as the game progressed, Anand got a slight advantage and the real technicality surfaced after his opponent decided to part with his queen for two pieces.
Once on top, Anand was in his true self and destructed all possible counter-play. The Queen proved superior to the two pieces and the Indian can look up to the second round with power backing him.
Harikrishna, on the other hand, was a pale shadow of himself as he was grinded down by the Cuban opponent. The opening was fine for the Indian as he played black. It was a Petroff defense game wherein Harikrishna equalised early but then had to pay the price.
Kynan finishes sixth in Shotgun World Championship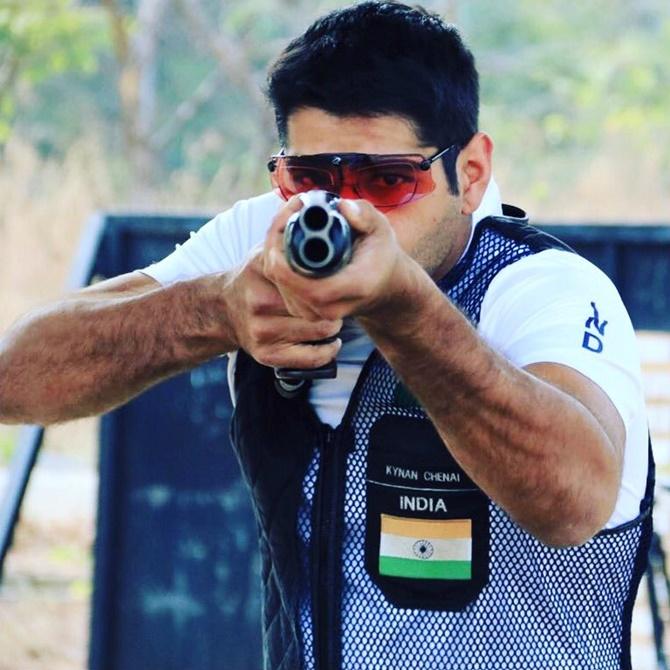 IMAGE: Kynan Chenai in action. Photograph: Twitter
Shooter Kynan Chenai finished sixth in men's trap event in a creditable show at the ISSF Shotgun World Championship in Moscow on Sunday.
Chenai gave a great account of himself at the biggest global stage, surviving a gruelling seven-way shoot-off to reach the finals. He eventually finished sixth.
The young Indian was placed third over two days of qualifying and with two more rounds remaining at the start of the day to determine the six finalists out of 147 shooters, he shot rounds of 24 and 23 to end on 121 out 125.
This tied him with six other shooters to fight for four final qualifying spots.
Chenai and Yannick Peters of Belgium both missed their fourth target while two shooters had already been eliminated after missing their third shots. Chenai and Yannick then went for another duel for the final qualifying spot before the Indian prevailed 12 to 11.
Chenai ran out of steam when in the finals he shot 17 hits out of the first 25 to be eliminated in sixth place.
Italy's Danielle Resca won the gold shooting 43 in the final. Rio Olympics silver medalist Edward Ling of Great Britain bagged the silver shooting 40 while Jiri Liptak of Czech Republic won the bronze with a finals score of 33.
The other Indian in the fray, Zoravar Singh Sandhu shot rounds of 24 and 22 for a total of 118 to finish 26th.
Birendeep Sodhi also shot his best in a world competition this year, finishing at 61st place with a total of 114 after rounds of 22 and 23.
Their combined effort meant that in the men's trap team competition, India finished seventh overall out of 39 teams, just four points off a medal. They had a combined score of 353.
Double point finish for Force India at Italian GP
Force India Formula One team enjoyed a productive double point finish as Estaban Ocon and Sergio Perez grabbed the sixth and ninth spots in the Italian Grand
Prix.
Ocon, who started third at the grid, finished sixth to collect eight points from the race while Perez, who began at 10th, ended at ninth to collect two points.
Perez (58 points) and Ocon (55) are now at seventh and eighth spots at the drivers' standings respectively while Force India occupies the fourth place at the constructors' standings with 113 points.
Milkha hails Rathore's appointment as sports minister
Legendary athlete Milkha Singh hailed Olympics silver medallist shooter Rajyavardhan Singh Rathore being made the sports minister, saying Indian sports can get better results under his charge.
Wishing Rathore the very best for his new stint, the 'Flying Sikh' said, "Having Rathore at the helm means one can expect better results. He knows inside out and what it takes to win medals at the highest level."
"I had been demanding for the past over two years that Rathore should be made the sports minister. Recently, I had a chance to meet BJP chief Amit Shah over dinner and I told him that Rathore was the most deserving person to be given the job. Mr Shah had then told me that he will definitely look into it," 85-year-old Milkha said.
"I am very happy that Rathore has been given the sports portfolio," he said.