A summary of sports events and sports persons, who made news on Monday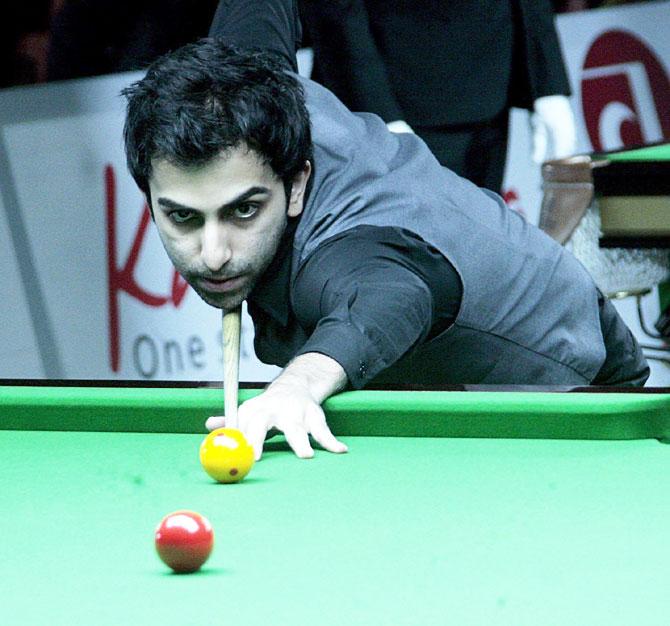 IMAGE: Pankaj Advani. Photograph: PTI
Ace Indian cueist Advani Advani dished out another superb performance to outclass Iran's Amir Sarkhosh in the finals and claim yet another title at the IBSF World Snooker Championship in Doha on Monday.
His deadly attacking game coupled with phenomenally tight safety play helped Advani to secure his 18th World Championship title with a 8-2 win over Amir at the Al-Arabi Sports Club.
The best-of-15 frame final witnessed Amir pocketing the first frame rather comfortably.
The Iranian looked strong and focused in the second frame too, progressing well and nearing a 2-0 scoreline, but a missed green pot gave a lifeline to Advani as he seized the opportunity with both hands and drew parity.
Advani never looked back from there as he raced to a 5-2 lead. He, however, survived a scare in a close battle in the 4th frame.
A massive break of 134 by Amir in the 6th did not faze the Indian as he immediately widened the lead to 5-2 before going into the 1st session break.
A long red pot against the nap with a perfect position for blue saw him draw first blood after the interval with a break of 45.
Couple of safety exchanges later, Advani once again trapped Amir with a perfect snooker to extract an opening. Another long red pot spectacularly executed saw him make another useful break of 17 points to increase the margin leaving the cue ball in an unplayable position.
A hapless Amir couldn't do much as his wild shot in frustration saw Advani come back to table once again to seal the frame with another break of 41 points and take a commanding lead of 6-2.
Though Amir got the first opening in the 9th, a missed red pot saw Advani unfold his vast repertoire of strokes to compile a magnificent frame-winning break of 77 points with only 4 reds remaining on the table.
Placing himself just one frame away from winning another world title Advani once again established his stronghold in the 10th frame by scoring the first 22 points.
However, an unexpected miss saw Amir open his account in the frame and score 30 points to take a slender lead of 8 points.
However, a calm and composed Advani patiently waited for his opportunity and soon brought the score to 47-47, before clearing the remaining colours, the frame and the match to lift his 18th world title.
Result:
Pankaj Advani (India) beat Amir Sarkhosh (Iran) 8-2: 19-71; 79-53; 98-23; 69-62; 60-05; 0-134; 75-07; 103-4; 77-13; 67-47.
Kremlin vows to defend Russian athletes
Russia will take steps to defend the interests of its athletes who were disqualified and stripped of their medals from the 2014 Sochi Winter Olympics for doping, the Kremlin said on Monday.
The International Olympic Committee (IOC) this month annulled the results of 14 Russian athletes who competed in Sochi because of doping violations.
They were stripped of their medals and banned for life from participating in future Olympics.
The decisions followed an IOC investigation into allegations of state-backed doping among Russian competitors and sample tampering by laboratory and security officials at Sochi.
"The main thing is to persistently and energetically take all possible measures to protect our legitimate interests and the legitimate interests of our athletes together with international sports organisations," Kremlin spokesman Dmitry Peskov told reporters at a conference call.
"One can hardly steal a victory that has already been won, especially a victory that will forever stay with our hero athletes," he said.
Russia was first in the medal table at the end of the Games but the IOC decisions bring down their number of gold medals to nine, behind Canada and Norway.
The bans have so far targeted athletes in four disciplines: cross-country skiing, skeleton, bobsleigh and speed skating.
Those banned and stripped of their medals include double gold medallist Alexander Zubkov, who also serves as president of Russia's bobsleigh federation, and cross country skier Alexander Legkov, who won gold in the 50km freestyle and a silver medal in the 4x10km relay event.
Batra files nomination papers for post of IOA president
International Hockey Federation President Narinder Batra has filed his nominations for the post of the president of the Indian Olympic Association weeks ahead of its General Body Meeting on December 14 in New Delhi.
The upcoming AGM will elect a new set of office bearers for the country's apex sports body.
Batra has filed three sets of nomination papers with a proposer and seconder each. IOA secretary general Rajeev Mehta was one of the proposers of Batra while treasurer Anil Khanna was one of the seconders. Khanna was earlier considered as one of the possible candidates for the top job.
Interestingly, Batra has also filed another three sets of nomination papers for the post of senior vice-president.
The deadline for filing nomination papers for the various posts is 2pm Tuesday and the list of the persons who have filed nominations will be put up at 5pm.
Batra's candidature was on expected lines though initially there was some uncertainty over whether he would contest for the post of the president. But it was cleared after the Returning Officer appointed by the IOA to conduct the elections ruled that office bearers and members of the
Executive Council elected in 2012 and 2014 can contest for the post of president and secretary general.
Batra, now 60, was one of the vice-presidents from 2012 to 2014, but he was not a member of the executive council that was elected in February 2014 when India returned to the Olympic fold after a ban of 14 months.
Incumbent president N Ramachandran has decided not to seek a re-election.
AC Milan fire coach Montella, name Gattuso as replacement
AC Milan sacked coach Vincenzo Montella on Monday and immediately announced that he would be replaced by their fiery former midfielder Gennaro Gattuso.
Montella was dismissed one day after a goalless home draw with Torino left Milan, who spent more than 200 million euros ($239 million) in the close season, seventh in Serie A with 20 points from 14 games, 18 behind leaders Napoli.
Montella had been in charge since the start of last season when he led Milan, 18-times Italian champions, to sixth place in the standings.
Gattuso, 39, was known as one of Italy's toughest defensive midfielders in his playing days.
He began coaching with Swiss club Sion in 2013 and had a short spell in charge of Serie B side Palermo.
After coaching OFI Crete, he returned to Italy to lead Pisa to promotion from the third tier in 2016. Gattuso was appointed Milan's youth team coach before this season.
Allegri plays down importance of Napoli clash
Juventus coach Massimiliano Allegri has played down the importance of his team's match away to arch-rivals and Serie A leaders Napoli on Friday. Juve, aiming for a seventh successive title, are third in Serie A and four points behind Napoli, however Allegri said that the odd point here or there did not matter at this stage of the season.
"The target is to get to March, still be in touch with the leading group and be ready for the final sprint," he said after Sunday's 3-0 win over Crotone.
"We have played some excellent football, and Napoli have been extraordinary, but it's a long season and it doesn't really matter at this point whether you are a couple of points ahead or behind."
Allegri pointed out that Juve's own form had been impressive with 11 wins, one draw and two defeats in 14 Serie A games.
"It's not as if we are 27 points off the lead, it's just four points behind two teams who are unbeaten," he said.
"We dropped points with Atalanta, where we just stopped playing after going 2-0 up, and we had a black-out and lost focus for eight minutes against Lazio."
Dortmund's Goetze out for six weeks with ankle injury
Borussia Dortmund midfielder Mario Goetze has been ruled out for about six weeks after partially tearing ankle ligaments in Saturday's chaotic 4-4 home draw with Ruhr valley rivals Schalke 04, the Bundesliga club said on Monday.
The 25-year-old scored Dortmund's third goal as they opened up a 4-0 lead in the first half only to capitulate spectacularly and allow Schalke back into the game.
"Bad news everyone: Midfielder @MarioGoetze sustained partial ligament tears in his upper and lower ankle in the Bundesliga match... on Saturday," Dortmund said on Twitter.
Goetze will miss all of fifth-placed Dortmund's matches before the winter break begins on Dec. 20, including trips to Bayer Leverkusen in the league and Real Madrid in the Champions League, as well as a German Cup tie at Bayern Munich.
Image (bottom): Gennaro Gattuso
Photograph: Tullio M Puglia/Getty Images