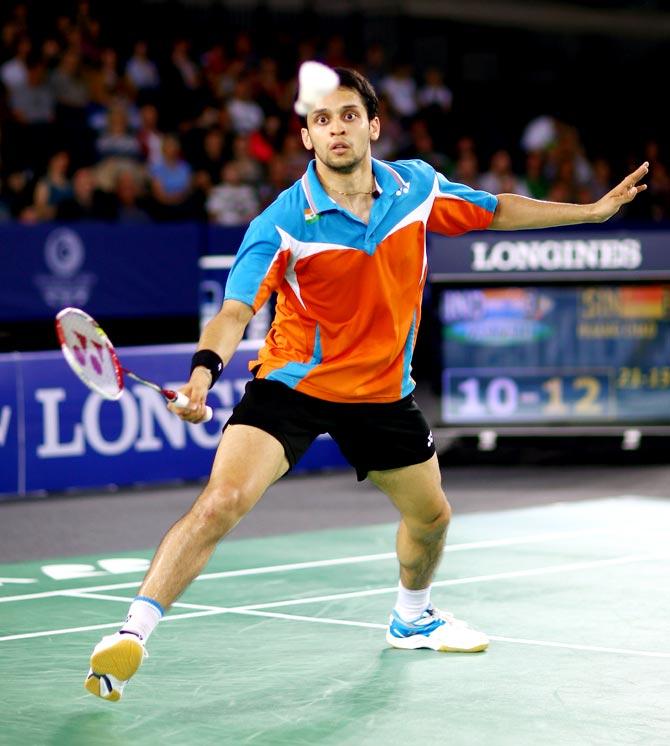 IMAGE: India's Parupalli Kashyap in action. Photograph: Richard Heathcote/Getty Images
Commonwealth Games champion Parupalli Kashyap and H S Prannoy entered the semi-finals of the men's singles competition of the US Open Grand Prix Gold, in Anaheim on Saturday.
On a comeback trail, Kashyap reached his first semi-finals of an international event in seven months after defeating compatriot Sameer Verma 21-13, 21-16 in 40 minutes to set up a clash with Korea's Kwang Hee Heo.
Kashyap had entered the semifinals at Korea Open last December.
For Prannoy, it was the second semifinal appearance of the season after his last four finish at the Indonesia Super Series Premier last month.
Second seeded Prannoy saw off Japan's Kanta Tsuneyama 10-21, 21-15, 21-18 in a men's singles match that lasted exactly an hour at the Anaheim Convention Center Arena.
Prannoy will next take on 15th seed Tien Minh Nguyen of Vietnam, who had beaten the Indian at the 2012 Badminton Asia Championships in their only meeting so far.
Third seeds Manu and Sumeeth defeated Japan's Hiroki Okamura and Masayuki Onodera 21-18 22-20 in men's doubles. The duo, who had played at the Rio Olymnpics, will face top seeds Lu Ching Yao and Yang Po Han of Chinese Taipei.
India's campaign over at Russia Open Grand Prix
India's campaign at the Russian Open Grand Prix came to an end after Rahul Yadav Chittaboina and men's doubles pair of Arjun MR and Ramchandran Shlok
suffered defeats at the semifinals, in Vladivostok.
The 19-year-old Rahul, who had won the Mauritius International last year, fought hard before going 11-5, 10-12, 11-7, 6-11, 8-11 to second seed Russian Vladimir Malkov in a 49-minute men's singles match.
Fourth seeds Arjun and Ramchandran also couldn't cross the semifinal stage as they lost 3-11, 2-11, 4-11 to top seeds Vladimir Ivanov and Ivan Sozonov, who had won the 2016 All England Super Series Premier.
Froome virtually certain of fourth Tour de France title
Britain's Chris Froome all but sealed a third consecutive Tour de France triumph and his fourth overall when he beat his yellow jersey rivals in the penultimate-day time trial won by Maciej Bodnar on Saturday.
The Team Sky rider was the third quickest of the 167 riders to tackle the 22.5-km course that started and finished in the city's Velodrome soccer stadium, provisionally extending his lead to 54 seconds going into Sunday's 21st stage, largely a processional ride to Paris.
HWL semis: Indian eves stunned by Ireland, end campaign at eighth spot
The Indian Women's Hockey team scrabbled a 1-0 lead to give away two goals in the final quarter that set up a 2-1 win for Ireland in the 7th and 8th placing match at the Women's Hockey World League Semi-Final on Saturday.
Though India started the first quarter rather slow compared to Ireland, they shifted gears ten minutes into the game. It was perhaps Ireland winning the first penalty corner of the match that came as a wake-up call for India in the 10th minute. Monika, however was brilliant at the goal-line to defend the dragflick with her stick.
In the 15th minute, India won a penalty corner which was successfully converted by Gurjit Kaur who came up with a well-executed flick firing the ball low to the left giving India a 1-0 lead.
There was plenty of entertainment in the second quarter with India dominating with improvised circle penetrations. During one such circle entry in the 24th minute, Navjot Kaur was obstructed by Ireland keeper Ayeisha McFerran which resulted in her being sent away with a yellow card for 10 minutes.
India were awarded a penalty stroke; however, nothing came off the opportunity with Ireland's stand-by goalkeeper Grace O'Flanagan making a great save. India lost another opportunity to double their lead when a goal was disallowed as it came off the back stick of Indian striker Rani in the 28th minute.
Coming into the match after a ten-minute halftime break, India won back-to-back penalty corners in the 31st minute but unfortunately, they couldn't convert the chance. India won two more penalty corners in the 43rd minute but striker Rani's flick was block away by Ireland goalkeeper O'Flanagan. Though Ireland attackers made brave forays into the circle and attempted shots on goal, India's goalkeeper Savita was on top of the job to keep the ball out.
Less than two minutes into the fourth quarter, Ireland leveled the score with a clinical variation in their penalty corner attempt that saw Kathryn Mullan finding a perfect deflection to put it past Savita in the 47th minute. Ireland further pumped another goal through a penalty corner converted by Lizzie Colvin in the 48th minute to take a 2-1 lead over India. Though India made desperate amends to equal the score, Ireland defence stood strong to win the match.
India win two gold medals at Ukrainian tourney
India won two gold medals at the Simon Trestin Memorial Boxing Tournament in Ukraine on Saturday.
Thomash Meitei Mayengbam (64kg) and Laldinmawia (52kg) won their respective final bouts against Ukrainian opponents to give India a haul of two gold medals.
While Thomash Roman defeated Vagilevich 4-1, Laldinmawia got the better of Roman Vagilevich 5-0.