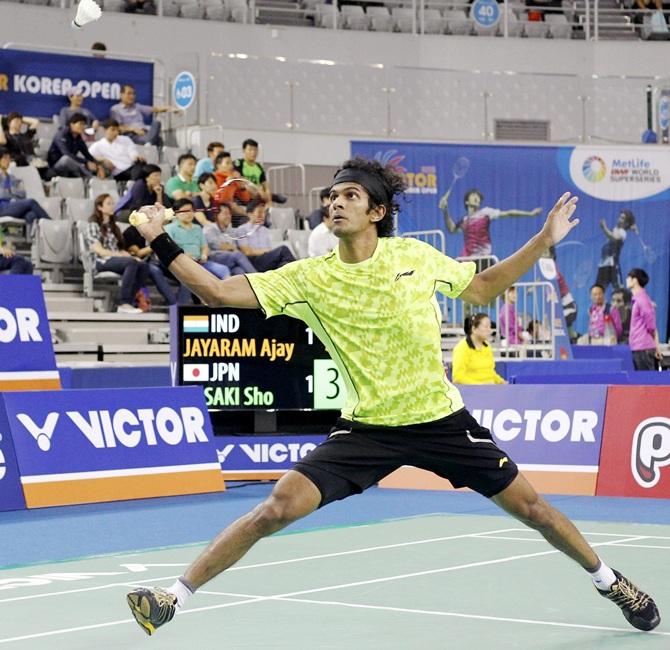 Shuttlers Ajay Jayaram and Sourabh Verma will look to make a mark when they spearhead India's challenge at the Chinese Taipei World Tour Super 300 tournament starting, in Taipei, on Tuesday.
With two Super 750 world tour events -- Denmark Open (Oct 16-21) and French Open (Oct 23-28) scheduled this month, the top Indian shuttlers including P V Sindhu and Kidambi Srikanth have decided to skip the USD 500,000 event this week.
In their absence, former world no 13 Jayaram and former national champion Sourabh will look to keep the tricolour flying when they begin their campaign in the men's singles competition.
Jayaram, who had reached the finals of USD 75,000 Vietnam Open and USD 25,000 White Nights on his comeback after recovering from a hamstring injury, will look to overcome the first round exits in the last couple of tournaments when he faces Japan's Hashiru Shimono.
World No 65 Sourabh, who had won the USD 75,000 Russian Open in July and had qualified for the Indian team at 18th Asian Games after recovering from injury, will take on local favourite Lee Chia Hao.
Among others, Rahul Yadav Chittaboina, who has won two international challenge at Lagos and Mauritius so far in his career, will meet Taiwanese Lu Chia Hung, while Abhishek Yeligar will have the difficult task of upsetting experienced Jan'O Jorgensen, seeded fifth.
In women's singles, Sai Uttejitha Rao Chukka will meet Chinese Taipei's Chiang Ying Li, Mugdha Agrey will play seventh seed Soniia Cheah and Sri Krishna Priya Kudaravalli squares off against another local player Lin Ying Chun.
India's Tarun Kona andMalaysia's Lim Khim Wah will take on fourth seed Malaysian Ong Yew Sin and Teo Ee Yi in men's doubles, while there is no Indian participation in mixed and women's doubles competitions.
Malaysia appoint Oltmans as new head coach of national hockey team
Former India coach Roelant Oltmans was on Monday appointed as the new head coach of the Malaysian men's national hockey team with an aim to take the side to the next level.
"Welcome to Coach Roelant Oltmans @OltmansOltmans to the Malaysian Hockey Confederation after being newly appointed as the National Head Coach. Let's take Malaysian Hockey to the next level," the Malaysian Hockey Confederation tweeted.
MHC President Datuk Seri Subahan Kamal confirmed Oltmans' appointment at a press conference in Kuala Lumpur.
Long-serving Stephen Van Huizen has not been appointed as an assistant coach and team manager.
Oltmans' main priority will be to guide Malaysia to the 2020 Tokyo Olympic Games through next year's qualifying tournaments after missing out a golden chance to seal a direct berth through the Asian Games, where they lost to Japan in the final.
Oltmans was sacked from the post of Indian men's team head coach in September last year after a string of unimpressive outings at the international level.
Oltmans then took over as Pakistan coach in March this year but within six month after a string of unimpressive performances, was shown the door.
But India and Pakistan's loss turned out to be Malaysia's gain as the MHC wasted no time in lapping up the Dutchman.
Mohd Mushtaque Ahmad elected as new Hockey India president
Mohd Mushtaque Ahmad was on Monday named as the new President of Hockey India (HI) following the 8th Hockey India Congress and Elections.
Ahmad, who formerly held the post of Secretary General, takes over from outgoing President Rajinder Singh after being elected unopposed, a media release said.
Manipur Hockey's Gyanendro Ningombam will take over as the Senior Vice President, while Asima Ali of Hockey Jammu & Kashmir and Bhola Nath Singh of Hockey Jharkhand will serve as Vice Presidents.
Hockey Jammu & Kashmir's Rajinder Singh, who held the President's post after Mariamma Koshy had reached the retirement age earlier this year, has been elected as the new Secretary General and Tapan Kumar Das of Hockey Assam was re-elected as the Treasurer for a second term.
Former Indian women's team captain Asunta Lakra was entrusted with the responsibility of Joint Secretary along with Firoz Ansari of Chhattisgarh Hockey.
Meanwhile, Arti Singh of Hockey Rajasthan, M Renuka Lakshmi of Hockey Tamil Nadu and SVS Subramanya Gupta, currently the President of Hockey Karnataka, were all elected unopposed as Executive Members of HI.
RP Singh and Joydeep Kaur were re-appointed as Athlete Representatives after their nomination from the Executive Board was ratified in the Congress.