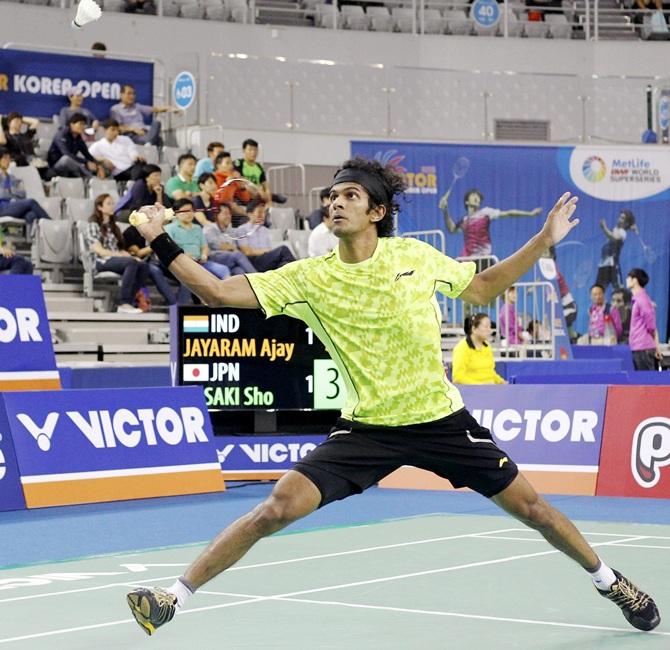 India's Ajay Jayaram stood a step away from his first title of the season as he made it to the finals of the Vietnam Open after defeating Japan's Yu Igarashi in straight games in Ho CHi Minh City, on Saturday.
The 30-year-old Indian, who is making a comeback after recovering from a hamstring injury he suffered last year, saw off seventh seed Igarashi 21-14, 21-19 in a 34-minute match.
Jayaram, who had reached the finals at White Nights last month, will face Indonesia's World No. 79 Shesar Hiren Rhustavito in the finals of the $ 75,000 BWF Tour Super 100 tournament.
Shesar, who had won four consecutive Indonesia International tournament, outwitted India's Mithun Manjunath 21-17, 19-21, 21-14 in a match that lasted 59 minutes.
This is the third time in as many weeks that an Indian will be fighting for a title in a badminton event.
Last Sunday, Olympic silver medallist P V Sindhu had settled for a silver medal after losing to Spain's Carolina Marin in the summit clash at Nanjing, China.
A week before that, India's Sourabh Verma had won the men's singles title at Russia Open Tour Super 100 tournament.
Chithambaram holds Cheparinov in Abu Dhabi Masters
Grandmaster Aravindh Chithambaram continued his fine form and played out a draw with Ivan Cheparinov of Georgia in the fourth round of Abu Dhabi Masters.
On a day when the going got a little tough for the huge Indian contingent, Chithambaram kept his cool after a Scotch opening game turned volatile in the middle game.
The Chennai-based had to find some precise counterplay with his king coming under attack but precise calculation backed by a good defensive technique helped Chithambaram keep Cheparinov's pieces at bay.
Grandmaster Debashish Das also did well to hold Nigel Short of England wherein the former solved the problems in his true style.
Das also moved to three points out of a possible four with Chithambaram while five rounds still remain in one of the strongest open of Asia.
Daniil Dubov of Russia emerged as the sole leader disposing Daniele Vocaturo of Italy. Playing black, Dubov, who is tipped to be the next 'big-player' from Russia stayed calm and struck when the opportunity presented.
Highest-rated Indian Abhijeet Gupta could not find his form yet again and lost to unheralded Vietnamese Nguyen Anh Khoi.
Gupta went for his usual Grunfeld and obtained a decent position but the ensuing middle game witnessed some bad decisions by the Indian that led to loss of another point.
M R Lalith Babu went down to Oliver Dimakling of Philippines while Firouza Alireza of Iran proved better than Aryan Chopra.
On the brighter side, D Gukesh came up with a sterling effort to hold compatriot Murali Karthikeyan to a creditable draw.
Important and Indian results round 4 (Indians unless stated): Amin Bassem (Egy, 3.5) drew with Richard Rapport (Hun, 3.5); Kravtsiv Martyn (Ukr, 3.5) drew with Wang Hao (Chn, 3.5); Vocaturo Daniele (Ita, 3) lost to Dubov Daniil (Rus, 4); Ivan Cheparinov (Bul, 3) drew with Aravindh Chithambaram (3); Nigel Short (Eng, 3) drew with Debashis Das (3); Parham Maghsoodloo (Iri, 3.5) beat Aryan Chopra (2.5); M Shyam Sundar (2.5) lost to A R Salem Saleh (Uae, 3.5); Adly Ahmed (Egy, 3.5) beat V Vishnu Prasanna (2.5); Le Quang Liem (Vie, 3) beat Soumya Swaminathan (2.5); Sjugirov Sanan (Rus, 2.5) drew with N R Vignesh (2.5); P Iniyan (2.5) drew with Parligras Mircea-Emilian (Rou, 2.5); Nguyen Anh Khoi (Vie, 3) beat Abhijeet (Gupta (2); D Gukesh (2.5) drew with Murali Karthikeyan (2.5); Mads Andersen(Swe, 3) beat Sundararajan Kidambi (2); S L Narayanan (3) beat Gunay Mammadzada (Aze, 2); Firouzja Alireza (Iri, 3) beat Raunak Sadhwani (2); Ikeda Junta (Ina, 2) lost to Nihal Sarin (3); Oliver Dimakiling (Phi, 3) beat M R Lalith Babu (2); Rakesh Kumar Jena (2) lost to Erigaisi Arjun (3); Dinara Saduakassova (Kaz, 2.5) drew with Sameer Kathmale (2.5); Chinmay Kulkarni (2) lost to Sindarov Javokhir (Uzb, 3); Swapnil S. Dhopade (3) beat Suyog Wagh (2); Alinasab Mobina (Iri, 2) lost to Abhijit Kunte (3).
Swimming: Ledecky returns to form, Ikee shines for hosts Japan
Katie Ledecky claimed her second gold of the 2018 Pan Pacific Swimming Championships in the women's 400 metres freestyle on Saturday while Rikako Ikee cemented her place as the rising star of Japanese swimming.
American Ledecky dominated the 400 metres to win in a time of 3:58:50, the sixth fastest swim in history, and provide the perfect response to her disappointing bronze in the 200 metres.
The five-times Olympic gold medallist was never threatened by 17-year-old Australian Ariarne Titmuss, who went under four minutes for the first time to claim silver. American Leah Grace was third in a repeat of the podium from Thursday's 800 metres.
"It is exciting for me to see that (Titmuss going under four minutes)," said Ledecky, who won five golds at the 2014 Pan Pacs aged just 17.
In 18-year-old Ikee, Japan may have found their swimming talisman for the Tokyo 2020 Olympics following her domination of the women's 100 metres butterfly.
After claiming two silver medals on the first two days of competition, Ikee went one step further as she broke the championship record she set in the morning's heats to win gold in 56:08 seconds.
American Kelsi Dahlia and Australia's Emma McKeon took silver and bronze, but the race was all about Ikee as the teenager thrilled an expectant home crowd with a stunning performance that threatened Sarah Sjoestoem's world record of 55:48 seconds.
Compatriot Yui Ohashi also set a championship record as she secured Japan's second gold of the night in the women's 200 metres individual medley.
Ohashi, the world silver medallist, came into the race as favourite and won in 2:08:16 to break the meet record set by compatriot Miho Teramura in the heats.
Teramura came third in the final with Canada's Sydney Pickrem taking silver.
Four-times Olympic medallist Kosuke Hagino couldn't follow suit in the men's event as American Chase Kalisz's superior breaststroke proved crucial.
Mitchell Larkin of Australia surged in the final stretch to out-touch Hagino and claim silver with the Japanese in third.
Ingebrigtsens say more to come from boy wonder Jakob
Jakob Ingebrigtsen took less than four minutes to turn himself into a sporting superstar on Friday as the youngest ever European Athletics Championships track winner at the tender age of just 17 -- but his family think we have seen nothing yet.
The story of the Ingebrigtsen brothers Jakob, Filip and Henrik, three very different siblings who became world-class middle distance runners all under the tutelage of their dad Gjert, has enthralled Norway.
The tale enjoyed its most outlandish chapter yet on Friday when all three ran the European 1500 metres final, with reigning champion Filip favourite to triumph only for little brother Jakob to upstage his elders with his front-running triumph in three minutes 38.10 seconds.
Incredibly, it meant that each of the brothers from the small Norwegian city of Sandnes had won the European metric mile in the past six years, following 27-year-old Henrik's win in 2012 and 25-year-old Filip's victory two years ago in Amsterdam.