A summary of sports events and sports persons, who made news on Wednesday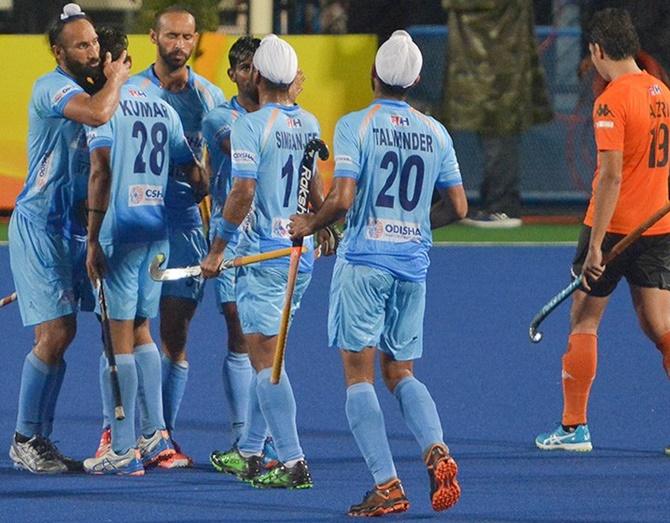 IMAGE: India's Sardar Singh, left, congratulates Sumit Kumar. Photograph: Hockey India/Twitter
Dishing out their best show, India mauled hosts Malaysia 5-1 to earn an outside chance of qualifying for the final of the Azlan Shah Cup hockey tournament, in Ipoh.
India scored through Shilanand Lakra (10th minute), Gurjant Singh (42nd, 57th), Sumit Kumar (48th) and Ramandeep Singh (51st) to register their first full three points in the tournament and keep themselves afloat.
Faizal Saari (33rd) was the lone goal scorer for the home team.
With this convincing victory, India has managed to keep alive their final hopes, but it will depend on favourable results from the last round robin fixtures scheduled for Friday.
World champions Australia defeated Ireland 4-1 to already seal their place in the final with four wins from as many matches, but barring Ireland all four other teams are in with a chance to qualify for the summit clash.
Australia are leading the points table with 12 points ahead of second-placed and Olympic champions Argentina (7 points), Malaysia (6), England (5) and India (4). Ireland are already out of the race with four consecutive defeats.
But it all depends on permutations and combinations. For India to qualify for the final, they will first have to beat Ireland by a bigmargin on Friday and hope Australia beat Argentina and the final round robin match between Malaysia and England ends in a draw.
Coming into today's match with a stunning 2-1 win against Olympic Champions Argentina, Malaysia were quick to get off the blocks, attacking India's circle.
But it was India who drew the first blood with an opening goal through Shilanand in the 10th minute. The new entrant in the Indian team did exceptionally well to pick up a baseline pass from Gurjant to tap it over the Malaysian goalkeeper.
The following minutes saw Indian goalkeeper Suraj Karkera stay busy at the post as he made some brilliant saves to deny the hosts.
India did well to dominate with ball possession while their defence stuck to their task.
Surender Kumar, Shilanand and Sumit worked in tandem to win the first penalty corner of the match in the second quarter but Amit Rohidas's flick was parried away by the Malaysian goalkeeper.
With just one goal up, India had their task cut out in the third quarter. Conceding a penalty corner three minutes into the third quarter didn't help their cause as Saari was bang on target to score past Karkera to draw level in the 33rd minute.
A penalty corner in the 42nd minute saw Gurjant hold on to the rebound, after Varun Kumar's flick rebounded off the goalkeeper. An attentive Gurjant then tapped the ball into the post to fetch India the much-needed 2-1 lead.
The action boiled down to the final quarter when India changed gears and attacked the hosts who looked like they were losing steam.
Though Malaysia won a penalty corner at the start of the fourth quarter, Karkera did an outstanding job to keep Malaysia skipper Razie Rahim from scoring.
It was Ramandeep who did well as a feeder when he brilliantly assisted Sumit who scored India's third goal in the 48th minute.
India scored two more goals through Ramandeep and Gurjant, who scored in similar fashions from rebounds of penalty corners to seal the match in their side's favour.
Delhi high jumper smashes national record to book CWG ticket
Delhi youngster Tejaswin Shankar smashed his own national record to claim the high jump gold as three athletes booked their Commonwealth Games berths on the third and penultimate day of the 22nd Federation Cup National Senior Championships.
The 19-year-old Shankar sailed over the bar at 2.28m to marginally improve his own national mark of 2.26m which he achieved in Coimbatore in 2016 during the Junior National Championships.
In the process, he breached the Athletics Federation of India qualifying standards of 2.25m for the upcoming Commonwealth Games.
Shankar had earlier cleared 2.28m at a collegiate event in the USA but today's mark was his first at an Athletics Federation of India event.
Shankar did not begin well in the competition as he fluffed his first jump at 2.10m but made amends later to steadily cross 2.14m, 2.18m and 2.25m. He then cleared 2.28m in his very first attempt to set the national record.
With the rhythm going, Shankar, who is currently studying at the Kansas State University on a four-year undergraduate programme through scholarship, wanted to give a try at 2.31m and although he came close to clearing the height he failed in his three attempts.
"I had jumped this height in the USA but it feels good to clear this height at a competition in India. I need to get more consistent. I hope I will clear the 2.31m at the Commonwealth Games," said Shankar.
While all eyes were on the Delhi athlete, Siddharth Yadav of Haryana delivered the performance of his career to also clear 2.25m and finish with silver. He also booked a CWG berth with today's performance.
"It is the best jump of my career. My previous best was 2.23m," said the 25-year-old Yadav who made three failed attempts of 2.28m.
Shankar and Yadav were not the only athletes to qualify for the Commonwealth Games as L Suriya also made the cut-off mark in the women's 10000m race by clocking 32:23:96 seconds. The qualifying guideline was set at 32:30:00 seconds.
Suriya had won the 5000m at the Federation Cup earlier.
Of the other athletes in the competition, only pole vaulter P Surekha came close to matching the qualifying guideline for the Commonwealth Games.
Surekha, who held the national record of 4.15m, managed to clear 3.90m to finish 10cm shy of the CWG qualifying guideline of 4.00m.
She finished ahead of Khyati Vakharia cleared 3.80m and Krishna Rachan (3.70m).
Javelin thrower Anu Rani, who needed to exceed her personal best of 61.80m in order to match the qualifying guideline of 62m, could only manage a best of 57.37m on the day.
Rani managed her best effort in the very first attempt but faltered after that, fouling her final two throws. Pushpa Jhakar of Haryana finished second with 53.70m while Sharmila Kumari finished third with 53.53 seconds.
ISL to introduce 'away goal' in semis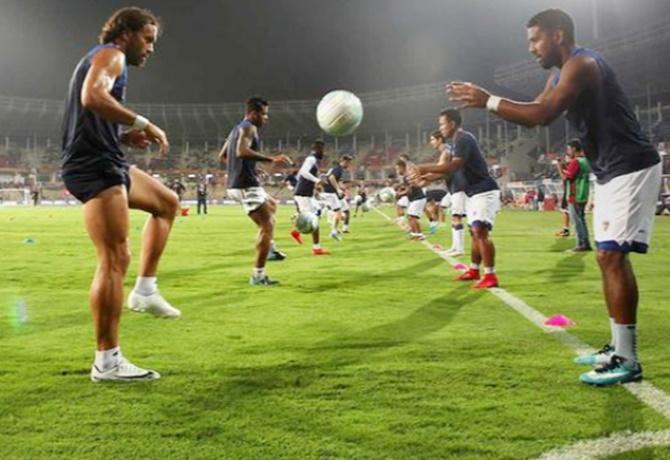 IMAGE: The 'Away Goal' rule will not apply in the extra time. Photograph: ISL Media
The semi-final stage of Hero Indian Super League (ISL) 2017/18 season will witness the introduction of 'Away Goal' rule.
The 'Away Goal' rule will come into effect at the end of normal playing time during the second leg.
If the aggregate goal difference between the two teams is zero (0), then the team that scored more away goals would be declared the winner of the tie.
For the benefit of explanation, Team A (home) beats Team B (away) by 2-1 in the first leg and Team B (home) beats Team A (away) 3-2 in the second leg - the goal difference over two legs is zero (aggregate score of 4-4).
In this case, Team A qualifies for the final as it scored two away goals compared to Team B, which scored one 'Away Goal'.
However, if both teams have scored an equal number of goals over two legs of semi-final such that even the 'Away Goals' scored are equal at the end of regulation period of second leg, the game will go into extra time.
The 'Away Goal' rule will not apply in the extra time and the team that scores more goals in the extra time will be declared the winners.
If both teams score no goals / equal number of goals in extra time, the winner would be decided on penalties.
For example, Team A beats Team B 2-1 in first leg and loses to Team B 1-2 in the second leg then the game goes into extra time.
If in extra time both teams score a goal, the away goal rule won't apply and game will further be played on penalties to decide the winner.
The semi-finals will be played from March 7 to 13 between debutant Bengaluru FC, former champion Chennaiyin FC, FC Goa and FC Pune City on a home and away format.
Men's trap shooters finish outside medal rounds in World Cup
The Indian men's trap team finished outside the medal rounds after a disappointing day but the country still topped the medal standings with three gold and four bronze at the half-way stage of the ISSF World Cup in Guadalajara, Mexico.
In the Men's trap, Zoravar Singh Sandhu was the best Indian finisher shooting a score of 114 out of 125 in qualifying to end in 32nd position. Kynan Chenai shot 107 to finish 44th, while Manavjit Singh Sandhu did not finish his qualifying rounds.
Luxembourg's Lyndon Sosa won the gold medal in the event and in the process also won his tiny nation its first World Cup medal ever at the end of competition day four.
India have entered two teams in the mixed team trap event final today with Manavjit Singh Sandhu and Shreyasi Singh comprising of India 1 team, while Kynan Chenai and Seema Tomar making up the India 2 side, on day five of the competition.
IAAF extends Russia's ban, warns of new sanctions
Russia's ban from international athletics over widespread doping was extended by the sport's governing body and the country was warned it could face further sanctions this year.
The International Association of Athletics Federations said it would consider next July withdrawing permission for Russian athletes to compete as neutrals "if progress is not made."
It might even consider expelling Russia from the IAAF, it added after a Council meeting held in Birmingham, England.
Russia has been banned from the sport since November 2015 after the McLaren report discovered widespread doping.
Russia's political and sporting leaders have repeatedly denied state involvement in doping, a key sticking point in lifting the ban, although Russian athletes were allowed to compete as neutrals at last year's world championships.
The IAAF said in a statement issued after its meeting on Tuesday that "while some conditions have been met....several key areas have still not been satisfied by RusAF (Russia's athletics federation) and RUSADA (Russia's anti-doping agency)".
This included a plan for this year "that shows an adequate amount of testing" and fixing legal issues which currently prevent athletics coaches from being provisionally banned.
Russia is still regarded as non-compliant by the World Anti-Doping Agency (WADA).
However, the country has been reinstated by the International Olympic Committee (IOC) after being banned from the Pyeongchang Winter Olympics last month where Russians could compete as neutrals.
Olympic champion Samuelsson to boycott Russian event
Sweden's Olympic biathlon champion Sebastian Samuelsson has told Reuters he will boycott the final World Cup event of the year in Russia over continuing concerns about the country's anti-doping record.
The 20-year-old, who won Olympic gold in the team relay and silver in the 12.5km pursuit, said he does not want to return to Russia until the country's anti-doping agency RUSADA has been given the green light by the World Anti-Doping Agency (WADA).
"As soon as RUSADA has been approved again by WADA, there's no problem having competition there," Samuelsson said.
"I believe it's possible, but they have to look at themselves, realise what they have done and really want to solve the problem. My understanding at the moment is that they don't believe that they have done much wrong."
RUSADA was declared non-compliant by WADA amid allegations of state-sponsored doping, which Moscow denies, and the systematic violation of anti-doping rules.