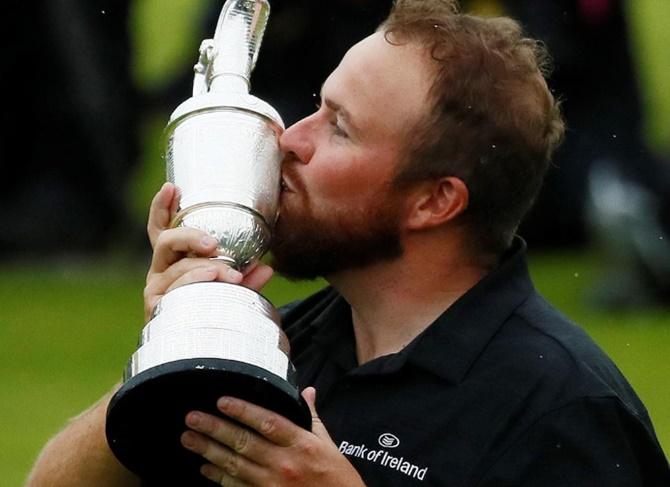 Irishman Shane Lowry staved off the biggest nerves of his golfing life, handling the wind and the rain to win the British Open by six strokes amid emotional scenes at Royal Portrush on Sunday.
Fervently cheered on every shot by the sellout crowd, the 32-year-old from Clara, who began the day with a four stroke lead, was never seriously troubled in the final round with England's Tommy Fleetwood unable to take his chances to put him under pressure.
Lowry carded one-over-par 72 in strong winds and at times driving rain, but he was rewarded with wild celebrations as the fans charged on to the fairway behind him as he approached the 18th green.
"It's like an out of body experience. I was so calm coming down the last, I cannot believe it. The weather was awful but I had a look around, and everyone was struggling," said Lowry who was greeted by his family on the green.
Lowry finished at 15-under 269, while Fleetwood, shot 74 for second place.
With the weather making it hard for anyone to make a run from down the leaderboard it quickly turned into a head-to-head duel between Lowry and Fleetwood.
But once he settled down and looked at a leaderboard he noticed that nobody was making a run at him.
He needed to avoid any big numbers on his card and duly did so, making nothing worse than bogey.
Even three straight bogeys around the turn hardly dented his lead, and a six-foot birdie at the 15th hole that extended his margin to six strokes allowed him to almost enjoy a processional victory march up the final three holes.
Lowry savoured the walk up the 18th, greeted with delight by the singing gallery who packed the stands, with some Irish tricolours in the crowd.
After hitting his final approach shot he held his arms aloft in celebration and hugged his caddie, assured finally that there would be no late disaster.
He became the second player from the Republic of Ireland, after Padraig Harrington in 2007 and 2008, to lift the Claret Jug, a fitting end to the first Open played in Northern Ireland since 1951.
India lose to Indonesia, bow out of Asia Junior C'ships
Maisnam Meiraba put up a brave effort before India bowed out of the Asia Junior Championships Monday after suffering a 0-3 loss to Indonesia in the quarter-finals of the Mixed Team event in Suzhou, China.
In an absorbing battle between two top 20 junior players, World No 14 Meiraba managed to take a game off his 17th ranked opponent, Bobby Setiabudi but the Indonesian proved too strong in the end with a 21-17, 15-21, 21-11 win in 59 minutes.
The Manipur boy, who won his first international tournament at the White Night Russian Junior International earlier this month, had been in fine form throughout the event and won his matches against Korea and Macau.
Meiraba's performance, even though in a losing cause, stood out as none of the other results went in India's favour.
In girls' singles, Malvika Bansod was unlucky to miss out on winning a tight first game and eventually went down fighting 20-22, 7-21 to junior World No. 4 Putri Kusuma Wardani.
Tanisha Crasto and Sathish Kumar Karunakaran suffered a 15-21, 18-21 defeat to Leo Rolly Carnando and Indah Cahya Sari Jamil in mixed doubles.
India had beaten Mongolia and Macau China by an identical score of 5-0 while they lost to Korea 1-4 in the round-robin. Finishing second to Korea in the group stage had confirmed their quarter-final berth.
The Indian youngsters will now focus on the individual competition that starts on Wednesday.
Maisnam Meiraba will try to defend the boys' singles gold that Lakshya Sen had won last year to end India's 54-year wait.
Double delight for Shlok at JE Wilson International Series
Indian shuttlers reaped rich dividends at the JE Wilson International Series with doubles specialist Shlok Ramchandran claiming the men's and mixed doubles titles along with partners MR Arjun and Rutaparna Panda respectively at Accra, Ghana.
Top seeded Indian pair of Shlok and Arjun beat Nigerian pair of Godwin Olofua and Anuoluwapo Juwon Opeyori 21-11, 21-12 in a lop-sided men's doubles final that lasted 24 minutes.
Sholk also combined with Rutaparna to defeat top seeded fellow Indian pair of Arjun and Maneesha K 21-19 21-15 in mixed doubles summit clash.
Women's doubles pair of Maneesha and Rutaparna also emerged victories after thrashing Nigerian combination of Dorcas Ajoke Adesokan and Uchechukwu Deborah Ukeh 21-11, 21-11 in the finals.
In singles finals, Kiran George beat Azerbaijan's Ade Resky Dwicahyo 25-23, 21-19 to win the men's titles, while second seed Mugdha Agrey finished second best after losing 10-21, 6-21 to Vietnam's Thi Trang (B) Vu in the women's singles.
Indian shuttlers had won four gold medals, three silver medals and three bronze medals to top the medal table of the maiden edition of the JE Wilson Ghana International Series in 2018.