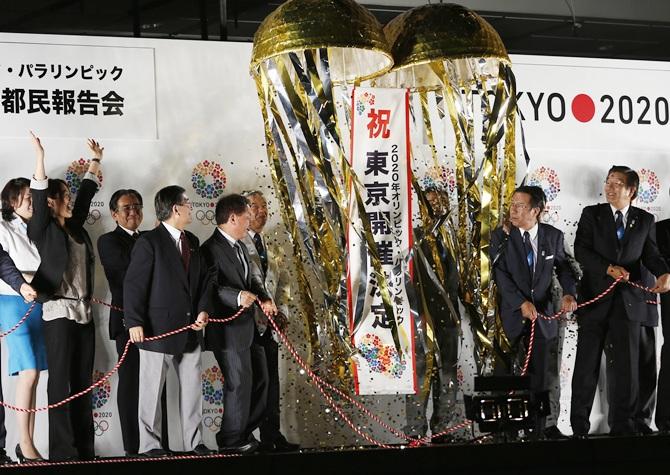 Members of the Tokyo bid committee open a decorative banner during an event titled 'Tokyo 2020 Host City Welcoming Ceremony'. Photograph: Issei Kato/Reuters
International Olympic Committee (IOC) Vice President John Coates has urged Tokyo to consider moving more events to venues outside the capital, including one hundreds of kilometres away, in a bid to rein in spending for the 2020 Summer Games.
Rising labour and construction costs have forced Tokyo to rethink its plans for 10 venues it intended to build for the Games, contravening its promise that virtually all events would take place within 8 km (5 miles) of the Olympic village - one of the key points in its successful hosting bid.
In addition, the IOC on Tuesday made some of the biggest changes in decades in the way the Games are organised and run, issuing 40 recommendations and putting more of an emphasis on sustainability in an effort to ease the burden on host cities.
"(The IOC) has come out and specifically said that we should make the maximum use of existing facilities, and that, so far as I am concerned, overrides the 8km philosophy which we had as part of the bid," Coates told a news conference in Tokyo on Wednesday after a two-day IOC review of Tokyo's preparations.
"We have suggested to the organising committee that for the preliminaries for basketball, just as for football, they may care to look at cities like Osaka that might have large venues."
Tokyo has said from the start that some preliminary events for soccer would be held in parts of northeastern Japan affected by the March 2011 earthquake and tsunami in an effort to broaden the economic impact, but this is the first time holding events in other regions has been mentioned.
Osaka is some 400 km (255 miles) west of Tokyo.
Planners allotted $1.5 billion for venues in Tokyo's Olympics bid but that estimate more than doubled late last year after recalculation.
Real Madrid, Microsoft announce digital platform deal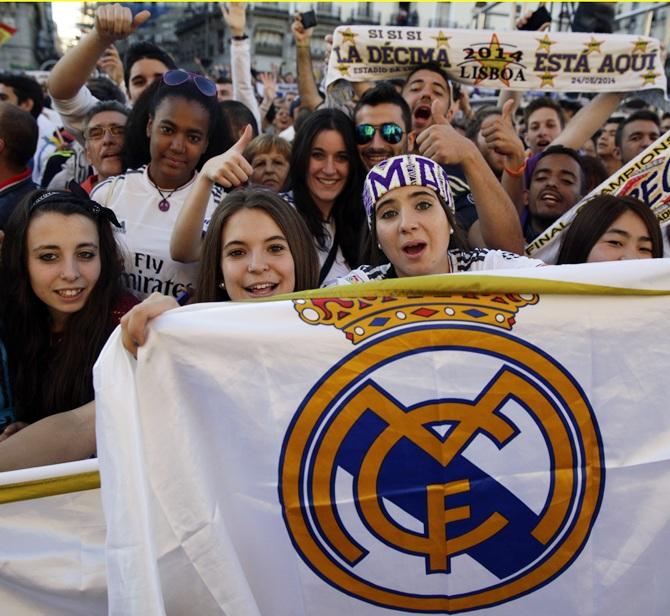 Real Madrid's fans cheer as they wait for the arrival of the team at Madrid's Community headquarters. Photograph: Andrea Comas/Reuters
Real Madrid and Microsoft Corp have sealed an agreement to create a digital platform to connect fans of the European champions around the world.
Real president Florentino Perez and Orlando Ayala, a Microsoft vice president, presented the platform at a ceremony at Real's Bernabeu stadium in the Spanish capital on Tuesday.
"Powered by Microsoft's cloud solutions, we will offer fans exclusive, personalised and customised content and digital services," Ayala said.
"So fans will be able to choose not only what content they want to access but also create their own customised versions of an experience whenever, however, and from wherever," she added.
"And because sport is intrinsically community oriented, we're setting up social and other digital ways for fans to share these experiences with friends and family in real time."
Perez, who has transformed Real into the world's richest club by income, said the agreement was "a powerful alliance" that was "capable of changing the relationship of millions of fans with Real Madrid".