Summary of sports events and persons who made news on Tuesday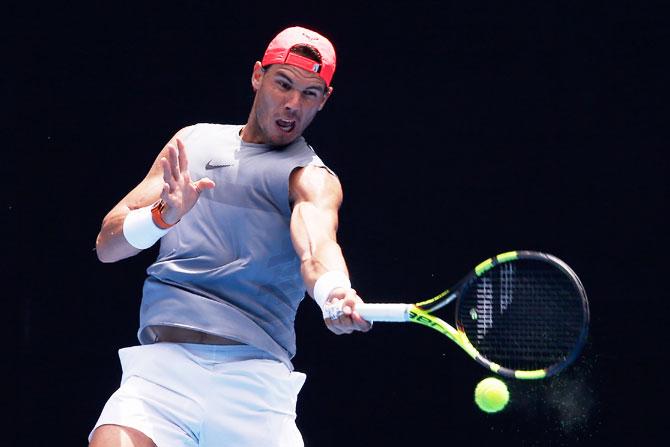 World No 2 Rafael Nadal on Monday insisted he is healthy after coming through an exhibition game in Sydney, just days after pulling out of the Brisbane International.
According to AFP, the Spaniard teamed up with Canadian Milos Raonic to defeat Australians Nick Kyrgios and John Millman in the FAST4 Showdown on Monday evening -- a shortened, quicker format of the game often described as the tennis equivalent of Twenty20 cricket.
"I did not feel the pain here," the 17-time Grand Slam champion said.
"I think it was a good start for me, a good comeback to the action in front of a fantastic crowd in Sydney.
"I really enjoyed playing here. I'm happy to be back on court and happy that I'm healthy again." Nadal has not played a main tour event since a knee problem forced him to retire during his US Open semi-final against Juan Martin del Potro in September.
The 32-year-old had surgery on his ankle in November to remove a loose intra-articular body and only resumed training a month ago.
He played the opening round at an exhibition event in Abu Dhabi to start his season, where he lost to South African Kevin Anderson, and had a first round bye in Brisbane before withdrawing ahead of the second round.
Asked by reporters if he considered himself a genuine title contender in Melbourne despite his injury problems, he replied: "Why not?" "You can't predict that. Of course it would be better if I had the chance to play a full tournament in Abu Dhabi and a full tournament in Brisbane, but the big importance is I am feeling good with the ball. The only thing is that I didn't play matches since a long time ago."
Nadal will now head to Melbourne, where he was the champion in 2009, to get in as much practice as possible before the opening Grand Slam of the year begins on Monday.
Kerber swats aside Giorgi to reach Sydney quarters
World number two Angelique Kerber began her title defence at the Sydney International with a 7-6(3), 6-2 victory over Italian Camila Giorgi to reach the quarter-finals on Tuesday.
Kerber, who kicked off her 2019 campaign with four consecutive singles match wins at the Hopman Cup last week, struggled on her return to Sydney and landed only 44 percent of her first serves in the first set.
Giorgi took her opportunities and leapt to a 3-1 lead, but four consecutive backhand errors meant she lost her advantage as her German opponent broke back immediately.
As Kerber gradually tightened up her game, Giorgi stumbled, making two double faults and three unforced errors to concede the opening set in a tiebreak.
Giorgi responded with an early break in the second set, but Kerber asserted her status as one of the most aggressive players on the tour, racing through the final five games to seal the win.
Kerber will face two-time Wimbledon champion Petra Kvitova or Taiwan's Hsieh Su-Wei for a place in the semi-finals.
Local favourite Ashleigh Barty set up a pre-Australian Open showdown with world number one Simona Halep after beating 2017 French Open champion Jelena Ostapenko 6-3, 6-3.
World number 15 Barty, who finished runner-up last year, converted five break point opportunities and won 85 percent of points on her first serve to seal her progress to the last 16.
"The ultimate goal is to go top 10. I'd love to go deep in a major, and hopefully I can do it here in Australia," Barty said after recording her third win from four outings this season.
"I feel like I have played enough matches now, I'm ready, feel pretty good on the court. There's certainly no better challenge than coming up against Simona right before a Slam."
Former world number one Garbine Muguruza withdrew from the tournament ahead of her second-round encounter with seventh seed Kiki Bertens, due to a gastrointestinal illness.
Dutchwoman Bertens will next meet American Sloane Stephens or Kazakh Yulia Putintseva in the quarter-finals.
Osaka now in top 5 of WTA rankings
Japanese tennis player Naomi Osaka, who made it to the quarter-final round of the recently-concluded Brisbane International, has been rewarded for her impressive run as she jumped one spot to fourth place in the WTA rankings.
With a total of 4740 points in her kitty, the 21-year-old is just behind number third-ranked Caroline Wozniacki of Denmark who has 5086 points.
The top three positions remained unchanged with Simona Halep of Romania leading the pack followed by Angelique Kerber of Germany and Caroline Wozniacki.
Other notable improvements on the ranking list were made by players like Sloane Stephens of USA, and Lesia Tsurenko of Ukraine.
While Stephens leaped one spot to attain the fifth position, Brisbane International runner-up Tsurenko jumped three places to go to 24th position on the list.
Binotto replaces Arrivabene as Ferrari F1 boss
Ferrari appointed Mattia Binotto as their fourth Formula One principal in less than five years on Monday, with previous incumbent Maurizio Arrivabene paying the price for their continuing lack of titles.
The upheaval, little more than two months before the start of the season in Australia on March 17, had been flagged up before the official announcement by the Gazzeta dello Sport newspaper.
"After four years of untiring commitment and dedication, Maurizio Arrivabene is leaving the team," Ferrari said in a statement.
"The decision was taken together with the company's top management after lengthy discussions related to Maurizio's long term personal interests as well as those of the team itself."
Arrivabene was appointed principal of the sport's oldest, most successful and glamorous team in November 2014, replacing Marco Mattiacci who had taken over after Stefano Domenicali resigned in April of that year.
Binotto, a Ferrari stalwart with more than two decades of experience at Maranello, takes over with immediate effect and with all of the team's technical areas continuing to report directly to him.
Ferrari won six of the 21 races last season but their title challenge evaporated in the second half of the year and Mercedes won both the drivers' and constructors' crowns for the fifth year in a row.
The Italian team's most recent driver's title was with Kimi Raikkonen in 2007, a year before they took their last constructors' championship.
Ferrari have won a record 16 constructors' titles and are unique in having competed in every season since the first in 1950.
Arrivabene's tenure had looked uncertain for some time, with reports as far back as October, 2017 suggesting Binotto could replace the former Philip Morris marketing executive.
Strategic blunders by the team last year only increased the pressure on a principal with little love or time for the media.
The team meanwhile adopted something of a siege mentality under his leadership.
Former chief engineer Luca Baldisserri spoke in 2016 of a 'climate of fear' at Maranello with staff allegedly reluctant to take risks in case they were fired by bosses with little racing experience.
The death in July last year of combative chairman Sergio Marchionne, who had exercised the real power, triggered a change at the top with Louis Camilleri taking over as chief executive and John Elkann, a scion of Italy's gilded Agnelli family, as chairman.
Media reports last year had indicated that Marchionne was already planning, before he died of complications during cancer surgery, to replace Arrivabene with Binotto.
Binotto, who has risen through the ranks to technical director and overseen a big step up in engine performance, had reportedly been a target for rival constructors and Ferrari were determined to retain his services.
How well equipped he is to fight Ferrari's corner in delicate talks about the sport's future post-2021, with the sport's owners keen to see a more level playing field, remains an open question.
The team's drivers for the 2019 season are Germany's four-times world champion Sebastian Vettel, runner-up to Mercedes' Lewis Hamilton last year, and new arrival Charles Leclerc who has replaced Kimi Raikkonen.
Finland's Raikkonen, world champion in 2007, has moved to Sauber.
Boxer who hit French cop gets pledges of cash and online support
A former French boxing champion filmed landing punches on riot police during a 'yellow vest' protest in Paris last weekend has received pledges of support and cash via social media.
A website set up to raise funds for the boxer Christophe Dettinger showed on Tuesday that it had received pledges of more than 114,000 euros ($130,462) to help Dettinger.
Numerous Facebook pages entitled "Support for Christophe Dettinger" have also been set up, with one such page showing it had more than 3,000 Facebook "likes".
Dettinger turned himself in on Monday, saying he was defending himself. He remains in police custody.
Dettinger, who was twice national light-heavyweight champion, was caught on camera jumping over the railings of a pedestrian bridge blocked by baton-wielding police before swinging blows at the officers, forcing them to retreat.
Nicknamed the "Gypsy of Massy", the 1.92m (6ft 4in) tall boxer was taking part in an eighth Saturday of anti-government protests that have undermined President Emmanuel Macron's authority.
Russia says WADA team to return to Moscow for required data on Jan 9
With the clock ticking towards new sanctions, Russian authorities said on Monday they would allow a World Anti-Doping Agency inspection team to return to a Moscow laboratory to retrieve data it had earlier been denied.
Russia's minister of sport Pavel Kolobkov said WADA officials would return to Moscow on Wednesday. WADA also confirmed in a press release that a three-person expert team would be allowed entry to the tainted Moscow laboratory and data it was prevented from securing during a visit in December.
Access to the lab and data before a Dec. 31 deadline was a condition of WADA's September decision to reinstate the Russian Anti-Doping Agency (RUSADA).
However, extraction of data stored in the facility's Laboratory Information Management System (LIMS), was not completed due to a technicality leaving RUSADA again at risk of being found non-compliant.
Russian authorities had said that the inspection team's equipment was not certified under Russian law.
The decision to allow the new inspection team access comes with WADA preparing to impose possible new sanctions on RUSADA.
RUSADA was suspended in 2015 after a WADA-commissioned report outlined evidence of state-backed, systematic doping in Russian athletics, allegations Moscow has denied.
A WADA Compliance Review Committee (CRC) is scheduled to meet at the agency's Montreal headquarters on Jan. 14-15 where they were expected to hear from the original five-member inspection team.
The CRC is then due to submit a report to the WADA executive committee and could recommend that RUSADA once again be ruled non-compliant and face new sanctions.
"While WADA is obliged under the ISCCS (International Standard for Code Compliance by Signatories) to give every opportunity to RUSADA, we are continuing to act on the basis of the 31 December deadline having been missed, with all the consequences that failure could bring," WADA president Craig Reedie said in a statement.
"This week's mission to Moscow is not only about us following due process and precedent.
"If the mission is successful in acquiring the data, it will break a long impasse and will potentially lead to many cases being actioned."
Russian authorities must also ensure that any re-analysis of samples required by WADA, following review of the laboratory data, is completed by no later than June 30, 2019.
The latest developments are sure to trigger more criticism and attacks from athletes and anti-doping groups who have been pushing WADA to take swift, firm action against Russia for the failure to hand over data by the required deadline.
"(It) appears to be the sequel to the cat and mouse game between WADA and Russia we have unfortunately come to expect," Travis Tygart, head of the United States Anti-Doping Agency told Reuters in an email.
"We are all holding our breath as to how this one will end come Jan. 9 and whether WADA will be finally given the data on the roughly 9,000 presumptive positive tests results on over 4,000 Russian athletes that hopefully have not been destroyed."
WADA said the authentication and analysis of the data will be crucial in order to build strong cases against cheats and exonerate other athletes suspected of having participated in widespread doping exposed in WADA-backed investigations.
Triple Olympic gold medallist wrestler Yoshida retires
Japan's three-times Olympic wrestling champion Saori Yoshida announced her retirement on Tuesday at the age of 36.
Yoshida, who also won silver at Rio 2016, made the announcement on Twitter.
"I have decided to end the 33 years of being a wrestler," she said.
"Thanks to all your encouragement and support."
The freestyle wrestler is a 13-times world champion, most recently winning the 53kg category in Las Vegas in 2015.
Yoshida had dominated the sport ever since her first world championship in 2002 until she was defeated by American Helen Maroulis in the Rio final for her only loss at an Olympic Games.
She was also part of the Japanese lobbying team that persuaded the International Olympic Committee to retain wrestling at the Tokyo 2020 Games and has been coaching the Japanese national team in the build-up to their home Olympics next year.
Her decision to retire so close to Tokyo 2020 surprised many of her fans on Twitter.
"Such a shame as I was looking forward to seeing you on the Tokyo 2020 wrestling mat," one user commented on her post.
"I was moved and encouraged many, many times by your fighting sprit," another said.