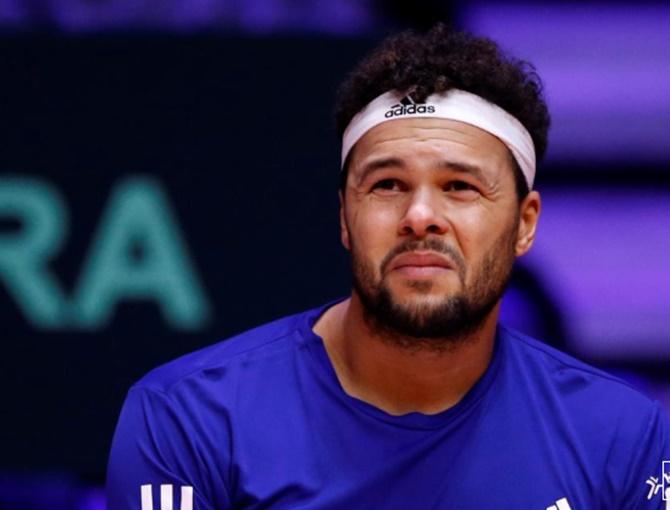 A lingering lower back problem has forced Jo-Wilfried Tsonga out of his home Grand Slam at the French Open and the rest of 2020, the former world number five said on Wednesday.
The 35-year-old Tsonga has not played since lower back pain forced him to retire from his first-round match at the Australian Open in January against Alexei Popyrin while trailing 6-7 (5,) 6-2 6-1.
Tsonga, the 2008 finalist in Melbourne, said the problems still persist and he will have to miss the French Open, which starts on Sept. 27, and the remaining tournaments in the year.
"But I still have the morale, the rage, the desire and the motivation to come back in 2021, hoping that things will develop for the better," said the two-time French Open semi-finalist, who is ranked 52 in the world.
"Getting back to the courts and fighting against all these incredible players would be a dream."
Murray backs calls to remove Margaret Court's name from arena
Andy Murray thinks the Australian Open should consider removing Margaret Court's name from the arena at Melbourne Park as he says the multiple Grand Slam champion's values are at odds with what tennis stands for.
The 78-year-old Court, who holds the all-time record of 24 major singles titles, has been heavily criticised for voicing her religious-based opposition to same-sex marriage and transgender athletes.
"When you get to the Australian Open you want to concentrate on the tennis. Court's views detract from that," Murray, a five-times finalist at Melbourne Park, told pridelife.com.
"As far as renaming the venue ... yes, it's something the sport should consider. I don't know who makes the final decision on that but I don't think her values are what tennis stands for."
Tennis Australia invited Court to Melbourne Park at this year's tournament to recognise the 50th anniversary of her 1970 calendar Grand Slam, while saying it disagreed with her "personal views".
In a low-key ceremony at Rod Laver Arena before a quarter-final match, Court was handed a replica trophy by 11-times Grand Slam champion Rod Laver following the screening of a short video of her tennis achievements.
Murray, a three-times Grand Slam champion and former world number one, said she had received a lukewarm reception from the public.
"She has obviously offended and upset a lot of people over the years," he added.
"I think the players certainly have spoken up, which is a positive thing."
Tennis greats Martina Navratilova and John McEnroe had also called for Court's name to be stripped from the stadium.
Motorcycling: Moto2 rider Martin to miss second race due to COVID-19
Jorge Martin's Moto2 championship hopes have suffered another blow with the Spaniard's Red Bull KTM Ajo team replacing him for Sunday's Emilia Romagna Grand Prix after he continued to test positive for COVID-19.
The team said in a statement on Wednesday they had brought in Italian Mattia Pasini as a stand-in for the second-tier race at Misano because Martin "is still to test negative".
"I'm very sorry about what Jorge Martin is going through. I hope he can come back soon and in the meantime I will look after his bike well," said the 35-year-old Rimini-born rider who raced in MotoGP in 2012.
Martin has had to self-isolate after becoming the first rider in MotoGP and its support races to test positive for the virus.
Spanish media said he was asymptomatic and was continuing training at home in Andorra.
He missed last weekend's San Marino round at the same circuit and has now dropped from being eight points behind championship leader Luca Marini to fourth overall and 33 points adrift.
Racing Point's Mexican Formula One driver Sergio Perez also missed two grands prix last month after testing positive for COVID-19.
German doctor accused of masterminding sports doping goes on trial
A German sports doctor accused of masterminding an international blood doping network for professional sportspeople, from at least 23 athletes from eight countries over many years went on trial in Munich on Wednesday.
The case is a result of "Operation Bloodletting" under which police raided the Nordic Ski World Championships in Austria in February 2019 and arrested athletes just hours before the start of an event. In Germany, the doctor was arrested.
Prosecutors say the defendant, identified in Germany only as Mark S., was behind performance-enhancing blood transfusions mostly for cross-country skiers and cyclists.
They believe he was involved in the practice from at least the end of 2011.
There are two forms of blood doping. Autologous blood doping is the transfusion of an athlete's own blood, which has been stored, refrigerated or frozen, until needed. Homologous blood doping is the transfusion of blood taken from another person with the same blood type.
"The charge is the commercial use of a banned doping substance and is directed against the doctor and the small group of people who are alleged to have helped him over a long period of time," prosecution lawyer Anne Leiding told reporters.
Four other suspects are on trial accused of helping him with the collection and supply of blood.
If convicted, the doctor could be put behind bars for between one and 10 years. The trial is set to continue until at least mid-December.