Summary of sports events and persons who made news on Wednesday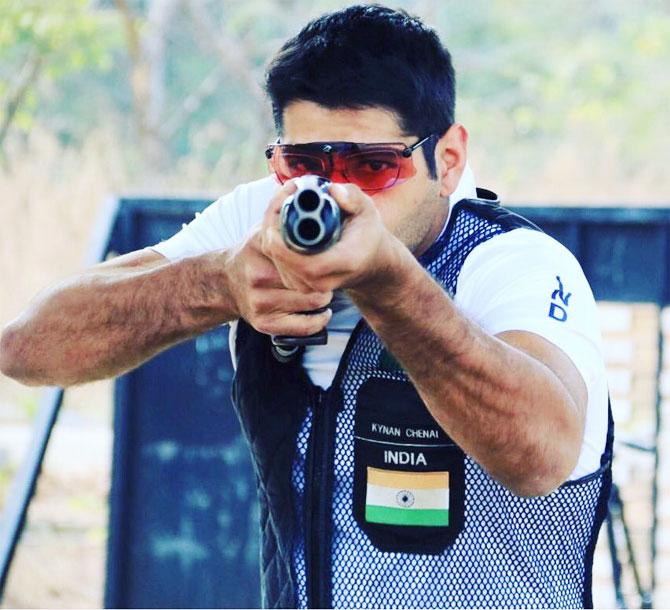 India's Kynan Chenai and Prithviraj Tondaiman shot two perfect rounds of 25 each to lead the 109-strong qualification field in the men's trap shooting competition of ISSF Shotgun World Cup in Changwon on Wednesday.
With three more rounds to be played on Thursday before the top six go through to the medal round, India look to be in a strong position to clinch final berths.
Kynan and Prithviraj shared the lead with only two other shooters from Great Britain and Kazakhstan while Zoravar Singh Sandhu, the third Indian in the competition, shot 45 out of 50 to be in 82nd place.
In the women's trap, which concluded on Wednesday, Shagun Chowdhary shot a total of 115 to end in 35th spot while Rajeshwari Kumari managed 99 to finish in 56th position.
Lakshay Sheoran, in the non-competition MQS section, registered a score of 48 after the first two rounds in the men's trap.
29-year-old former swimming champ dies in accident
Former South Asian Games swimming gold medalist M B Balakrishnan died in a road accident in Chennai, police said on Wednesday.
The 29-year old former 50m national record holder was on his way home Tuesday night on a two-wheeler from Koyambedu, with his friend riding pillion, when the vehicle hit a lorry and he lost control.
Balakrishnan, who was riding the two-wheeler, came under the wheels of the lorry after his vehicle skid and was killed on the spot, police said.
Balakrishnan, an alumnus of Chennai's Guindy Engineering College, pursued his higher education in the US and was working there. He had come to Chennai few days ago. He won a gold in the National Games at Guwahati in 2007 and later rewrote the 50m backstroke national record in July 2010 at the Senior National championships in New Delhi.
He won the 100m and 200m backstroke events at the South Asian Games the same year.
Balakrishnan's coach T Chandrasekaran said he was shocked to learn about the death.
"He was a role model for swimmers in the state and could have gone on to win bigger laurels," Chandrasekaran added.
Four cyclists suspended for potential anti-doping breach
Four European cyclists have been provisionally suspended for potential doping violations following information from Austrian law enforcement authorities, the International Cycling Union (UCI) announced on Wednesday.
Slovenia's Koren Kristijan and Bozic Borut, Croatia's Durasek Kristijan and Italy's Petacchi Alessandro were notified by UCI for potential Anti-Doping Rules Violations (ADRV) as part of the 'Operation Aderlass' investigation.
Bahrain Merida's Koren Kristijan is competing at the Giro d'Italia and will not be allowed to start Wednesday's stage according to the regulations.
The four are under investigation for employing prohibited doping methods between 2012 and 2017.
"The UCI and the Cycling Anti-Doping Foundation (CADF)... have been in close contact with the sport and state authorities involved in the Aderlass investigation, in particular with the World Anti-Doping Agency (WADA) and the Austrian law enforcement authorities," UCI said in a statement.
Operation Aderlass is looking into blood doping, a process where athletes have blood transfusions to increase their stamina and performance, a method prohibited under WADA regulations.
The provisional suspension begins on the day of the notice and a UCI Anti-Doping Tribunal will be established to hear the anti-doping rules violations.
Haas F1 title sponsor loses court case over stag logo
The Haas team may have to change its livery after title sponsor Rich Energy lost a court case for copyright infringement concerning the stag's head logo prominent on the Formula One cars.
ATB Sales, owners of cycle maker Whyte Bikes, had sought an injunction in the London High Court against Rich Energy -- a little-known energy drink brand that became Haas's sponsors this season -- to require them to remove the logo.
Whyte argued that Rich had copied a logo belonging to the cycle brand that was designed by company employees in 2008.
Judge Melissa Clarke said in a written judgement that she found Rich Energy boss William Storey and Sean Kelly, founder of the digital marketing company Staxoweb Ltd, to be "poor witnesses".
"He had a tendency to make impressive statements, which on further investigation or consideration were not quite what they seemed," she said of Storey.
The judge cited as an example that when cross-examined about a claim to the media in February that 90 million cans had been produced, Storey explained that Rich "had produced 90 million cans, but had not yet filled and sold them".
Rich Energy said on their Twitter feed that they were disappointed with the judgment and the findings of the judge.
"We are considering all of our legal options including appeal," they added.
Rich Energy tried to buy Force India (now Racing Point), to some scepticism from F1 insiders when that team went into administration last year. They were also in talks with struggling former champions Williams.
Storey shrugged off those who questioned the company's fundamentals at the Haas team launch in February and said Rich had a presence in 43 countries.
Haas's drivers are Frenchman Romain Grosjean and Denmark's Kevin Magnussen.
Chinnappa holds on to the lead in PGTI Players Championship
Bengaluru's Trishul Chinnappa held on to the lead for the second day in succession but it was Greater Noida-based golfer Sudhir Sharma's exquisite eight-under-64 that hogged the limelight in round two of the TATA Steel PGTI Players Championship, in Chandigarh on Wednesday.
The 31-year-old Sudhir's magnificent effort eclipsed the long-standing course record at the Chandigarh Golf Club (CGC) and saw him return to form after a long gap. On day two, Sharma climbed 44 positions to tied fourth at eight-under-136.
Chinnappa's three-under-69 gave him a one-shot lead at 10-under-134 at the halfway stage of the Rs 30 lakh event.
The second position was shared by Patna's Aman Raj (68) and Bangladesh's Md Dulal Hossain (68) at nine-under-135.
The previous course record of 65 was broken after 13 long years as it was first set by legend Mukesh Kumar in 2006. Thereafter, it was matched by the likes of Gaganjeet Bhullar, Gaurav Ghei, Ranjit Singh, Shiv Kapur and Chinnappa.
Chinnappa had equalled it on Tuesday during the first round of the ongoing event.
The cut came down at even-par-144 with 57 professionals progressing to the last two rounds.
Noida's Gaurav Pratap Singh (67) and Kolkata's Shankar Das (68) were both tied fourth along with Sudhir at eight-under-136.
Mumbai's Anil Bajrang Mane slipped from overnight tied second to tied 10th at five-under-139 as a result of his 72 on Wednesday.
The trio of Yuvraj Singh Sandhu, Harendra Gupta and Aadil Bedi, were the best-placed among the Chandigarh golfers as they occupied tied 12th spot at four-under-140.
Jyoti Randhawa (71) was a further shot back in tied 19th.
Local amateur Sanju Kumar made a hole-in-one on the 14th during his round of 74. However, he missed the cut since he totalled six-over-150.