Gujrathi, Sethurman bow out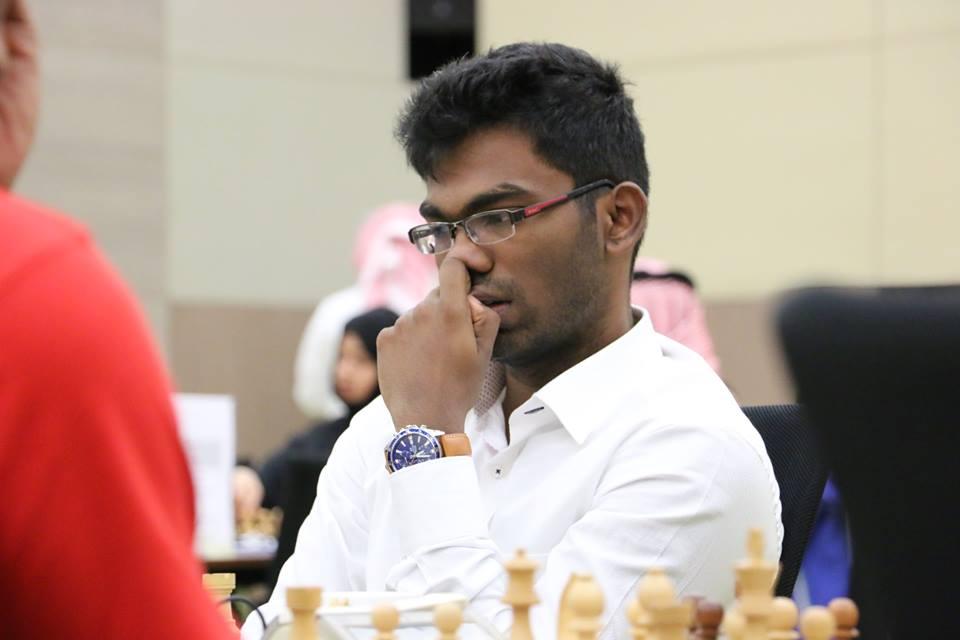 IMAGE: S P Sethuraman. Photograph: Facebook
Indian Grandmasters Vidit Gujrathi and S P Sethuraman bowed out of the Chess World Cup after defeats against Ding Liren of China and Anish Giri of Holland respectively in the tiebreak games of the third round.
The ouster of the last two remaining Indians ended the challenge in the biennial event. Earlier, five-time world champion Viswanathan Anand, B Adhiban, P Harikrishna, Murali Karthikeyan and Deep Sengupta had lost in the knockout event.
Sethuraman was the closest to advancing to the pre- quarterfinal but he was unlucky in the second game under normal time control.
After attaining a winning position, the Indian could not hold on to his nerves and allowed Giri to get away with a half point after some subtle defense.
It was a tough battle for Gujrathi in the rapid tiebreak games. After drawing the first game, the Indian was looking fine in the second rapid game but Ding Liren came up with a fine plan to win a piece.
While the position was still volatile, the Chinese was quite up to the task in converting his extra material in to a full point. Gujrathi, who had been at the top his game thus far in this world cup, lost by 1.5-2.5 margin.
For Carlsen it was a tough call to win with black on demand against BU Xiangzhi of China and the Chinese drew quite effortlessly to sail in to the next round under normal game itself.
The shocker was the ouster of Kramnik at the hands of former star Vassily Ivanchuk of Ukraine who rose up just in time to remind the world that he cannot be ruled out.
Important results, Round 3 game 1: Magnus Carlsen (Nor) lost to Bu Xiangzhi (Chn); Alexander Onischuk (Usa) lost to Peter Svidler (Rus); Vassily Ivanchuk (Ukr) beat Vladimir Kramnik (Rus); Anish Giri (Ned) beat S P Sethuraman (Ind);Francisco Vallejo Pons (Esp) lost to Wesley So (Usa); Ian Nepomniachtchi (Rus) loat to Baadur Jobava (Geo); Maxim Rodshtein (Isr) w/o Anton Kovalyov (Can); Ding Liren (Chn) beat Vidit Gujrathi (Ind).
Asian Games gold winner Priyanka Panwar banned for 8 years
India's top quarter-miler Priyanka Panwar was today suspended for eight years after she tested positive for a banned performance enhancing drug, virtualling putting an end to her career.
The 29-year-old Asian Games gold medallist was handed the suspension by National Anti Doping Agency's (NADA) disciplinary panel.
The verdict of the NADA panel is based on the result of a test conducted on the athlete last year.
"She has been suspended for eight years with effect from July 2016," NADA chief Navin Agarwal said.
Priyanka's samples had tested positive for mephentermine (a stimulant).
BAI to confer first Lifetime Achievement award on Padukone
Badminton great Prakash Padukone will be conferred with the first Lifetime Achievement Award instituted by the Badminton Association of India (BAI) for his rich contribution to the sport.
Announcing the award at a press conference in kKochi, BAI President Himanta Biswa Sarma said the award will carry a citation and a cash award of Rs 10 lakhs.
He said BAI in its last executive meeting held in Bangalore had decided that every year the federation will honour one important personality who has contributed towards badminton with a life time achievement award.
Padukone had won the 1980 All England, besides bagging a bronze at the 1983 World Championship in Copenhagen. He also won a gold medal at the 1978 Commonwealth Games.
He was bestowed with the Arjuna award in 1972 and the Padma Shri in 1982.