A summary of sports events and sports persons, who made news on Wednesday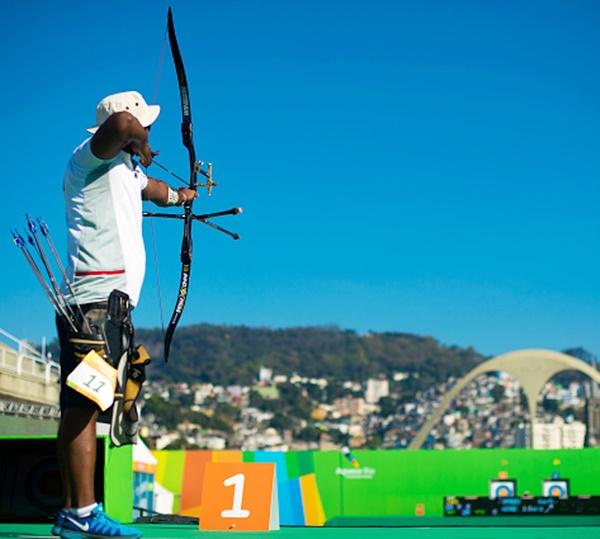 Indian compound archery coach Sunil Kumar has been suspended by the Archery Association of India (AAI) for an alleged misconduct with a female member of the Great Britain team during the Youth World Archery Championship in Argentina.
The incident happened during the official practice session where India had a successful campaign winning three medals including recurve mixed pair gold in junior category.
The Haryana coach allegedly hugged a female member of the team Great Britain and was immediately sent back home for the inappropriate behaviour.
"There's a code of conduct of the World Archery and based on the reports we have suspended the coach. We have sought all the reports from the (international) federation and the (Britain) team," AAI secretary general Anil Kamineni told PTI.
Based on the reports, the AAI will conduct an internal inquiry into the matter and take action against the coach, who was appointed on recommendation of the top ranked Indian compound archer Mayank Rawat.
The AAI picks the coach on preference of the archer, who topped in the selection trial as Sunil Kumar was part of the eight-member coaching team who accompanied 24 archers to Rosario.
A 2004 Olympian, Satyadev Prasad of Uttar Pradesh accompanied the team as team manager.
"I have mentioned in my report to the SAI they are looking and investing further," Prasad told PTI from Meerut.
The Haryana coach could not be contacted but it's learnt that he has written a "letter of apology" to the AAI and SAI.
NBA: LeBron leads Cavaliers past Celtics 102-99 in season opener
LeBron James scored 29 points and 16 rebounds to go along with nine assists as the Cavaliers swept aside the Celtics 102-99 in Cleveland, Ohio.
It was James's most extensive action in three weeks after suffering from a sprained left ankle.
He also fed Kevin Love for a critical three-pointer with 46.3 second left to put the Cavs up 102-98.
Irving, who asked to be traded this summer after six seasons in Cleveland, had a chance to tie it with a 3-pointer at the horn but missed. Irving then shared a warm embrace with James, his teammate for three seasons.
Irving finished with 22 points for the Celtics, who overcame an 18-point deficit in the third and led with 2:04 left. Boston's guard was also called for a technical.
Hayward, who signed a four-year, 128 million dollars free agent contract with the Celtics this summer, was bumped by James while trying to catch an alley-oop pass with 6:45 left in the first quarter.
The forward's leg got twisted underneath him as he came back to the floor and snapped his ankle grotesquely.
Rockets Rally spoil defending champion Warriors' return
Confetti began to fall and the Golden State Warriors thought they had pulled off a wild opening-night win in Oakland, California.
The Houston Rockets emphatically signalled otherwise -- insisting that Kevin Durant's baseline jumper had swished through the net after the buzzer.
After one official got hurt, two remaining referees reviewed the play and ruled the Rockets had escaped with a 122-121 victory Tuesday on the night the Warriors received their championship rings.
"I thought it had a chance but I knew it was a little late. I knew it was cutting it close," Durant said.
"Tough loss. First game of 82, we've definitely got to move on. We've got to get better."
The Warriors got the ball for one final chance with 10.6 seconds left and Durant came up with the ball after Stephen Curry had missed.
Trevor Ariza's 3-pointer with 2:09 remaining pulled Houston within 119-118 then Patrick McCaw hit a baseline jumper immediately after GoldenState's timeout. James Harden made a layup and PJ Tucker hit two free throws with 44.1 to make it 122-121.
Nick Young came off the bench to hit six 3-pointers and score 23 points in a brilliant Warriors debut, Curry scored 22 points and Durant had 20 after a slow start. Klay Thompson added 16 points.
Chris Paul had four points on 2-for-9 shooting in his Rockets debut, while Harden scored 27 points and Eric Gordon 24 for the Rockets. Houston opened the fourth with a 9-0 run to get back in it.
Gayatri, Lakshya, Kartikey advance at World Junior Championship
Indian shuttlers Gayatri Gopichand, Lakshya Sen and Kartikey Gulshan Kumar reached the fifth round of the World Junior badminton Championship, in Yogyakarta, Indonesia on Wednesday.
Gayatri overcame Denmark's Michelle Skodstrup 19-21, 21-18, 21-17, second seed Lakshya defeated China's Li Shifeng 21-16, 21-11 and Kartikey made quick work of Canada's Brian Yang 21-15, 21-12 in another match.
The men's doubles pair of Krishna Prasad Garaga and Dhruv Kapila dumped Korea's Tae Yang Shin and Chan Wang 21-12, 21-16 also to reach the next round.
However, it was curtains for Aakarshi Kashyap, Rahul Bharadwaj and Ashmita Chaliha after they lost their respective matches.
FA apologises to England women internationals Aluko and Spence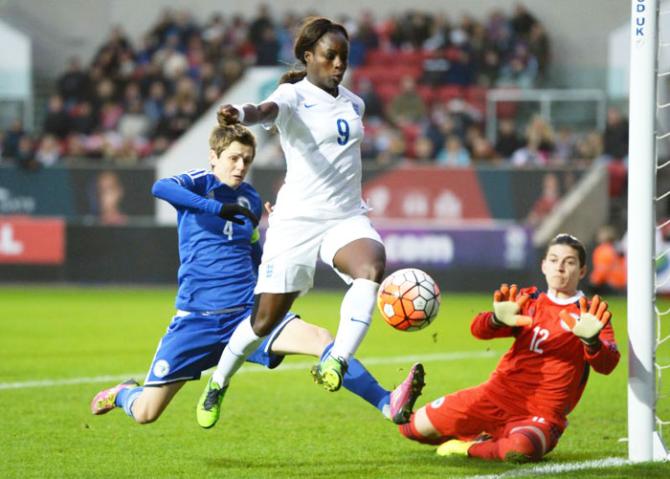 IMAGE: England's Eniola Aluko in action. Photograph: Tony O'Brien Livepic/Action Images
The Football Association made a public apology to England women's soccer internationals Eniola Aluko and Drew Spence on Wednesday for discriminatory comments made to them by former manager Mark Sampson.
The apology came in a statement just as a parliamentary inquiry was beginning in London with senior FA officials facing questions over the investigations into Sampson's alleged racism and bullying of Aluko.
Yet the statement also said that an investigation had concluded that Sampson, who was sacked by the FA last month for "inappropriate and unacceptable behaviour" in a previous job, was not racist.
The 35-year-old Sampson denies the allegations and was cleared of discrimination by two inquiries.
"On behalf of The Football Association I would like to sincerely apologise to Eniola Aluko and Drew Spence," the FA's chief executive Martin Glenn said in the statement.
Revealing the findings of independent barrister Katharine Newton's reopened investigation into the claims, Glenn said she had found, after hearing new evidence, that Aluko and Spence had both been subject to discriminatory remarks made by Sampson.
"This is not acceptable," he added.
"In her final report Katharine Newton concluded that on two separate occasions Mark Sampson made ill-judged attempts at humour, which as a matter of law were discriminatory on grounds of race within the meaning of the Equality Act 2010.
"Katharine Newton did however conclude that Mark Sampson was not racist."
Trump slams NFL for not making players stand for anthem
US President Donald Trump criticized the National Football League on Wednesday for not forcing players to stand for the national anthem, firing back after league officials meeting in New York chose instead to effectively back players' right to political activism.
"Total disrespect for our great country!" tweeted Trump, who has repeatedly denounced players in the country's most popular sports league as unpatriotic for kneeling during the anthem in a demonstration against racism.
After the first day of the NFL's two-day autumn meeting of team owners, players and their union's leaders in Manhattan, NFL Commissioner Roger Goodell told reporters they talked about "the issues that our players have been trying to bring attention to. About issues in our communities to make our communities better."
The small but growing number of players kneeling during the national anthem are protesting the killing by police of unarmed black men and boys across the United States, as well as racial disparities in the criminal justice system. More than half of all NFL players are black.
Trump wants the league to suspend players if they kneel during pregame renditions of "The Star-Spangled Banner." His vice president, Mike Pence, walked out of a stadium in Indianapolis this month as players knelt, which Trump said he had instructed Pence to do.
On Tuesday, Goodell appeared less interested in stifling the protests, despite the president's views, and rather hailed the character of the players, saying that he wanted to help their political activism.
The commissioner said the league will meet again with players, probably in the next two weeks, and spend more time talking to reporters when the gathering concludes on Wednesday.
Danish women risk World Cup expulsion over FA dispute
The Danish women's soccer team will not play Sweden in their planned World Cup qualifier on Friday and risk being kicked out of the competition as a dispute between the players and the Danish Football Association (DBU) has not yet been resolved.
"The DBU has today told the Swedish FA that the players of the women's national team have not gathered in order to play the game, which will now not be played," DBU officer Kom Hallberg said in a statement on Wednesday.
The statement also added that the FA now faces fines, points deductions and possibly expulsion from the competition because of the failure to fulfil the fixture.
The Danish players, who lost in the final of the European Championship to hosts Netherlands in August, have been engaged in tough negotiations with the DBU over compensation and conditions for female internationals.
Norway recently announced that its male and female players would receive the same pay, but talks between the DBU and the its women's team have broken down several times in recent weeks.
Denmark have so far played one match of their 2019 World Cup qualifying campaign, which was a 6-1 victory over Hungary last month. They are scheduled to play against Croatia on Tuesday.
Image used for representational purposes
Photograph: Buda Mendes/Getty Images