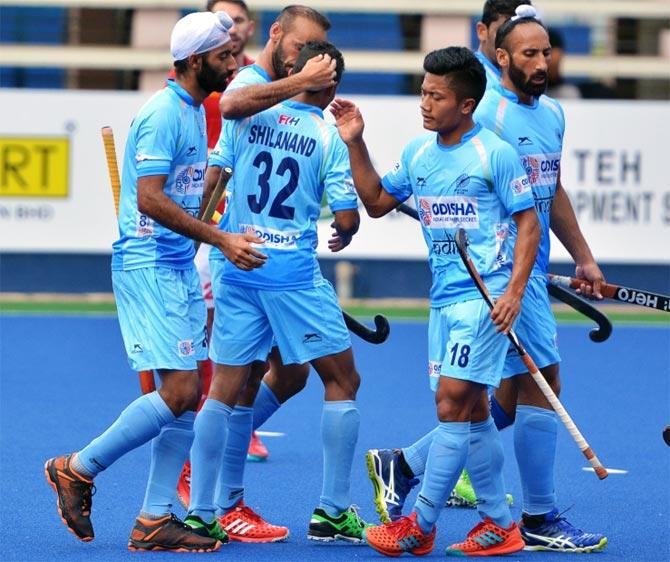 India have jumped a rung to fifth position in the men's hockey world rankings issued by the International Hockey Federation (FIH) on Tuesday.
India have made the jump by virtue of its second consecutive runner-up finish at the Champions Trophy in Breda, Netherlands earlier this month.
Champions Trophy winners Australia remained on top of the chart, thanks to its title victory.
The Kookaburras claimed their 15th Champions Trophy by defeating India in a shoot-out in the final, ensuring that the reigning world champions held on to the top spot in the rankings table.
Australia (1906 points) sit 23 points ahead of second-ranked Argentina (1883) and are followed by Belgium (1709) and Netherlands (1654).
With 1484 points, India have pushed Germany (1456) to sixth from the fifth spot.
Most of the teams in the top 20 are non-movers, although 18th placed Austria and 19th ranked Egypt have climbed ahead of France, who now sit in 20th position.
Verma third, Deepika ninth in World Cup qualification round
Indian compound archer Abhishek Verma had a near perfect run in the first 36 arrows before finishing third in the qualification round of the stage four of the Archery World Cup in Berlin.
The Asian Games gold medallist got off to a glorious start with five perfect rounds to make it 300 out of 300.
But in the sixth round, pressure got the better of him as he shot just outside the 10 ring for 35 perfect 10s to lead with 359/360 points at the midway stage.
"If you hit five 60 rounds, you know it's time to create a world record. There's a lot of pressure. My shot was just outside the 10 ring, but it's not a bad score," Verma said.
Dutchman Mike Schloesser overtook the Indian in the last 36 arrows to top the qualification round as Verma had to be content with the third spot with 709 points.
"Overall, our group is good. Maybe we're lacking some ranking round points from the team, but we have time.
"I'm confident about the finals. I'm preparing harder than previously and I think I've done my best," Verma, who has got a bye into the round of 32, said.
In the recurve section later in the day, former world number one Deepika Kumari finished ninth to get a bye into round two, while Atanu Das finished poorly in the 26th place with 651 points.
Fresh from her gold medal win at the Salt Lake City leg of the World Cup last month, Deepika was among top three at halfway mark 331 points but only to slip to ninth place with 641 points.
Gurusaidutt enter main draw of Singapore Open
Former Commonwealth Games bronze medallist RMV Gurusaidutt notched up successive victories in the men's singles qualifiers to progress to the main draw of the $ 355,000 Singapore Open World Tour Super 500.
On a comeback trail after recovering from injuries, Gurusaidutt beat Italy's Rosario Maddaloni 21-7, 21-10 in the opening round before dumping Malaysian fourth Leong Jun Hao 21-18, 21-18 in the second match to enter the main draw.
He will face China's Qiao Bin on Wednesday.
Mixed doubles pair of Satwiksairaj Rankireddy and Ashwini Ponnappa also made a positive start to their campaign as they defeated Indonesia duo of Andika Ramadiansyah and Mychelle Crhystine Bandaso 21-16 21-19 in the opening round.
Satwiksairaj and Ashwini will meet another Hong Kong combo of Chun Hei Reginald and Chau Hoi Wah next.
However, third seeded England combo of Marcus Ellis and Lauren Smith ended the campaign of Venkat Gaurav Prasad and Juhi Dewangan 21-10, 21-9 in another match.
Sajan wins gold as India bag 4 medals on day 1 of Junior Asian wrestling Championships
India's Greco Roman wrestler Sajan gave his blood and sweat before emerging champion in the 77kg category as the hosts claimed four medals, including two silver and a bronze, on the opening day of the Junior Asian Championships.
Four of the five Indians in action on Tuesday returned with medals as Manjeet opted out of event due to an injury.
Sajan opened India's gold account while Vijay (5kg) and Aryan Pawar (130kg) settled for silver medals. Kumar Sunil won bronze in the 87kg.
Sajan overcame Iran's Shayan-Hosein Afifi 3-0 in the final to better his last year's performance at the event when he won a bronze in Taipei. It was Sajan's first international gold as he had a bronze at the Junior Worlds last year.
He had taken a 3-0 lead and maintained it throughout despite suffering a blow. With 27 seconds to go for the final whistle, he received a cut above the right eye and had to be treated.
Sajan bravely held off the Iranian to claim the gold. He had got past Tajikistan's D. Rozikov by technical fall and then defeated Korea's S Lee to reach the gold medal bout.
"I am glad I won the gold. I had won two bronze last year. At Junior Asian and at the Junior Worlds also I won bronze. So this is my first international gold. I was told by my coach to keep him passive and the strategy worked," Sajan said.
Vijay had to settle for the silver in the 55kg category after being outplayed by Iran's Pouya Mohamad Naserpour. The Indian lost the gold medal bout by technical fall. He could not score a single point and conceded the decisive 0-8 lead. The Iranian had dominated from the beginning as he raced to a 7-0 lead in the first 15 seconds of the bout.
Pouya pushed Vijay out to begin his point-winning spree and then added more to his tally. Then he threw the Indian for a four-point move. It was a Herculean task for Vijay to erase the 0-7 lead. The roaring Iranian pushed Vijay out of mat one more time to seal the gold.
Vijay had beaten H Katigiri 12-10 in the qualifying and then won the quarterfinal against Uzbekistan's D Nematov by technical fall. In the closely fought semifinal, he beat kazakhstan's A Abdurkhmano 15-10.
Jeong Yeongwo of Korea and Kazakhstan's Arslan Abdurkhmanov won the bronze medals in the 5kg category.
In another gold medal bout in the 130kg category, Aryan Panwar lost 1-2 to Iran's Amin Mohammadzaman Mirzazadeh. The Indian mostly was passive in the final.
Aryan had begun with a dominating 9-1 win over Japan's A Sakai in the quarterfinal and then came from behind to beat A Vakhobov 7-4. After conceding a 0-4 lead, Aryan won seven points in a row to move to the final.
In the 87kg, Kumar Sunil won the bronze after defeating Japan's Toyomura Hiroto by technical fall as he raced to a 8-0 lead in the first round itself. Kumar had lost his semifinal by technical fall to Iran's M Saravi.
Manjeet, the fifth Indian wrestler who was to compete in the 63kg category, pulled out of the event due to an injury.