A summary of sports events and sports persons, who made news on Thursday.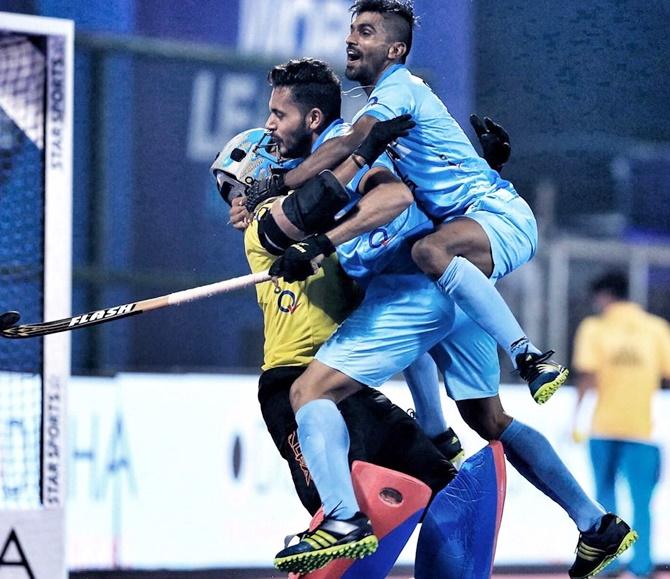 IMAGE: Indian players celebrate with goalkeeper Akash Chikte who sealed the game for India in the quarter-finals on Wednesday. Photograph: Hockey India/Twitter
'Unpredictability' has been haunting Indian men's hockey team for quite some time now but that very factor might just act in their favour when the hosts take on Olympic champions and world No 1 Argentina in the semi-finals of the Hockey World League Final, in Bhubaneswar, on Thursday.
For any team in world hockey, predicting India's performance is next to impossible.
'Inconsistent' is the perfect word to sum up India. If one day the Indians are brilliant, the very next day they might give a lacklustre performance.
The same topsy-turvy curve is continuing at the ongoing HWL Final also. After a not-so-impressive pool campaign, India not only stunned world no.3 Belgium but all and sundry at the stadium with their spirited show in the quarter-finals.
And this unpredictably about India is something that is troubling the Argentines ahead of tomorrow's last-four duel.
Argentina, who finished third in Pool A with just one point, scored through field strikes from Lucas Villa (21st minute) and skipper Mattias Paredes (29th), and a penalty stroke conversion by Juan Gillardi (34th) to eke out their first win of the tournament.
For England, David Condon (29th) and Adam Dixon (60th) found the net but that was not enough to make it to the semis.

Tendulkar launches gaming platform featuring him
Cricket icon Sachin Tendulkar unveiled a digital game featuring him, developed by JetSyntheys, a leading digital entertainment and gaming firm.
The aim of the gaming platform--Sachin Saga Cricket Champions--is to bring cricket fans together and enable each one of them to "experience my journey", Tendulkar said.
Tendulkar said in his heydays, he used to play video games in parlours.
"During my stint with Yorkshire in 1992 and during 2003 World Cup in South Africa, I used to visit video parlours along with team-mates. Even at home, I do these stuff and my son joins in too. I love doing it," he said.
Tendulkar said the company worked on this project for two years and shot his batting in a high-tech studio in London where a James Bond movie had been filmed.
He said he had to wear a special suit with 26 to 27 receptors on his body, which captured the body movements and footwork while he displayed his batting skills.
Thirtysix cameras were used for the shooting.
More than anything else, the gaming platform speaks of his important innings than the 100 centuries he scored, Tendulkar said.
Chess veteran Anand bats for poker
Former world chess champion Viswanathan Anand has been roped in by Poker Sports League (PSL), a premium league in the country, as its brand ambassador.
The league, which commenced operations last year, recently launched its second season on a much bigger platform with multiple new additions.
"Poker, like chess, is a mind sport. Proud to be associated with PSL," Anand wrote on his Twitter handle.
"In the last couple of years, we have been observing a paradigm shift in people's mindset for poker as a sport. The zeal displayed by poker lovers has given rise to a lot of platforms," Anand was quoted as saying in a release.