A summary of sports events and persons who made news on Monday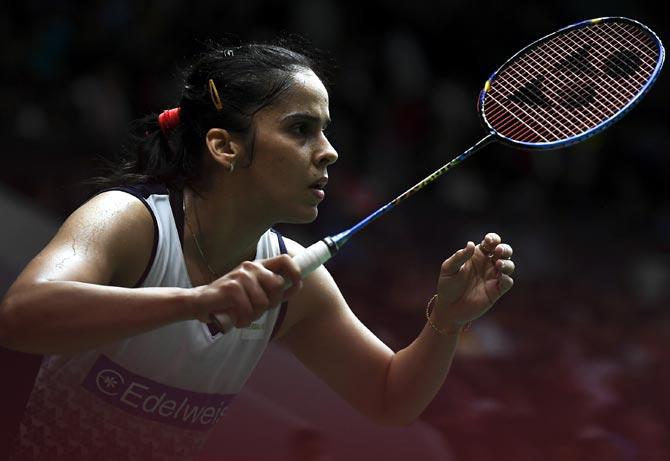 Indian men's and women's badminton teams expectedly dumped a lowly Australia 5-0 and 4-1 respectively on the second day of the prestigious Thomas and Uber Cup Final but the road to the quarterfinals still remain a difficult one.
While Indian women's team, led by Saina Nehwal, notched up a dominating 4-1 win against Australia in the second Group A match of the Uber Cup, the men's team blanked their Australia counterparts 5-0 in the Thomas Cup Final later in the day.
After going down 1-4 to Canada in the opening match, Saina and Co seemed to get their act together as they won all the matches, except the first women's doubles.
World No 10 Saina saw off Hsuan-Yu Wendy Chen 21-14, 21-19 in a 35-minute opening match to give India a 1-0 lead.
However, Meghana Jakkampudi and Poorvisha S Ram suffered a 13-21, 16-21 loss to Gronya Somerville and Renuga Veeran within half an hour.
Vaishnavi Reddy Jakka, 16, then dumped Jennifer Tam 21-17, 21-13 to once again hand India lead in the contest.
Sanyogita Ghorpade and Prajakta Sawant then defeated Louisa Ma and Ann-Louise Slee 21-19, 21-11 in the second women's doubles match to help India take an unassailable 3-1 lead.
Anura Prabhudesai, the 19-year-old from Goa, then brushed aside Zecily Fung 21-6, 21-7 in 18 minutes to seal the contest 4-1 for India.
India's qualification for the knockout stage will now depend on Wednesday's match against top seeds and five-time champions Japan, who have fielded a full-strength squad.
Srinath emerges sole leader at Kolkata Open Chess Meet
Indian GM Srinath Narayanan grabbed sole lead after the penultimate round of the LIC 3rd Kolkata Open International Grandmasters Chess Tournament.
Srinath won in just 10 moves after the local favourite Deep Sengupta arrived 90 seconds late at the top board and then made a costly mistake.
Top seed GM Nigel Short and GM Sandipan Chanda, who were the other leaders at the end of seventh round, settled for a draw in 34 moves.
Sandipan's all attempts to attack and gain advantage was thwarted by the former World Champion challenger and current candidate for FIDE Presidency, Englishman Short.
On third board, GM Ivan Rozum of Russia made a tactical error which GM Shyam Sundar capitalized by taking the f6 pawn on move no 26 and he got another pawn in 3 more moves which completely exposed his already weakened king. Shyam eventually went on to win the game in 63 moves.
GM Deepan Chakkravarthy defeated GM Adam Tukhaev of Ukraine in just 33 moves arising out of Sicilian Defence Keres attack.
CSE asks Sania Mirza to disassociate from 'misleading' poultry ad
Research and advocacy organisation CSE today urged tennis ace Sania Mirza to publicly disassociate from a poultry advertisement, saying it has been declared misleading by the Advertisement Standards Council of India (ASCI).
The Centre for Science and Environment welcomes the recent decision of ASCI to declare the advertisement featuring Mirza "misleading" by facts, exaggeration and ambiguity, CSE said in a statement.
CSE previously had also urged Mirza to dissociate herself from the advertisement.
"Earlier, we had written to Mirza apprising her about the malpractice of antibiotic misuse in poultry sector and the libelous nature of the advertisement. As a responsible role model, we urged her to publicly disassociate herself from the advertisement. We once again ask her to consider doing so," said Amit Khurana, senior programme manager, food safety and toxins, CSE.
The advertisement "falsely" claimed the poultry sector is not "misusing" antibiotics. It also "misused and misrepresented" the results of a 2014 CSE study on antibiotic residues in chicken, CSE said.
"ASCI says by mentioning the CSE study results, the advertisement contravened the code on truthful and honest representation," it said.
The Advertisement Standards Council of India has directed the All India Poultry Development and Services Private Limited to withdraw or modify the advertisement by May 23, it said.