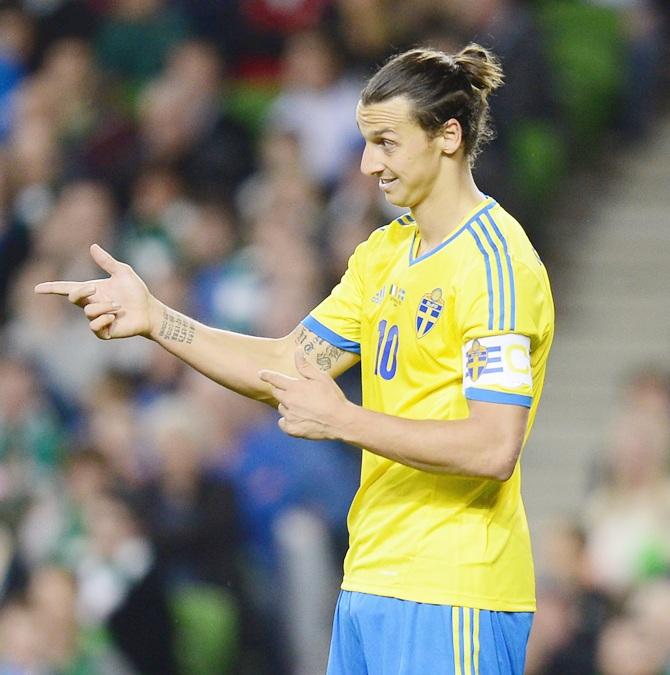 Zlatan Ibrahimovic of Sweden reacts. Photograph: Jamie McDonald/Getty Images
Zlatan Ibrahimovic has been named Sweden's footballer of the year for the ninth time and although his eighth victory in a row came as no shock, his acceptance speech showing a more sensitive side surprised many.
The normally cocky Ibrahimovic paid tribute to former Swedish international Klas Ingesson and Brommapojkarna defender Pontus Segerstrom, both of whom recently died of cancer, before turning to the death of his brother Sapko in April.
"I myself had a brother who died a few months ago from a similar illness," the Paris St Germain forward said as he struggled to control his emotions.
"There is a life (outside football) that is much more important than this."
Ibrahimovic claimed his first Gold Ball, awarded by the Swedish Football Association (SvFF) to Sweden's best footballer each year, in 2005.
Fredrik Ljungberg of Arsenal won the prize the following year, but Ibrahimovic has claimed all eight since for his performances for Juventus, Inter Milan, Barcelona, AC Milan, PSG and the national team.
No other player has won the award more than twice.
Al-Shamrani in frame for Asian award despite final spat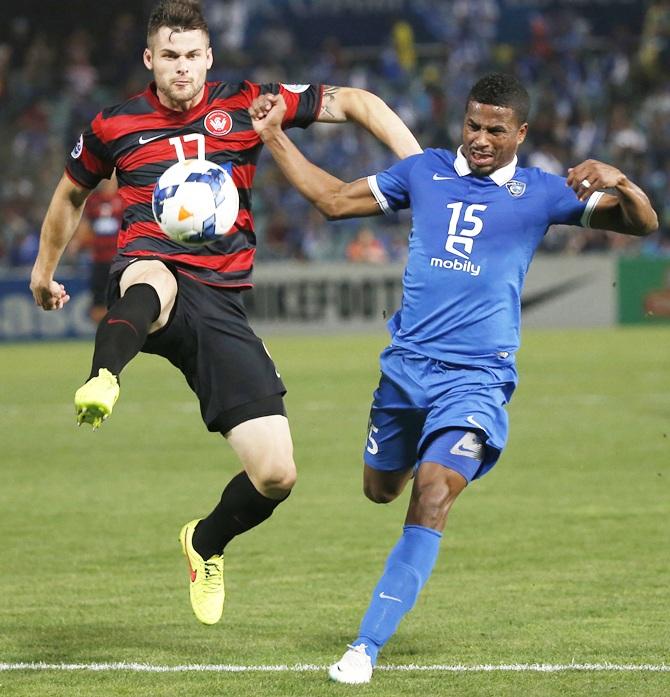 Nasser Al-Shamrani of Saudi Arabia's Al Hilal challenges Australia's Western Sydney Wanderers' Brendan Hamill, left. Photograph: Jason Reed/Reuters
Al-Hilal's Nasser Al-Shamrani has been nominated for the Asian Player of the Year award despite sparking a brawl at the end of the second leg of the Asian Champions League (ACL) final earlier this month.
The Saudi striker was named on the short-list along with defender Ismail Ahmed of Emirati club Al Ain and Qatari midfielder Khalfan Ibrahim of the Al Sadd club, who won the award in 2006.
Al-Shamrani scored 10 goals in the ACL this season but faces disciplinary charges after spitting at Western Sydney Wanderers defender Matthew Spiranovic after Al-Hilal lost 1-0 on aggregate to the A-League outfit in the final.
Ibrahim's sometimes dazzling skill won him the award when he was still in his teens, while Ahmed was a stalwart in the backline as Al Ain made it to the ACL semi-finals and would be the first United Arab Emirates player to be honoured.
The all-Arabian Gulf shortlist means there was no place for any Wanderers players but Australia does have a candidate for the Asian Women's Player of the Year award in Katrina Gorry.
The midfielder helped the Matildas to the final of the Asian Cup this year and is up against two players from the team that beat them, Japan's Nahomi Kawasumi and twice former winner of the award Aya Miyama.
Tottenham, Villa fined for indiscipline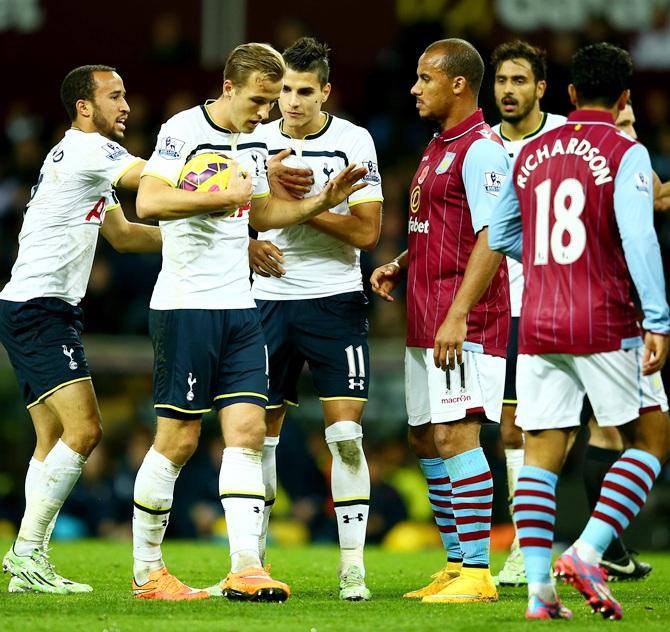 Harry Kane of Spurs keeps hold of the ball from team mate Erik Lamela to take the match winning freekick during the Barclays Premier League match against Aston Villa. Photograph: Richard Heathcote/Getty Images
Aston Villa and Tottenham Hotspur have both been fined 20,000 pounds ($31,852) for failing to control their players during their recent Premier League game, the Football Association said on Tuesday.
The clubs had admitted breaching FA rules by "failing to ensure their players conducted themselves in an orderly fashion", an FA statement said.
A scuffle involving numerous players broke out at the Villa Park game on November 2 after the home team's Belgian striker Christian Benteke received a red card.
Villa were leading 1-0 at the time, with 24 minutes left, but Spurs hit back against their 10 men to win 2-1.
Morocco ruled out, Nations Cup future remains unclear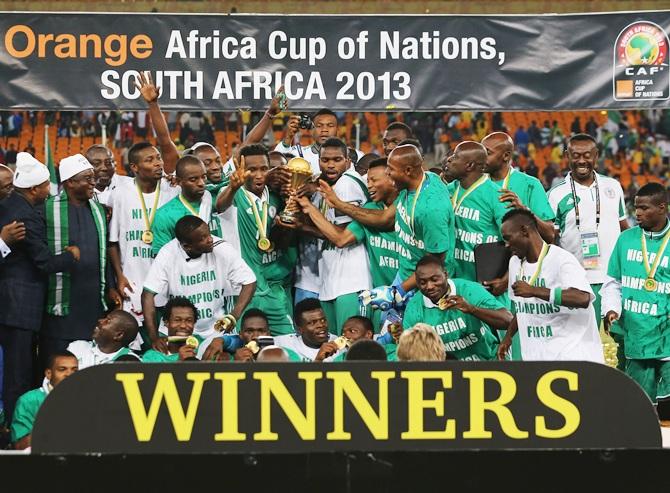 Joseph Yobo and team mates celebrate with the trophy after winning the 2013 Africa Cup of Nations. Photograph: Ian Walton/Getty Images
Morocco was formally ruled out as host of next year's African Nations Cup but promised clarity over which country will host the tournament failed to emerge from a Confederation of African Football (CAF) executive committee meeting in Cairo on Tuesday.
The immediate future of the 16-team tournament, the showpiece of African football, remained unclear with no exact timetable for the next step in the bid to find an alternate host to Morocco which has also been kicked out of the competition.
Morocco's removal as host followed the north African country's request for a postponement of the Jan. 17-Feb. 8 Nations Cup over fears of the spread of the deadly Ebola virus.
CAF said it had received "some applications" from countries expressing a desire to step in as hosts on the scheduled dates, even though the practicalities of arranging a tournament of the size of the Nations Cup at such short notice seem daunting.
African soccer's governing body did not name the prospective candidates and there have been no public expressions of interest.
"These applications are currently under review and the executive committee will finalise the selection of the successful national association shortly," CAF said in a statement.
That merely added a new dimension to the speculation over the destiny of the tournament which is CAF's main source of revenue and, if cancelled, could cost the organisation dearly.
Angola, Egypt, Gabon and Nigeria were the countries being touted as possible replacement hosts by African media following Tuesday's statement.
Morocco believes thousands of travelling supporters from west Africa pose a risk and wanted a postponement of at least six months while the fight against Ebola intensified.
But CAF rejected any change to the planned dates citing a packed calendar. It gave Morocco an ultimatum of Saturday to withdraw its request which was rejected.
CAF said last week it would resolve the future of the 2015 finals at Tuesday's meeting in Cairo.
Germany plans doping law with prison terms for offenders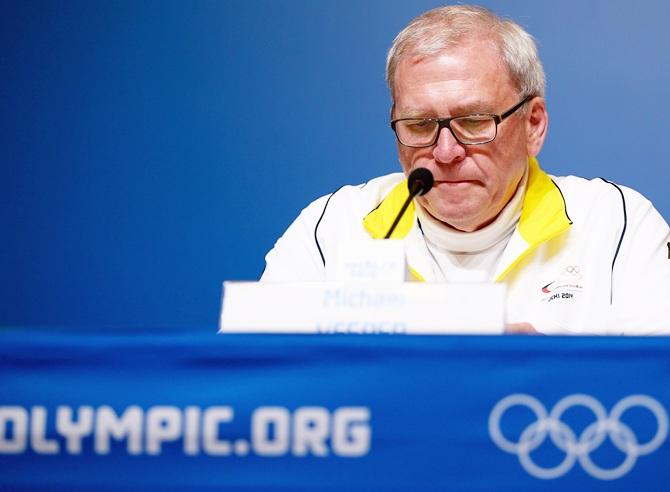 Chef de Mission Michael Vesper of Germany talks to the media during a German Olympic Sports Confederation (DOSB). Photograph: Sandra Montanez/Getty Images
The German government on Wednesday will unveil a draft bill that foresees jail terms and stiff fines for top athletes, coaches and managers who use or acquire banned substances, in an effort to crack down on drug users in elite sports.
The draft bill will still need to be discussed in parliament and could be passed as early as next spring. It only targets top athletes, supported by state funds and on the national anti-doping agency's test pool and does not affect amateurs.
Doctors or other individuals, procuring the substances, could face jail terms of up to 10 years as the entourage of the athletes is also moved more into focus.
German sports officials welcomed the tougher sanctions included in the draft, saying fear of prison would be a major deterrent for doping offenders.
Several other European nations, including Italy, Spain and France, have already passed similar laws.
"We are happy that a specific proposal is now on the table," Alfons Hoermann, head of Germany's Olympic Sports confederation (DOSB) said on Wednesday. "What the government does is going into the right direction. We welcome this."
Germany has had several big name athletes admit to doping or caught using banned substances in recent year including cyclists Jan Ullrich, Stefan Schumacher as well as biathlete Evi Sachenbacher-Stehle, who tested positive at this year's Sochi winter Olympics.