Summary of sports events and persons who made news on Thursday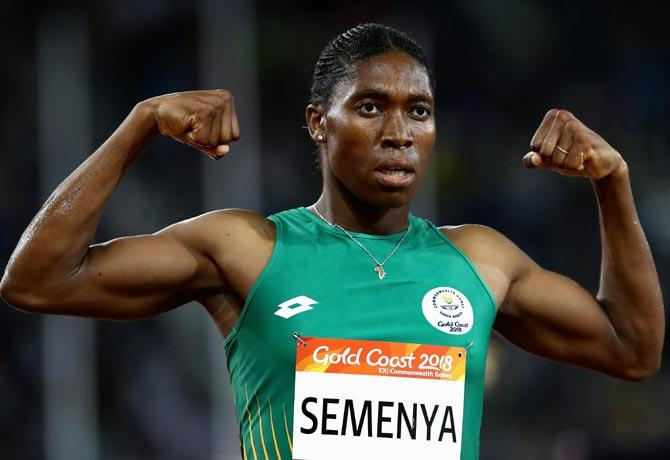 The International Association of Athletics Federations (IAAF) has vehemently rejected the claim made by a media report that the association intends South African women's 800m Olympics champion Caster Semenya to be classified as a biological male during the hearing of her landmark case, next week.
In an official statement, IAAF clarified that they are not classifying any Differences of Sexual Development (DSD) athlete as male and are instead accepting their legal sex without question.
The association, however, maintained that male level of testosterone in a DSD athlete can give undue advantage to them and to preserve fair competition, they must reduce their testosterone down to female levels before they compete at international level.
"The IAAF is not classifying any DSD (Differences of Sexual Development) athlete as male. To the contrary, we accept their legal sex without question, and permit them to compete in the female category," IAAF said in a statement.
"However if a DSD athlete has testes and male levels of testosterone, they get the same increases in bone and muscle size and strength and increases in haemoglobin that a male gets when they go through puberty, which is what gives men such a performance advantage over women. Therefore, to preserve fair competition in the female category, it is necessary to require DSD athletes to reduce their testosterone down to female levels before they compete at international level," the statement added.
In April 2018, the IAAF announced its new rules targeting women who naturally produce unusually high levels of testosterone, arguing that hyper-androgynous competitors enjoy an unfair advantage.
The Athletics' governing body passed a ruling that a few female runners who naturally have high testosterone levels will have to race against men or change events unless they pop in medication.
Following the ruling, Semenya challenges IAAF rule and the matter is still pending with Court of Arbitration for Sport (CAS). If CAS ruled in favour of the IAAF, Semenya and other DSD athletes will have to reduce their testosterone levels to no greater than 5nmol/L for six months before competing in international events ranging from 400 metres to a mile.
Golfer Garcia 'ashamed' of Saudi tantrum
Sergio Garcia said he was "ashamed" of the actions that got him disqualified from the Saudi International two weeks ago.
The 2017 Masters champion was banished from the European Tour event when he intentionally damaged at least five greens at the Royal Greens Golf and Country Club in the third round. Earlier in the tournament, he was also seen angrily belting his club over and over again in a greenside bunker.
"I'm sorry to my fans and fellow competitors. What happened is not an example I want to set, and it's not who I truly am," Garcia said on Instagram.
"I am an emotional player and while I believe that's one of my biggest strengths, it's also one of my biggest flaws.
"I'm focused on working hard to channel that emotion the correct way and to be the best, learn from it and move forward."
The 39-year-old Spaniard posted his comments before returning to competition on the PGA Tour at the Genesis Open in Los Angeles this week.
He also told a television network that he was ready to show that his actions in Saudi Arabia were out of character.
Garcia has always played with his heart on his sleeve, though he seemed to have mellowed after winning the Green Jacket, getting married and becoming a father in the space of 12 months.
"It's obviously something I feel ashamed of," he told Golf Channel, referring to his behaviour in Saudi Arabia.
"I'm not proud but the only thing I can do is apologise for it, hope that people accept it, show everyone how I am and how I can behave on the course, with respect to everyone, not only the fans but my fellow players."
Gymnastics Canada launches probe after former coach acquitted in sex assault trial
Gymnastics Canada said on Wednesday it will proceed with an internal investigation after a former national team coach was found not guilty of sexual assault and sexual exploitation.
David Brubaker, who coached the Canadian team at the 2016 Rio Olympics, had pled not guilty to charges levelled by a former student relating to alleged incidents between 2000 and 2007, when the complainant was between the ages of 12 and 20.
Gymnastics Canada, the national governing body for the sport, said it remains committed to its responsibility in creating and preserving an environment that ensures positive, healthy, and fulfilling experiences for all participants.
The governing body also said an internal investigation will be conducted in accordance with its code of ethics and conduct and discipline policies.
"We remain vigilant in our efforts to ensure that inappropriate and harmful conduct is dealt with immediately and effectively," Gymnastics Canada said in a statement.
"Gymnastics Canada considers the safety and well-being of all participants as our top priority."
Brubaker, who lost his standing as a national coach since his arrest in December 2017, was found not guilty in a Sarnia, Ontario, courtroom on Wednesday by a judge who questioned the conduct of the investigating police officer, who is reportedly a cousin of the complainant and was in her wedding party.
The decision comes about a year after former USA Gymnastics team doctor Larry Nassar was sentenced to up to 300 years in prison in two different trials after hundreds of women testified about abuse at his hands, including Olympic champions Aly Raisman and Jordyn Wieber.
Brubaker's defence lawyer Patrick Ducharme, who had argued during the case that the complainant felt betrayed about not making the Olympic team, was not concerned about what an investigation by Gymnastics Canada may turn up.
"They are just probably trying to protect themselves from liability for having fired a person improperly and for no legitimate grounds," Ducharme told Reuters in a telephone interview.
"And so they are going to do their own probe, they'll come to the conclusion they want because it will support their position and they think that will cover them, or protect them, from civil liability but I don't believe it will."
Joshua to fight 'Big Baby' Miller in New York on June 1
Undefeated heavyweight world champion Anthony Joshua will fight American challenger Jarrell 'Big Baby' Miller in New York on June 1 in his first title bout outside Britain.
Joshua had been due to defend his WBA, IBF, WBO and IBO heavyweight belts at London's Wembley Stadium on April 13 against an unnamed opponent, but that had been looking unlikely for some time.
"I'm going to be travelling over to New York on June 1, I'm going to be defending my heavyweight titles at MSG (MadisonSquareGarden) against Jarrell Miller," the 29-year-old announced on YouTube on Wednesday.
He blamed 'boxing politics' for getting in the way of a unification bout with American WBC champion Deontay Wilder on April 13.
"So we had to branch out and look for other options and Jarrell Miller came up," said Joshua, who has a professional record of 22 wins, which includes 21 knockouts.
"It will be an exciting fight, I will leave nothing to chance, and plan on dismantling Miller in style to make my mark," added the Briton, who said he would be doing a lot of his training in New York but was in shape already.
Miller is also unbeaten, with a record of 24 fights, 23 wins and a draw.
Joshua beat Wladimir Klitschko at Wembley in April 2017 and then fought Carlos Takam and Joseph Parker at the Principality Stadium in Wales before returning to Wembley to beat Alexander Povetkin last September.
Before that the 2012 Olympic super-heavyweight champion had fought in venues around Britain including Manchester and at London's 02 Arena.
"Wembley is so close to my heart, it's a great spot, a great location, I've fought in small halls and arenas and its been humbling and a blessing to fight in the stadiums. But now it's time for a change," he said.
Miller, 30, said Joshua was making a 'huge mistake' and would lose his titles.
"He wants to announce himself on the American stage, but all he's doing is delivering me those belts by hand. It's dog eat dog in the ring and this dog has got a bigger bite. He'll be leaving New York empty-handed," he told Sky Sports.