A summary of sports events and sports persons, who made news on Tuesday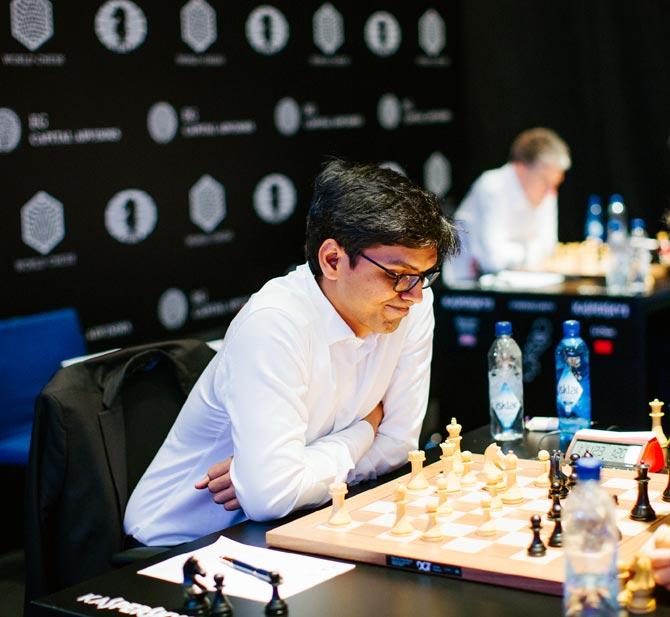 IMAGE: Pentala Harikrishna in action. Photograph: Geneva FIDE Grand Prix chess
After finishing runner-up in the Rapid tournament, Indian Grand Master Pentala Harikrishna held Armenian Grand Master Rafael Vaganian to a draw in the first round of the Grand Master tournament in Beil, Switzerland, at the 50th Biel Chess Festival.
The World No. 20 Indian, playing with black pieces, started off aggressively and placed a check on his opponent in the 12th move itself.
However, he had his Queen gambit declined as the Armenian realized the danger and had to turn to his defensive best to lead the game towards neutral territory.
"Even though I got into an attacking position in the initial moments of the game, my opponent played an interesting idea on the board and that led to repeating moves so that either of us didn't get into worse positions," the 31-year-old from Guntur said after his first-round encounter.
Harikrishna will take on local lad Nico Georgiadis in his second-round battle of the round-robin tournament.
Russians going to world championships as neutrals will be paid by state
Russia on Tuesday told athletes set to compete as neutrals at next month's world championships that they will be paid by the state despite not officially representing their country.
Nineteen Russian athletes were on Monday entered into the competition being hosted from August 4-13 in London.
Russian Sports Minister Pavel Kolobkov said athletes who compete at the championships will not miss out financially.
"Salaries and bonuses will be kept in spite of the neutral flag," TASS news agency quoted Kolobkov as telling Russian track and field athletes at a training facility outside Moscow.
Russia's athletics federation remains suspended over a 2015 World Anti-Doping Agency (WADA) report which alleged state-sponsored doping in the sport, something the Kremlin denies.
However, the world governing body, the IAAF, has so far cleared 47 Russian athletes to compete internationally this year under the neutral flag after they demonstrated that their training environment met its anti-doping standards.
The International Association of Athletics Federations told Reuters in an e-mail on Tuesday that all athletes, including neutrals, "have the opportunity to earn money in athletics so long as those payments do not breach the integrity rules of the sport.
Russian athletes competing as neutrals will not be allowed to wear their country's colours and the Russian national anthem will not be played if they win an event, according to IAAF rules.
The IAAF told Reuters it could not confirm any entry information for the world championships until the ranking process was completed.