Harikrishna beats Ponomariov; holds on to tied first spot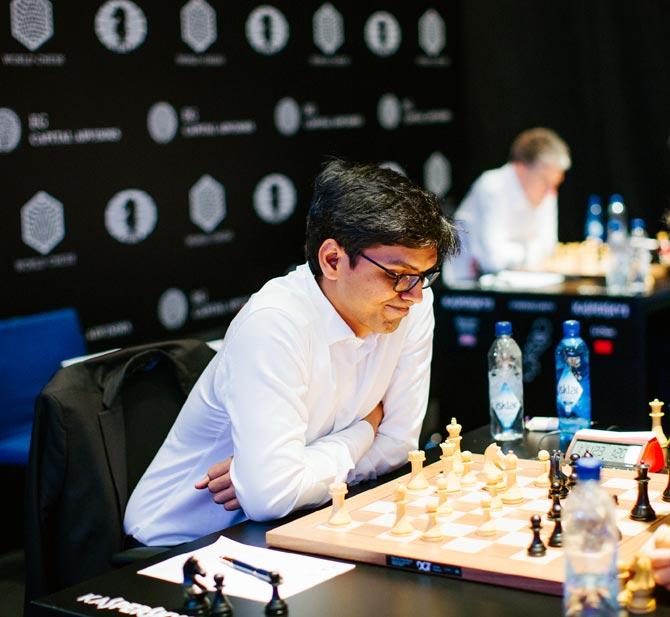 IMAGE: Pentala Harikrishna in action. Photograph courtesy: Geneva FIDE Grand Prix chess
Indian Grandmaster Pentala Harikrishna registered a scintillating victory over former FIDE World Chess champion Ruslan Ponomariov of Ukraine in the eighth round to consolidate his position at the top of the table in the 50th Biel Chess Festival.
The world no. 20 Indian, playing with black pieces, got off to a great start and seized the momentum and forced the Ukranian Grandmaster to commit a mistake in the early stages of the game.
Ruslan tried to launch a comeback, but could not mount enough pressure and with time rolling on, he finally threw in the towel after 58 moves.
With just one round to go, Harikrishna shares the top spot with former three-time women's World champion Hou Yifan of China.
Prannoy, Kashyap, Sourabh, Siril enter pre-quarters of NZ Open
H S Prannoy and Parupalli Kashyap continued their good run, reaching the pre-quarterfinals with straight-game wins in men's singles competition of the New Zealand Grand Prix Gold.
The 24-year-old Prannoy, who had clinched the US Open in California last month, staved off a challenge from Indonesia's Firman Abdul Kholik 23-21, 21-18.
Commonwealth Games champion Kashyap, who had also reached the finals of the US Open, notched up a crushing win over New Zealand's Oscar Guo 21-9, 21-8.
Prannoy will meet 10th seed Hong Kong's Wei Nan, while 15th seeded Kashyap will face compatriot and seventh seed Sourabh Verma.
Sourabh, seeded 7th, posted a 21-16, 21-16 win over Indonesia's Henrikho Kho Wibowo, while 16th seeded Siril Verma beat another Indonesian Saputra Vicky Angga 21-14, 21-16 to advance to the next round.
For young shuttlers -- Sahil Sipani and Neeraj Vashist -- it was the end of road after they suffered straight-game losses in the second round.
Sahil lost 9-21, 8-21 to 11th seed Lin Yu Hsien of Chinese Taipei, while Neeraj went down 16-21, 13-21 to Australia's Anthony Joe.
Pratul Joshi also bowed out after his battle ended with a 13-21, 22-24 loss to top seeded Tzu Wei Wang of Chinese Taipei in another men's singles match.
Sanyogita Ghorpade and Prajakta Sawant lost 15-21, 18-21 to Japanese fourth seed Ayako Sakuramoto and Yukiko Takahata in women's doubles.
In mixed doubles, Chinese pair of Fan Qiuyue and Xuanxuan Liu ended the journey of Prajakta Sawant and Malaysia's Yogendran Khrishnan 21-13, 21-13.
Joshna-Dipika in quarters of World Doubles C'ship
The formidable Indian pair of Joshna Chinappa and Dipika Pallikal advanced to the women's doubles quarterfinals at the WSF World Doubles Squash Championship in Manchester.
Having started off, the number two seeds and 2014 Commonwealth Games gold medallist went on to top the three-team Group B by beating Tesni Evans and Deon Saffery of Wales quite comfortably.
In the quarter-final, Joshna and Dipika are scheduled to take on the Group A runner up Samantha Cornett and Nikole Todd of Canada.
The Indian mixed pairs also put up a confident show. Number two seeds Saurav Ghosal and Dipika began their Group B league with a win over Malaysian pair of Mohammed Syafiq Kamal and Rachel Arnold in straight games.
Similarly Joshna and Vikram Malhotra, the sixth seeds, are currently topping Group C after winning both their matches. Having started with a win yesterday, the duo scored over Zac Miller and Amanda Landers-Murphy of New Zealand in a close match for a clean slate thus far.
However the lone Indian men's doubles pair of Malhotra and Mahesh Mangaonkar have had it rough. Losing both their matches in the Group A league, the Indian pair are currently placed at the bottom of the table in this four-team Group with one just more match to go.