Harikrishna finishes third at Biel Chess Festival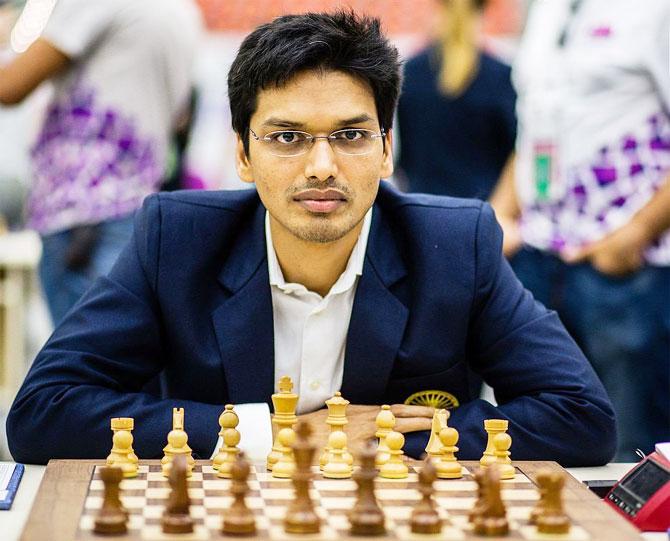 IMAGE: Pentala Harikrishna. Photograph: Saimedia/Twitter
Indian Grand Master Pentala Harikrishna's unbeaten run came to an end as he lost out to Frenchman Etienne Bacrot in the penultimate round ofthe 50th Biel Chess Festival to finish third in the standings.
The World No. 20 Indian, playing with white pieces, started off aggressively but a simple mistake in the initial phases cost him the game played on Wednesday.
Harikrishna tried all the tricks up his sleeve but couldn't save the game as the Frenchman kept mounting pressure and the Indian ultimately had to give in on the 29th move.
"It was a simple error in the starting of the game which was the cause of my loss," Harikrishna said.
"It is a bit disappointing as this happened in the very last round of the tournament," he added.
The 31-year-old from Guntur had remained unbeaten throughout eight rounds by registering three wins, five draws and just the one loss in the last round had proved to be the reason which didn't let him embrace the top spot as the tournament culminated.
Nonetheless, Harikrishna managed to finish third on the podium of this highly prestigious tournament behind his last round opponent Etienne Bacrot and former two-time World Women's Chess Champion Hou Yifan, who took the top honours.
Harikrishna will now shift his focus on the World Cup which is slated to be held in Georgia from September 2.
The World Cup will feature almost all the top players in the World such as top seed Magnus Carlsen and India's No. 1 Vishwanathan Anand, to name a few.
Finally respected, Klitschko announces retirement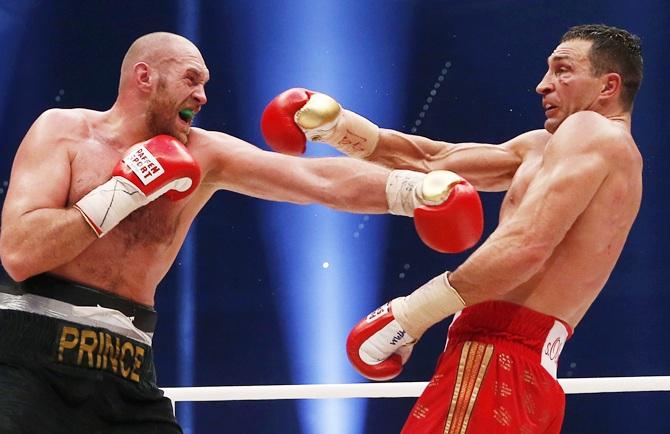 IMAGE: Tyson Fury, left, in action with Wladimir Klitschko. Photograph: Lee Smith/Reuters
Wladimir Klitschko ruled the heavyweight scene with a steel glove for more than a decade yet it was a defeat by Anthony Joshua which ensured the Ukrainian retired on Thursday with the universal respect that eluded him for so long.
Often denigrated for a robotic style, short on flair, Klitschko reigned supreme in a heavyweight era suffering from a dearth of box office names.
The 41-year-old dispatched a regular supply of average fighters to reach 64 career victories yet few, if any of them, will feature in a showreel of the sport's greatest contests.
Instead it will be his final fight, against Britain's Joshua, that will be define Klitschko's legacy.
Despite a 14-year age gap and fighting in front of a partisan 90,000 Wembley Stadium crowd, Klitschko produced arguably his best performance before being stopped in the 11th round of a sensational fight.
Had he finished off a wobbling Joshua in the sixth round Klitschko would have become only the second fighter after George Foreman to win a recognised version of the world title as a 40-something.
Yet, even in defeat, a global audience finally gave the Germany-based fighter the acclaim he deserved for a career in which he carried the a sport so often dragged into the gutter with professionalism and dignity.
An eagerly anticipated Las Vegas re-match with Joshua was in the pipeline, yet Klitschko, who had lost his WBA, IBF and WBO heavyweight belts in a disappointing defeat by Britain's Tyson Fury in 2015, has decided enough is enough.
"Twenty-seven years ago I started my journey," he said in the video announcing his decision to retire on Thursday. "And it was the best choice of profession I could have ever made.
"At some point in our lives we need to, or just want to, switch our careers and get ourselves ready for the next chapter and chart a course towards fresh challenges. Obviously I am not an exception to this and now is my turn.
"I'm doing this with ... tremendous excitement, dedication, passion; expecting and hoping that my next career, which I've already been planning and working on for some years, will be at least as successful as my previous one, if not more successful."
Klitschko's manager Bernd Boente said his man had not lost his powers, but was no longer prepared to put himself though the 10-week training camps needed to prepare for big fights.
South Africa's jailed athlete Pistorius taken to hospital
Oscar Pistorius, the South African Paralympic gold medallist serving a six-year jail term for murdering his girlfriend, was taken to hospital on Thursday, a prison service spokesman said.
The prison service provided no details of Pistorius's illness, but a spokesman, Logan Maistry, said he would be kept in hospital overnight for observation. He said he could not comment on a report by the Citizen website that Pistorius suffered chest pains and prison staff suspected a heart attack.
"I am not aware of (that report) or what he suffered from," Maistry said. "What I am aware of is that he was this morning taken to an outside hospital for a medical examination ... "
Last August, Pistorius denied trying to kill himself after he was treated in hospital for wrist injuries.
The athlete was sentenced to six years in prison in July last year after being found guilty of murdering his girlfriend, Reeva Steenkamp, on Valentine's Day 2013.
He reached the pinnacle of his fame in 2012 when he became the first double amputee to run in the Olympics, making the 400 metres semi-finals in London before taking two golds in the Paralympics.
Pistorius' family spokeswoman was not immediately available to comment.
Six Indian boxers assured of medals at Asian Junior C'ships
Six Indian boxers were assured of medals at the Asian Junior Championships in Puerto Princesa, Philippines after they advanced to the semi-finals of the event.
Bhavesh Kattimani (52kg), Aman Sherawat (70kg), Vinit Dahiya (75kg), Akshay Siwach (60kg), Siddharth Malik (48kg) and Satender Rawat (80kg) won their respective bouts to enter the medal rounds.
Aman opened the proceedings for India and defeated Kyrgyzstan's Baibek Anarbek in a unanimous verdict.
Vinit defeated Jordan's Rashed Swaisut, while Akshay got the better of Thailand's Sumatas Ontong.
Siddharth had no trouble going past Korea's Seo Donggeun and Bhavesh defeated Mongolia's Enkhtur Tegshjargal.
In 80kg category, Satender sailed past Korea's Woon Hyun Kim 5-0 to enter the semi-final.
However, Vijaydeep (63kg) lost 1-4 to Uzbekistan's Nurislom Ismoilov to bow out in the quarter-final stage.